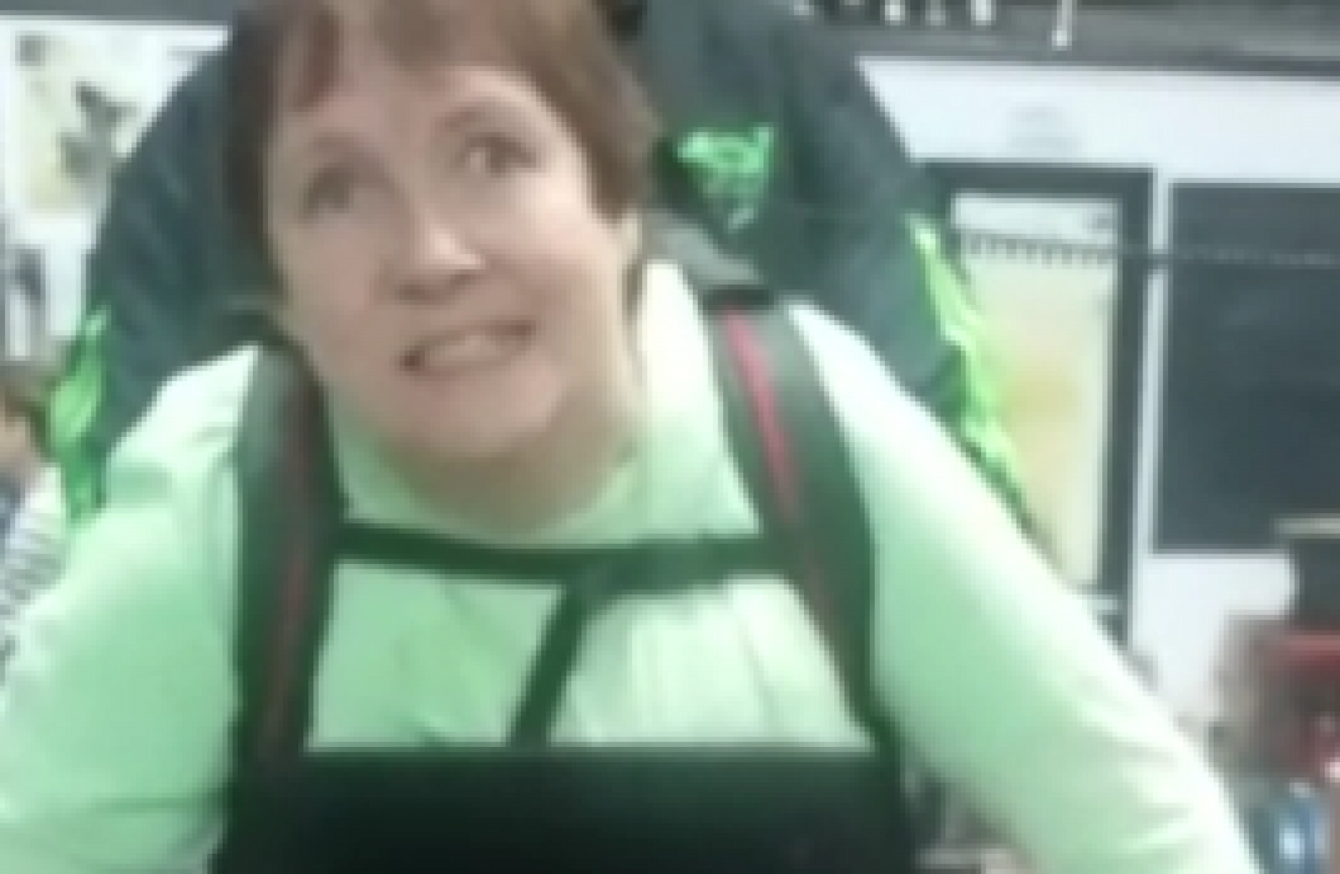 KATHLEEN O'CONNOR WAS diagnosed with Multiple Sclerosis at the age of 44, just five months after she gave birth to her youngest of nine children.
This year she walked again for the first time in 21 years. Speaking to TheJournal.ie about the experience, she said: "I was like a child in a dream or a trance, I just wanted to keep going."
O'Connor, from Carrick-on-Shannon in Leitrim, walked by using the exoskeleton – which is an exercise device that allows lifelong wheelchair users to stand up, take steps and walk.
Source: Cliodhna Russell/YouTube
She said she came across the device after hearing about Mark Pollock using it.
"Myself and my daughter were chatting about it and she said 'You should go and look into it'."
Describing her preparation to use the exoskeleton, O'Connor explains, "Before you use it you have to go to your own doctor to do medical tests to check that you're physically strong enough."
Kathleen's son brought her down when she got the all-clear and then a physio checked her in Cork and the machine was fitted to her.
I thought, this is great now. I was excited and kind of sceptical – you're wondering if you'll be able to take it. It's mixed emotions really.
On the first day, O'Connor was able to take just 10 steps but she has now worked up to 100.
Your body becomes alive, that feeling in my feet. You have light feet all the time and then you realise you have feeling in your feet, even if it's pain.
"I thought this can't be real, I just have to keep this up.
"I walked 100 steps – that's like a marathon to me. It takes over your whole body. I think it moved stuff that hadn't moved in years."
Explaining how the exoskeleton has given her some power back, O'Connor said:
"After 10 minutes with your physio, you're tired and it can be soul destroying because you just go home and it's same thing again, but with this I could work at my own pace.
Sometimes you feel all the power is taken from you. You can't do anything your own way anymore.
"I have to be hoisted out of the bed, that's my everyday life. You have to do it."
'You have to look forward'
Currently there is one machine in Dublin, one in Belfast and one in Cork.
O'Connor believes the exoskeleton should also be available to people in the west of Ireland and has started a campaign to make that happen.
I just thought instead of going four and a half hours to Cork, it would be great if this was available closer. The west of Ireland is really neglected in this and when nobody else is doing it, you have to do it yourself.
After being diagnosed, O'Connor motivated herself to change her circumstances to accommodate her new life.
The mother of nine had been working with the civil service but began studying after she was diagnosed: first for a diploma, then a degree and finally a Masters in Human Rights and Social Policy.
"I have great dreams and great ambitions but it wasn't for me that way so I had to pick a different way."
O'Connor then worked in Leitrim County Council and only retired in March of this year, aged 65.
Since retiring she is now aiming to raise €150,000 to get an exoskeleton in the west and is also setting up a working committee.
"I'm hoping to get demonstrations together so any wheelchair person can come and try it out."
Describing her life before being diagnosed, O'Connor said, "I would have been active with the children, I remember running with one of my daughters. I loved all that but life threw me a different path.
"There's no point in looking back, you have to look forward. You have to be that way."
The public can donate here.