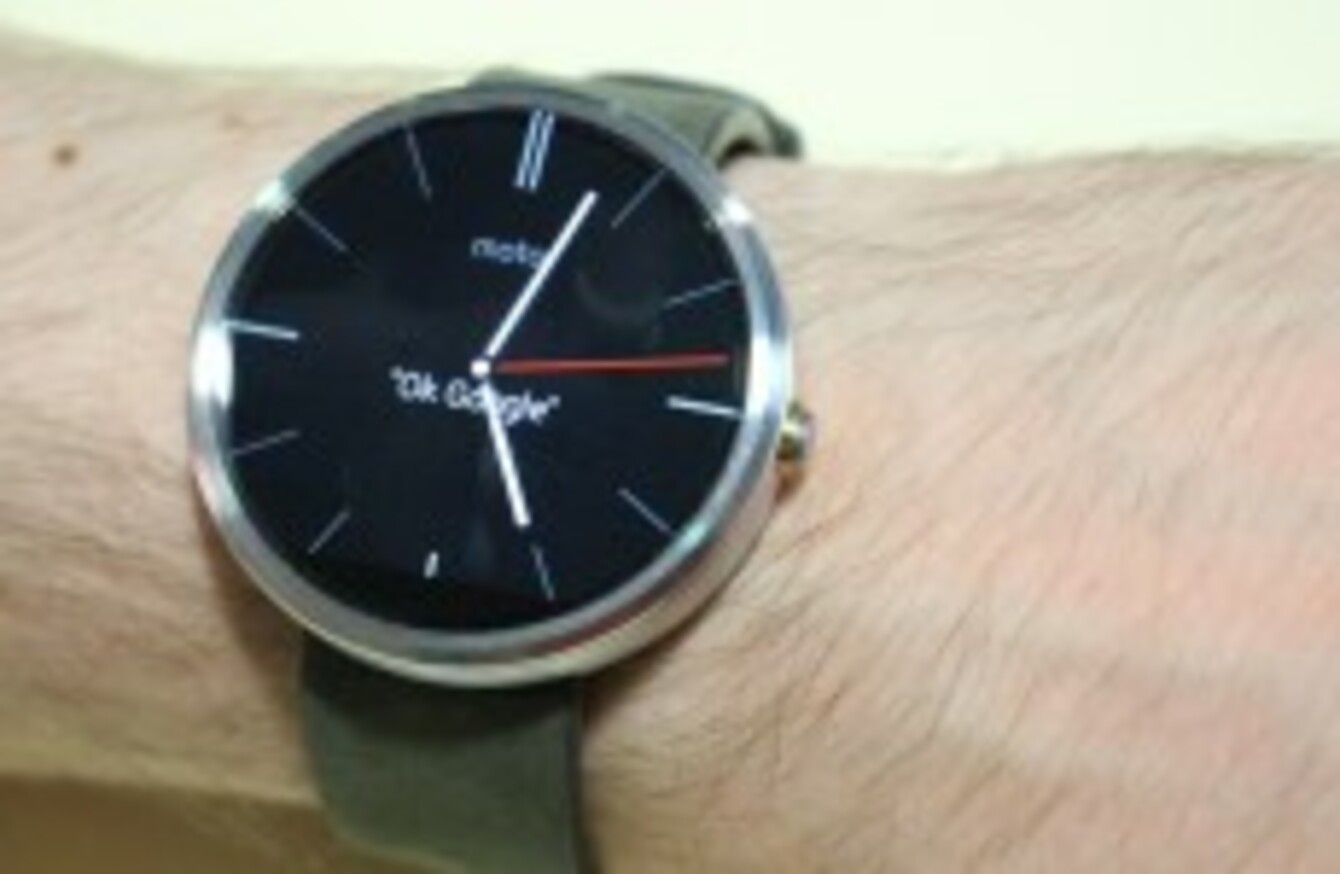 Image: TheJournal.ie
Image: TheJournal.ie
THE FUTURE IS wearables, or at least that what most companies believe as they move into the smartwatch market.
On one hand, you have Apple preparing for the launch of Apple Watch early next year, while Microsoft has entered the market with its health focused device Band.
On the other, Google has focused solely on the software side with Android Wear, allowing other companies to develop the smartwatches. Of the first-generation smartwatches powered by Google's OS, the Moto 360 has received the most attention thanks to an eye-catching design and better than anticipated specs.
But does it herald the beginning of the smartwatch industry or do we still have a long way to go?
Look and feel
To state the obvious, the Moto 360 feels exactly the way a watch should feel. Lightweight, comfortable, and something you can forget about until you actually need it, exactly the kind of features wearable tech should offer if it's to be taken seriously.
It also helps that the Moto 360 is rather stylish. It's the first Android Wear smartwatch with a rounded screen (others went for a square look) and the metal rim and rubber strap helps it pass both the comfort and style test.
There is only one button located on the side, which activates the watch and puts it on standby, or brings settings when you hold it down. For the most part, you won't actually use it as you can double-tap the screen to activate it and cover it with your palm to put it on standby, but it's there if needed.
Speaking of activation, it can also be done through gestures. When you bring your wrist up to your face, the screen will sense this movement and switch on automatically. It's a nice touch although you will likely switch it on accidentally because you moved your wrist too quickly for something.
Hardware
Considering the small size, the power and capabilities of the Moto 360 has been stripped down, but it does pack quite a number of sensors into it. The device comes with a gyroscope, accelerometer, compass, pedometer and a heart-rate monitor built in, which is handy considering the importance it places on fitness and functionality.
The 1.56-inch display is a nice size, although like all touchscreen devices, it's prone to smudging, except unlike your smartphone, it's much more noticeable as it's such a small screen.
The 512MB of RAM used to power it is for the most part, adequate for most tasks you complete on it. It can sometimes end up freezing during the more demanding tasks, as was the case when dealing with Google Fit (a product that's at best incomplete).
Battery life is decent. In general, it would last roughly 36 hours through normal use and if you're conservative, you can extend this to 48 hours as your watch automatically goes into standby mode.
It's not amazing, but it's not the end of the world if you forget to charge it. Although if you turn on ambient lighting – which shows you the time and the latest notification you received when on standby – it will drain the battery a lot faster.
Charging it is done wirelessly through a charging stand, which can double up as a bedside clock. It charges very quickly – for every minute, the charge goes up by 1% meaning you can reach 100% in under two hours.
While it has an alarm, it's practically useless when on the stand since it only alerts you through vibrations. Also, the stand is perfectly fine for when you're at home, but if you're travelling, it's not exactly the most convenient item to bring around with you.
Android Wear
While Android Wear is designed towards simplicity, there is a learning curve that while easily overcome, does require a bit of practice to get used to.
While it does show you the basics when starting up, it's likely that you will need to read up on the gestures so you know what you're doing. This can take a bit of time as it not only uses swipes and tabs, but double-taps, wrist movement and even covering the screen with your palm to switch it off.
You can tell a lot of thought has been put into the interface, and essentially, it boils down to three main functions: notifications, fitness and quick actions.
The first function is where Android Wear really shines. Basically a miniature version of Google Now cards, both notifications and context-driven information like weather and events are displayed here.
It does feel liberating to be able to just glance at your watch and decide whether a notification is worth acting on or not and to its credit, it makes things as easy as possible.
The other two is where things begin to unravel a little. The software has problems recognising your heartbeat and the pedometer doesn't always recognise steps per se. The biggest problem, however, is it doesn't really tie into anything greater. Comparing previous days tells you a bit, but not much, and it would have been nice if it tied into goals that you set before a workout. Granted, it's only been released this week, but it is lacking in usefulness.
Actions are completed through either taps or voice commands, and while nowhere near as flawed as Google Fit, still requires some care. In the case of text messaging, you're provided with one or two word responses for easy replies, but if you want to send a more detailed response, you will have to use voice or tap the 'open in phone' option (the get-out clause for most watch actions).
For the most part, it's good at recognising what you say, but the problem is it will send the message automatically, even if it doesn't pick up what you said properly. You can cancel it during the sending process, but it's likely many using it for the first time will be caught out by this.
You can't make phone calls or send voice messages through it, which is probably for the best, but would have been a nice option for whenever you receive a call.
Conclusion
For a first-gen Android Wear device, it's definitely more impressive than you would expect, but is it something you should purchase?
The answer is not just yet. Despite the positives and the little touches, both the software and (to a lesser extent) hardware feels incomplete.
The battery life isn't good enough to keep up with the more demanding tasks and while the core of a great interface is there, there are just too many little issues that hinder the entire experience which is a massive shame as there is much to like here.
Probably the biggest problem it faces is there's nothing there that makes it a must-have. Granted, it's the closest anyone has come to offering a great smartwatch experience, but rightly or wrongly, its success is shaped by the quality of Android Wear, and currently it just doesn't do enough to make it, or any smartwatch it powers, a must-have.  Also, the price of €264 might be a bit much for the average person.
To Motorola's credit, it's one of the best efforts of creating a smartwatch we've seen (sorry Pebble), and it will set the standard for all future devices, but unless you don't mind charging every second day, or are so overloaded with notifications and need a way to better manage them, it might be better to wait until the next generation of smartwatches are released.
One way or another, wearables are the future, but for now, they're still a work in progress.
Pros
- Nice design, simple and lightweight.
- Charges quickly.
- Gestures and interactions are useful and intuitive.
- Not needing your phone to check notifications feels liberating.
Cons
- Overall battery life isn't great.
- Android Wear and Google Fit needs work.
- Can be prone to freezing during the more demanding actions.
- €264 would be seen as pricey for the average person.
The Moto 360 can be pre-ordered from Expansys for €264.