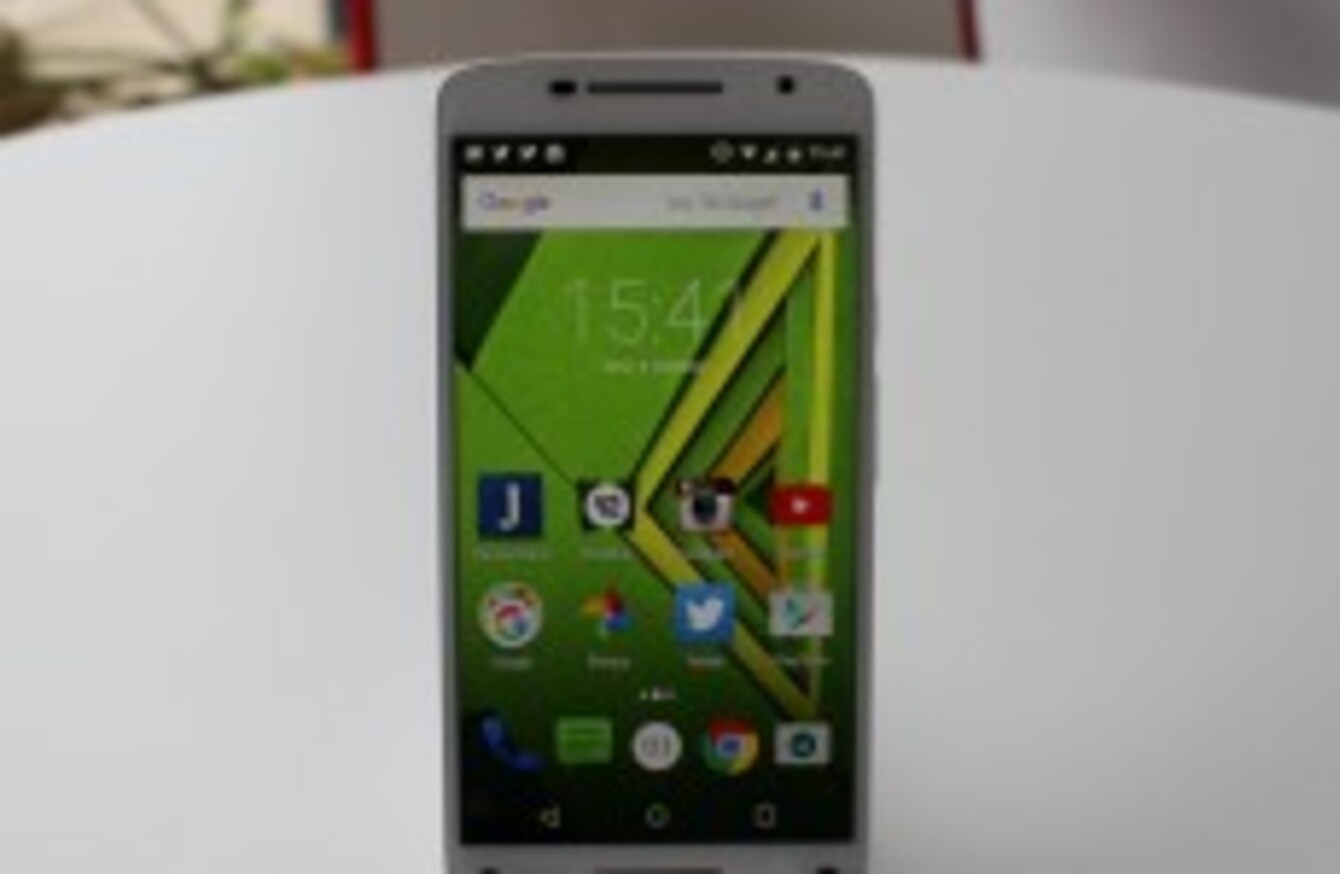 Score: 8/10
Verdict: It won't amaze you but its long battery life makes this a step up from similar mid-range devices. 
You wait for a Motorola phone to arrive and three come at once. We had the Moto G (3rd edition) to kick things off and announced alongside it was the Moto X Play, its mid-range offering, and the premium Moto X Style.
This time, it's the turn of the Moto X Play to show everyone what it's made of. While the Moto G was a great budget phone, the X Play wants to appeal for those who want a compromise between specs and price. But how does it fare?
Look and feel
Following the same template as former Motorola smartphones, the Moto X Play is neat if a little bland. There's a removable back cover, larger screen and the SIM and SD slot is located at the top, both placed in the same area. The 5.5-inch screen is probably as big as you can get using a phone one-handed and unless you've petite hands, it's manageable.
The curved back means you'll get a firm grip on it and really that's all you need. Volume and power buttons are located on the side, the latter having slight grooves so you can tell the two apart, while the speakers are located at the bottom.
If there is a criticism, and it was mentioned earlier, it's that the design doesn't really stand out. Smartphones follow a general template sure, but even with the customisation options available, there's nothing particularly eye-catching about it. It's functional but it's unexciting.
Hardware
Much like the design, the specs are good if a little uninspiring. 5.5-inch screen, a 21MP camera, a quad-core 1.7 GHz and 1.0GHz Cortex-AV3, 2GB of RAM and water resistance.
For the most part, it handles tasks with relative ease. Running on pure Android means there's little in the way of the OS just doing its job and that's the way it should be.
Those who try to use it for more demanding games, however, will find it won't quite match what the high-end devices can do, but for more casual games, it will function just fine.
Yet the major selling point is the battery life. Packing a 3630 mAh battery, Motorola claims it can last up to 30 hours with mixed usage and to be honest, it isn't far off.
Even through normal use, we found it would last a day and a half on average. That timeframe is reduced when you start using it for resource intensive tasks like gaming, but you'll make it to the end of the day without much hassle.
Part of that is down to the hardware running – packing mid-range specs means it's going to be less demanding – but chances are you won't mind that.
Software 
If you're familiar with Android in any form, you'll know what to expect here, but there are some small software additions from Motorola itself.
It's mostly the same as with the Moto G with Moto Voice, gesture controls, a customised lock screen and offering pre-determined settings when you're sleeping, driving or in a meeting.
It's not that any of these settings aren't useful or don't work well, but there's not enough there to convince you to change to Motorola's versions over Google.
Also, its lock screen can be a little fickle at times. Maybe it was because the Moto G had a smaller screen and was easier to hold, but the Moto lock screen would activate during movement, sometimes preventing you from accessing the real lock screen.
This didn't happen that often, but it was a hindrance whenever we wanted to get an overview of notifications or check the camera straight away.
The Camera
The camera may have seen a jump in quality, now packing a 21MP camera and numerous other features, but the reality is less straightforward. In general, the upgrade is noticeable but only in optimal conditions.
The camera is a little sluggish when you're trying to start it up, talking as long as two seconds at times to activate before focusing on what's in front of it. This isn't the worst flaw to have, but it's a drawback to those who like to snap first and think later.
The quality of photos is rather good, but when it gets to lower light situations, it doesn't fare as well. Even with all the adjustments you can make, you rarely feel like you have the correct lighting settings, even when changing the focus and ISO.
There are some nice additions though. Once you get use to the lack of a shutter button – you take photos just by tapping the screen – it's easy to capture moments on the fly and the camera app itself is streamlined so there's no confusion. Video footage also comes with a slow-motion option, which is a nice distraction, if nothing more.
Moto X Play camera

When the natural lighting is good, you get the best results with vibrant colours.

Moto X Play camera

Moto X Play camera

In low-light situations, the camera doesn't fare as well.

Moto X Play camera

Although the detail of objects up close is generally good.

Moto X Play camera

Moto X Play camera

IMG_20151004_130716103
Should you get it?
Since it's Motorola, you know what you're going to get. Good specs, an uncluttered interface and a phone that generally punches above its weight.
These are the reasons why Motorola is popular with Android users but while that might not be enough to convince people to buy it. Considering the market and how for a little more, they could get the upcoming Nexus 5X or a OnePlus Two if they somehow manage to get an invite.
Yet in its price range, it's one of the best out there and even if you're a demanding user, it's unlikely you will find yourself seriously struggling to get through the day thanks to the battery.
That may sound like a silly reason to buy a phone, but considering how much we like to complain about it, the claim to last a day and a half might not be a bad way to differentiate yourself from the competition.
Pros
- Great battery life.
- Sharp screen and generally good specs.
- Decent price.
Cons
- Unexciting design.
- Camera can be slow at times and inconsistent in dark settings.
- Falls a bit short when handling more demanding games.
The Moto X Play costs €349 on prepay.