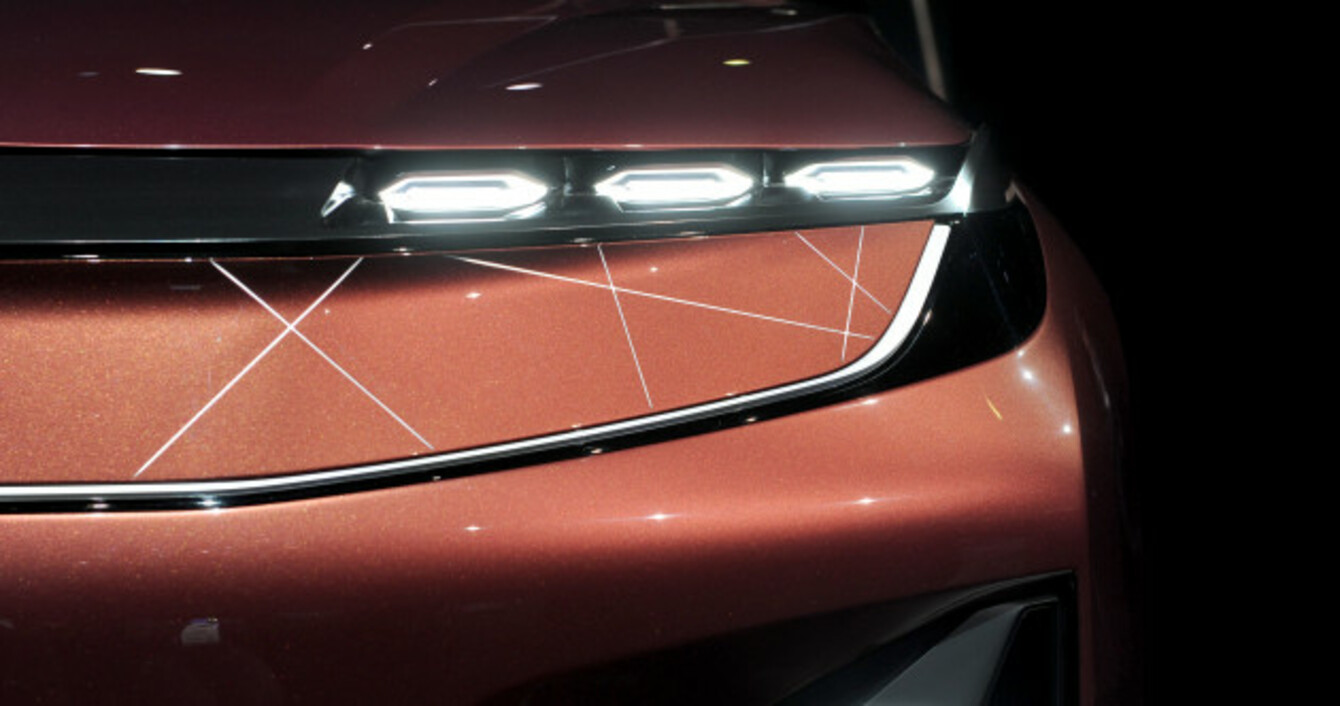 The new Byton SUV
Image: DPA/PA Images
The new Byton SUV
Image: DPA/PA Images
ALL THROUGH LAST week, tech heads and motoring enthusiasts descended on Las Vegas for the annual techfest that is the Consumer Electronics Show (CES).
Every year, some of the world's biggest car manufacturers compete to show off the splashy new tech that they believe will wow drivers of the future (and sell cars, of course).
So what did we learn from CES 2018? Well, this year, the big trends in the motoring sphere were artificial intelligence, Brain-to-Vehicle technology, huge infotainment systems and 'digital cockpits'. Let's take a look at how these were presented.
Artificial Intelligence (AI)
Hyundai presented its Intelligent Personal Cockpit – a concept which employs technologies ranging from voice recognition to AI, 'Internet of Things' technology and even driver stress detection. Yup, that's right, your car of the future will serve as a personal assistant and nurse as it checks your vital signs so the vehicle can take action if the driver is stressed.
This 'Wellness Care' function utilises two sensors placed on the steering wheel and the seat. The steering wheel bio-sensor and seat heart rate sensor monitor heart rate for sudden changes and may detect driver stress level. If the sensors detect stress, the system is equipped to take action and provide access to online visual consultation with a doctor – or simply turn on a soothing playlist while dimming the cabin lighting for a more soothing driving experience. Super smart, if a little creepy.
Volkswagen showed off its AI-enabled features which included facial recognition for unlocking the vehicle from the outside, driver alerts for bicycles, gesture recognition for user controls, natural language understanding for flawless voice control, and gaze tracking for driver distraction alerts. Very useful and practical applications of AI by Volkswagen.
Brain-to-Vehicle technology
Nissan's pioneering Brain-to-Vehicle (B2V) technology interprets signals from the driver's brain to assist with driving and to help the vehicle's autonomous and manual systems learn from the driver. The technology promises shorter reaction times and systems that adapt to maximise driving pleasure.
Nissan says that a vehicle's systems can react 0.2 to 0.5 seconds faster by detecting the brain wave activity that precedes the initiation of movement. By feeding this info from the brain to the vehicle, the vehicle's active safety systems can trigger earlier for safer driving. Furthermore, Nissan believes that the brain-to-vehicle technology can allow for closer integration of humans with future autonomous vehicles.
Source: Nissan/YouTube
Speaking about the B2V technology, Nissan's Executive Vice President, Daniele Schillaci, said:
When most people think about autonomous driving, they have a very impersonal vision of the future, where humans relinquish control to the machines. Yet B2V technology does the opposite, by using signals from their own brain to make the drive even more exciting and enjoyable.
By reading brain waves, an autonomous vehicle can detect if any of the occupants are feeling distressed or unhappy, and adjust the driving style, the interior settings and even use augmented reality displays to improve the occupants' disposition.
Infotainment systems that take over the whole dashboard
Extremely large in-car infotainment displays were everywhere at this year's CES. Mercedes-Benz showed off its huge dual 12.3-inch screen but that looked tiny compared to the metre-wide display found in the new Byton SUV.
Byton, a Chinese electric car startup, sees a future where technology replaces horsepower as one of the main reasons that consumers will purchase a car. To this end, it has replaced the traditional dash area with a 49-inch long by 10-inch wide digital screen that spans the width of the cabin.
The co-founders of Byton – former head of the BMW i8 program Carsten Breitfeld and former managing director of Infiniti China Daniel Kirchert – say they are "more inspired by Apple than by Tesla", although the Byton SUV seems like a perfect combination of both.
Digital cockpits with 5G connectivity
Sticking with car interiors, apart from the massive displays, digital cockpits were also all the rage in Las Vegas with Harman showing off its digital cockpit concept in a Maserati GranCabrio.
The Harman concept features a long sweep of screens that can all be operated via voice and gesture control. There is an information projection too so the driver doesn't have to take their eyes off the road, plus an Internet of Things ecosystem and 5G connectivity technology. It is a very slick interface.
Meanwhile, Kia showed off its "pure, minimalist and digital appearance" cockpit in its Niro EV Concept car. The cockpit featured a wraparound dashboard and Kia's new HMI technologies.
The HMI allows drivers to create "a more digital interaction between car and driver than in a traditional vehicle" by allowing drivers to 'log-in' to the vehicle using face and voice recognition.
The facial and voice recognition technology, developed in collaboration with Amazon Web Services (AWS), welcomes drivers and adjusts vehicle settings based on preset individual preferences – or can disable many of the car's functions if the driver does not pass the identification process.
Kia also debuted 5G connectivity in its Niro EV Concept.