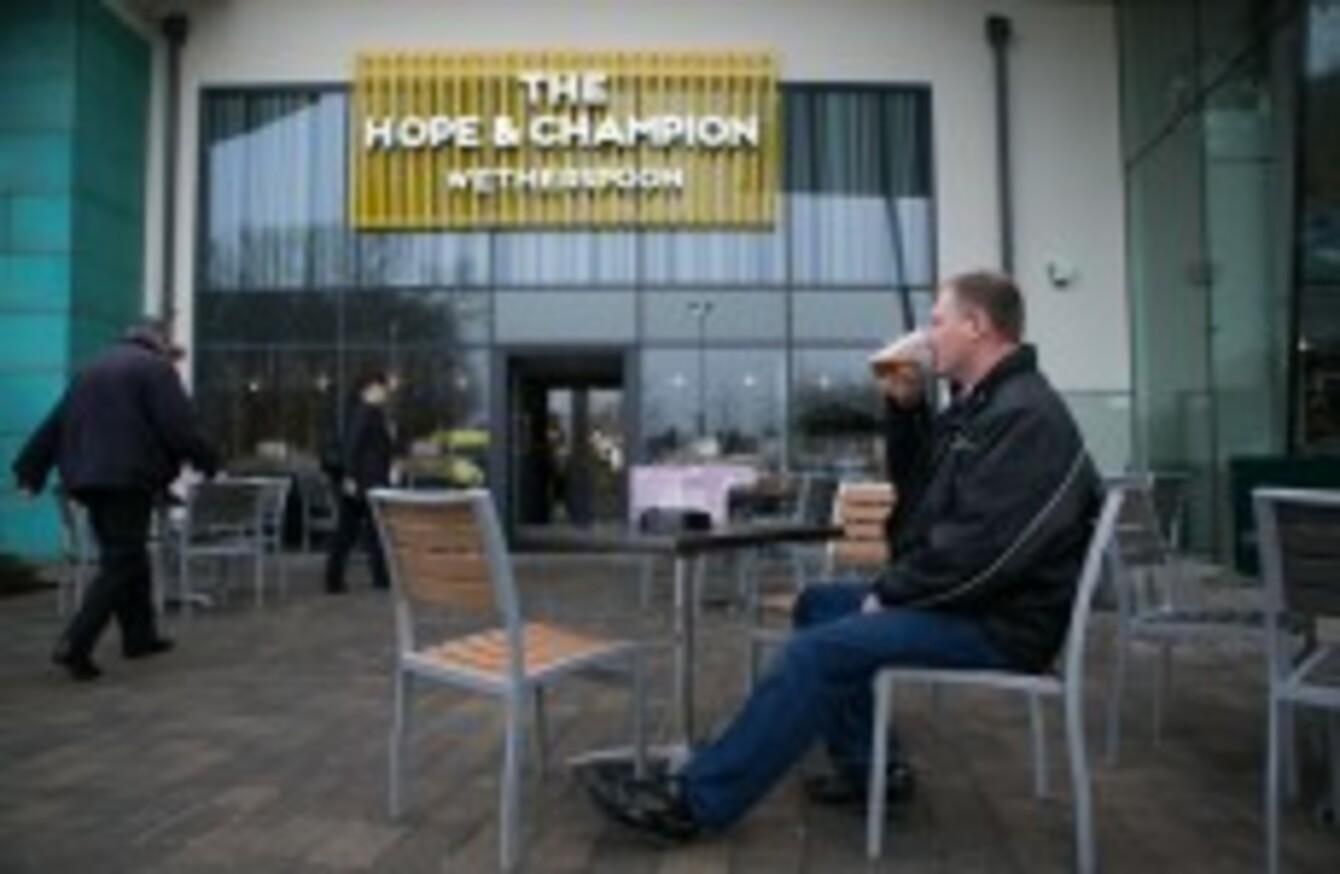 A man drinks at the new pub today.
Image: Steve Parsons/PA Wire
A man drinks at the new pub today.
Image: Steve Parsons/PA Wire
BRITAIN'S FIRST MOTORWAY pub started serving pints today, with opponents warning that drivers risked giving in to temptation to drink-drive.
The Hope and Champion, run by pub chain JD Wetherspoon which has recently bought its first pubs in Ireland, is on the M40 motorway linking London and Britain's second city Birmingham.
It is open from 4am to 1am seven days a week, with alcohol served from 9am.
The pub-cum-restaurant located near the town of Beaconsfield, west of London, serves traditional British ale as well as non-alcoholic and hot drinks.
The BBC said most early morning motorists today had a traditional English cooked breakfast and a cup of tea, though one man bought a pint of beer just after 9am.
Shift manager Derek at the new pub today. (Steve Parsons/PA Wire)
Manager Steve Baldwin said the pub primarily serves motorway users, "but its facilities are also available to the surrounding community".
Cans and bottles of alcoholic drinks can already be bought in shops at motorway services but The Hope and Champion is the first dedicated bar at a service stop.
Safety
Road safety groups said it was a worrying development.
Punters at the Hope and Champion today. (Steve Parsons/PA Wire)
"The opening of a pub on a motorway is deeply concerning, and presents a potentially deadly temptation to drivers," warned Ellie Pearson of campaign group Brake.
The RAC roadside breakdown service said a survey of 2,000 people showed that only 12 percent supported putting pubs into motorway service stations.
"The public appear to be very much against the introduction of motorway pubs," said RAC spokesman Pete Williams.
"This decision seems to be at odds with common sense. In our view this is a risky and frankly unnecessary move.
"Of all the places to open a pub, why choose a motorway service station? The temptation to drink and drive can only be increased by easier access to alcohol."