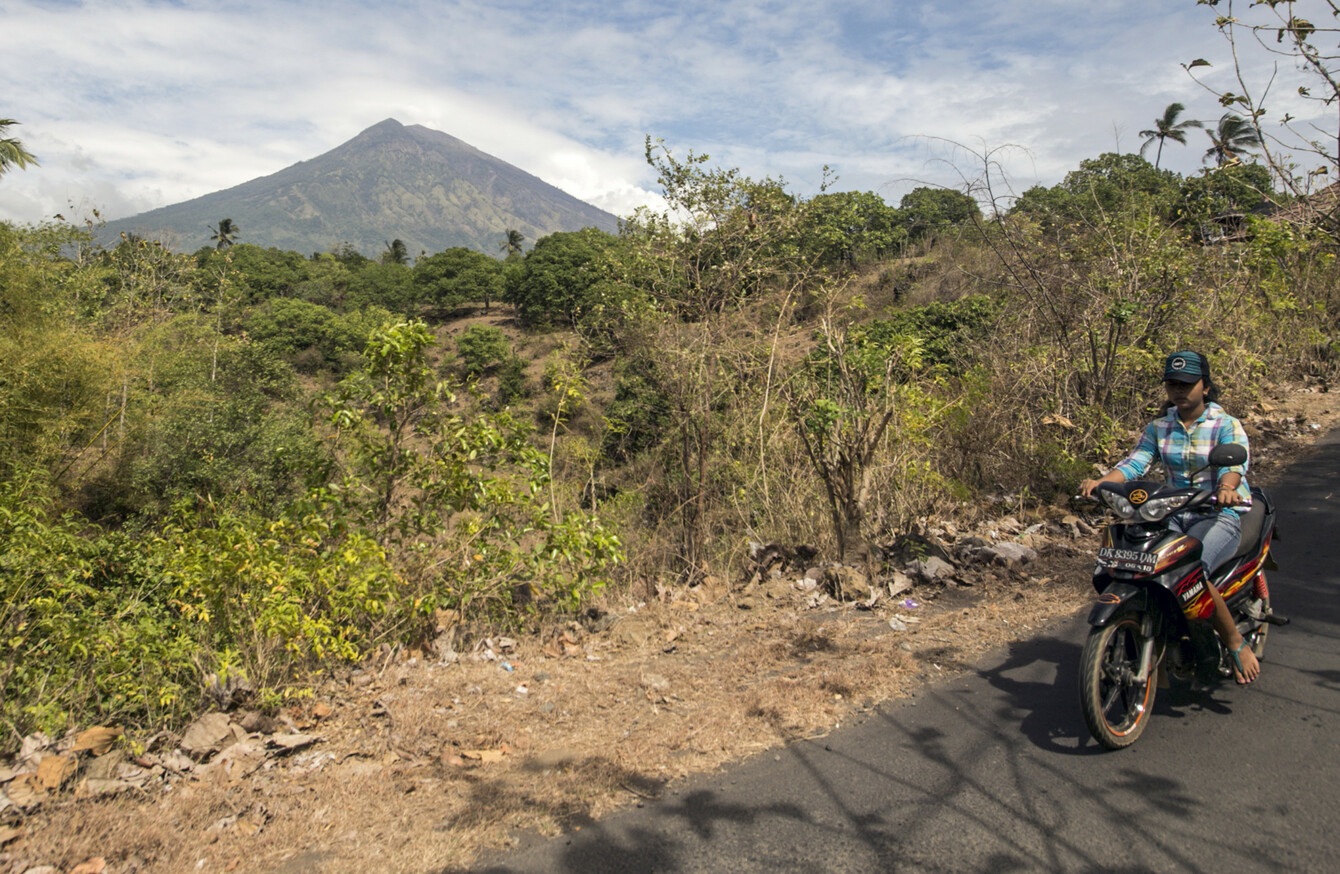 A villager rides past by with Mount Agung seen in the background in Karangasem, Bali, Indonesia.
Image: J.P. Christo/Press Association
A villager rides past by with Mount Agung seen in the background in Karangasem, Bali, Indonesia.
Image: J.P. Christo/Press Association
NEARLY 50,000 PEOPLE have evacuated from their homes for fear of an imminent volcanic eruption on the Indonesian island of Bali.
Mount Agung, 75 kilometres from the tourist hub of Kuta, has been shaking since August and threatening to erupt for the first time in more than 50 years.
The disaster mitigation agency said 48,540 people had fled and the number was expected to rise because more than 60,000 people lived in the danger zone.
"There are still people who don't want to be evacuated," Sutopo Purwo Nugroho, an agency spokesman, told a press conference.
"The reason is firstly, the mountain hasn't erupted yet. Secondly, they are worried about their livestock."
Increasing volcanic activity
Officials announced the highest possible alert level on Friday following the increasing volcanic activity, and told people to stay at least nine kilometres from the crater.
Evacuees have packed into temporary shelters or moved in with relatives.
Some 2,000 cows have been also moved from the flanks of the volcano.
Nengah Satiya left home with his wife three days ago, but said he had been returning to the danger zone to tend to his pigs and chickens.
"There are many livestock in our village but nobody is taking care of them," he told AFP at an evacuation centre. "We take turns going back to feed them."
The Indonesian Center for Volcanology and Geological Hazard Mitigation said the mountain was still being rocked by hundreds of volcanic tremors.
'Ring of Fire'
"Sometimes the intensity increases, sometimes it decreases, it's hard to tell when the mountain will erupt," senior volcanologist Gede Suantika said.
Mount Agung is one of more than 120 active volcanoes that run the length of Indonesia, which straddles the so-called Pacific "Ring of Fire".
It last erupted in 1963, killing more than 1,000 people and sending ashes as far as the capital Jakarta.
Important spiritual site 
The mountain, the highest point in Bali, is an important spiritual site for Balinese, who are predominantly Hindu in Muslim-majority Indonesia.
Pura Besakih temple, one of the island's most prominent temples, which is just a few kilometres from the mountain's slopes, has been closed to visitors since Saturday.
The temple narrowly avoided destruction when molten lava spilled down the mountain 54 years ago.
#Open journalism No news is bad news Support The Journal

Your contributions will help us continue to deliver the stories that are important to you

Support us now
Religious leader Sumerti Jero, from nearby Karangasem, said he saw the mountain's rumblings as a sign it was angry with tourists flouting local customs.
"For example, they have been disobeying the ban for women who have their period to climb Mount Agung," he said, adding many tourists also urinate on the mountain.
Bali attracts millions of foreign tourists every year to its palm-fringed beaches and is a particular favourite with visitors from neighbouring Australia.
A major eruption would likely have a significant toll on its tourism-dependent economy.
The airport on Bali's capital Denpasar has prepared buses and trains to divert passengers to alternative hubs in neighbouring provinces if the mountain erupts.
But officials are stressing the island is generally safe.
"Bali is totally dependent on tourism. As long as the planes are still able to fly, I think tourism will be all right," said Ketut Ardana, chairman of the Bali office of the Association of Indonesian Tour and Travel Agencies.
Still, tour operators like Mangku, the owner of Bali Trekking Tour, are watching the situation with interest.
"Some of our customers have cancelled tours. We understand, because of the volcano," he told AFP.