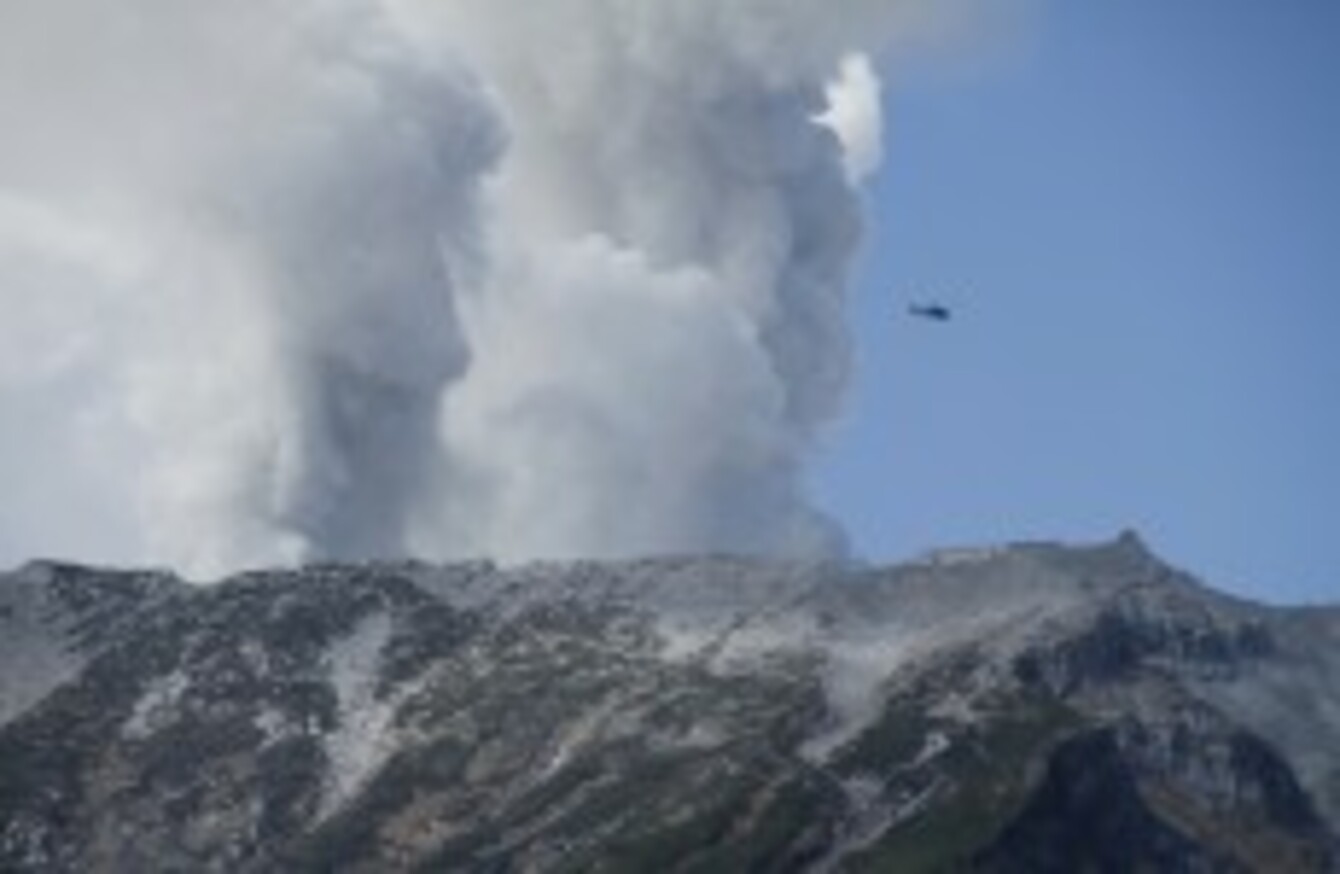 Mount Ontake continues to erupt.
Image: AP/Press Association Images
Mount Ontake continues to erupt.
Image: AP/Press Association Images
MORE THAN 30 hikers have been found in "cardiac arrest" near the peak of an erupting volcano in Japan, police said, using a term usually applied before doctors can certify death.
Rescue workers found them near the summit of 3,067m Mount Ontake, which erupted at around noon on Saturday.
"We have confirmed that more than 30 individuals in cardiac arrest have been found near the summit," a Nagano prefecture police spokesman told AFP without elaborating.
Rescuers were planning to bring four of them down the mountain by later tonight, Jiji Press said, citing police sources.
Some 550 soldiers, police and firefighters were involved in a major operation to try to save dozens of hikers feared stranded on the volcano since it erupted without warning — spewing ash, rocks and steam into a sunny autumn weekend busy with tourists and hikers.
A suffocating blanket of ash up to 20cm deep covered a large area of the volcano, and had forced up to 150 to seek refuge in mountaintop shelters at one point.
Local officials believe 45 to 49 hikers sheltered overnight in cabins on the mountain, although details remained unclear.
The mountain is popular among hikers, particularly in late September when the turning of the autumn leaves makes for dramatic scenery.
Columns of thick white steam were still rising from Mount Ontake, where a total of 42 people or more were believed to have suffered injuries.
Hikers who descended from the volcano reported scenes of horror, with stones raining down and hot ashes filling the air.
Video footage shot inside a cabin, taken by a hiker shortly after the eruption and shown on NHK, revealed the screams of terrified hikers as rocks thundered onto the roof and walls.
Grey, ash-filled air could be seen rolling against the window of the cabin before it thickened into darkness, blocking out the sunlight. Pitch blackness was punctuated by the thunderous sound of debris pounding the structure.
A group of 25 hikers — including a schoolchild — who spent the night in a cabin, were able to climb down Sunday to reach the start of one of the trails leading to the summit.
A middle-age man who was among the group said they had been near the summit.
"People panicked," he told NHK, his face smudged with ashes. "Honestly, I am glad I was able to come back alive."
Source: Associated Press/YouTube
Emergency helicopters rescued seven people, including two who were able to wave at a Self Defence Force helicopter.
"The helicopter flew over there very early in the morning to survey the condition. Then it found the two people waving at it," said a spokesman at Otaki village in Nagano prefecture.
"Originally, the rescuers thought it might be difficult to go near them because ash could rise (and damage the helicopter), but the conditions were better than they believed and they were able to rescue the two people," he told AFP.
Some 230 hikers were able to make it to safety soon after the eruption.
Many of them were covered with the muddy ash that had been spewed out by some parts of the mountain.
Television footage showed a line of rescue workers in orange uniforms or green camouflage scaling grey, ash-covered rocky trails, as if they were walking on the moon.
Source: kuroda terutoshi/YouTube
Among the injuries were those caused by flying rocks and internal burns after hikers had inhaled volcanic ash, the Yomiuri Shimbun said.
The meteorological agency forecast further eruptions, warning that volcanic debris may settle within four 4km of the peak.
The agency also restricted access to the mountain, while calling on local residents to remain alert as an eruption could shatter windows miles away.
The last significant eruption of Mount Ontake, which straddles Nagano and Gifu prefectures in the centre of the country, was in 1979 when it expelled more than 200,000 tonnes of ash, according to local media.
There was a more moderate eruption in March 2007.