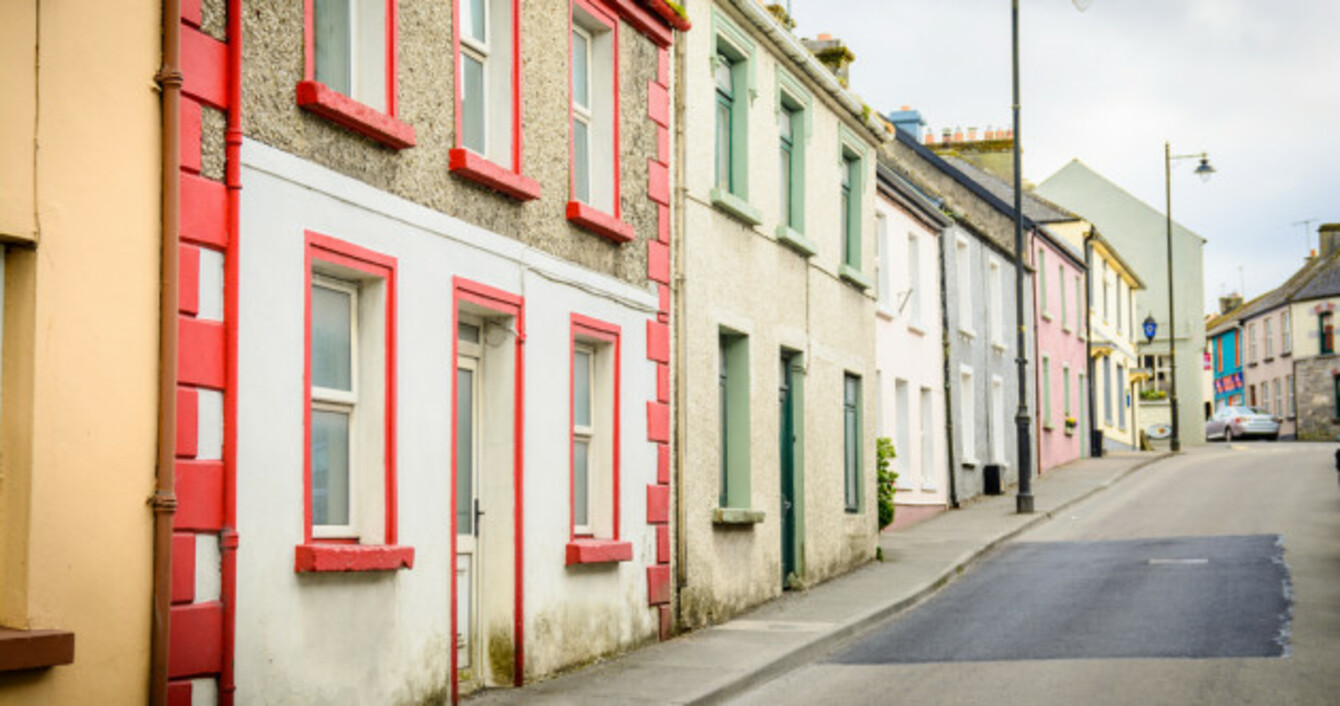 File photo: Rural village, Ireland.
Image: Shutterstock/Jon Chica
File photo: Rural village, Ireland.
Image: Shutterstock/Jon Chica
RELOCATING PEOPLE WHO can't find a house in Dublin to the countryside could be one of the measures used to ease the housing crisis.
The Housing Department is currently working on a proposal, put forward by Independent TD for Clare Dr Michael Harty, which aims to ask people who are on the social housing list or receiving the Housing Assistance Payment (HAP) if they would be interested in moving to a rural town and village.
It's understood Housing Minister Eoghan Murphy told local authorities at the recent Housing Summit that the Rural Population Rejuvenation Programme could be a viable option.
With the numbers facing housing and homelessness difficulties growing, it's hoped that some families might consider moving to the countryside.
The option may be of interest to those living in Dublin, but who hail from another rural area, who might consider moving back to their home county.
"This might be an option to someone who moved to Dublin a few years ago, but who perhaps lost their job, or whose marriage broke up, and might consider moving back home to their home county in the countryside," said a government source, who added that their place on the social housing list would be transferred seamlessly.
Relocation
"The idea is we would ask people if they would be interested in relocating to villages  - villages that have been experiencing their own difficulties due to migration," Harty told TheJournal.ie, highlighting the case of Kiltyclogher in Leitrim as one of the towns where locals are calling for people who are sick of the hustle and bustle of city life to come and live with them.
The school in Kiltyclogher, population 233, had just 14 pupils registered for the coming school year, meaning that it would have to close unless another family with a child moved to the area.
To try to save the two-teacher school, locals banded together to try to attract people to come and live in the town, which sits close to the Fermanagh border.
"The repopulation scheme would both benefit those on the housing list in Dublin and other cities, those on HAP, and they could choose to relocate to rural towns or villages where the costs of rent are much lower," said Harty, proposing that County Clare might lead a pilot scheme, before rolling it out nationwide.
Harty said those who decide to move could avail of a "different quality of life and a different lifestyle". Many people are not getting a chance to have a meaningful quality of life living in hotels and B&Bs, he added.
Such a scheme has been rolled out in the past, however, it ran into difficulties when anti-social behaviour arose.
Community involvement
In order for the new repopulation scheme to work, the Clare TD said the local community would have to "buy into the idea", which is why he believes it is essential that all local organisations are involved.
A Population Rejuvenation Committee would be set up in the village, made up of members of the local sporting, cultural, development and farming organisations.
It's envisaged that local authorities would act as a conduit between the local population rejuvenation committee and the national body made up of the Department of Housing and the Department of Rural and Community Affairs.
"When and if people relocated it will be vital that there are structures in place so they can adapt and engage with the community," said Harty, adding that he envisages authorities identifying people who might be interested in relocating.
In order for the project to be a success, he said relocation areas must have essential services, otherwise it would be pointless.
Having local businesses and organisations involved would allow job vacancies in the area to be identified, he added.
'Selling a package'
"In my village for instance, there is a large building company that might hire, there are shops that hire part-time staff, farmers who hire workers and a busy hotel nearby about five or ten miles away.
"You are selling a package, essentially. A package that might appeal to a family or those interested in moving. You are selling them a different way of life, a better quality of life, with meaningful employment and a chance to become part of a community," said the TD.
Though a big decision to make, Harty believes it is a good option for those families that are living with their children in hotels, who do not have long-term prospects.
Harty said he has spoken to the minister about the proposal and has also discussed it with some homeless charities, that have said there are a number of people on their books that would be interested in the programme.
"It is not going to solve the housing crisis in Dublin, it is a multi-faceted problem, but it is an option that will give people a better life, and get them into a house, possibly a better house," said Harty.
In turn, he said, the repopulating of rural towns would have benefits for the community.
"We are trying to maintain the fabric of rural life, and this would help," he said.