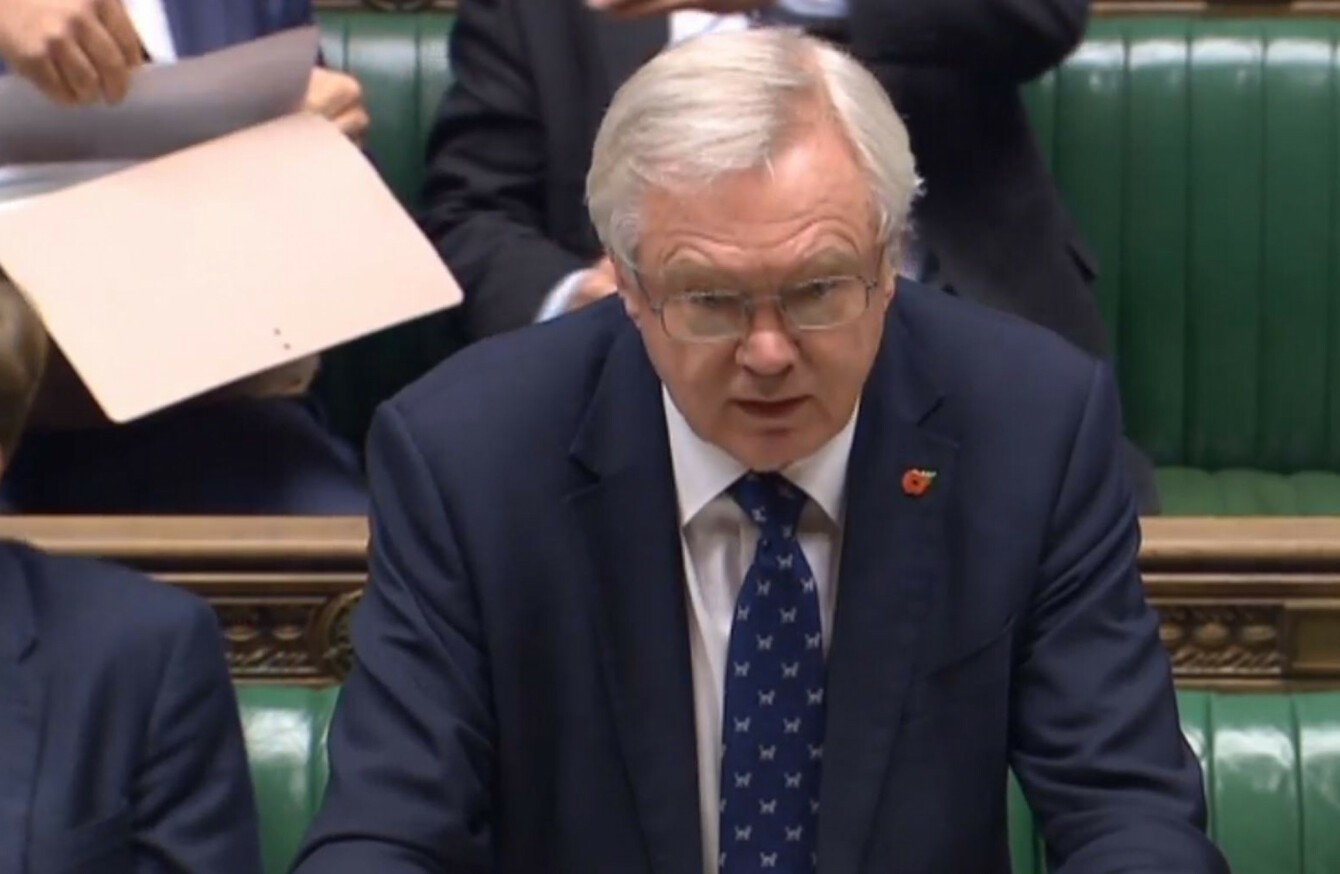 UK's Brexit Secretary David Davis
Image: PA Images
UK's Brexit Secretary David Davis
Image: PA Images
THE UK'S BREXIT Secretary has told MPs that they will be given a take-it-or-leave-it vote on the final Brexit deal before it leaves the EU.
David Davis said that the terms the UK agrees with the EU, such as the new citizen rights, trade deals and financial arrangements must become law, giving MPs a chance to vote on it.
While it will not mean that Brexit could be stopped, it will mean that Britain could leave the EU without a deal.
Davis said: "It is clear that we need to take further steps to provide clarity and certainty both in the negotiations and at home regarding the implementation of any agreement into United Kingdom law.
This agreement will only hold if parliament approves it.
Labour, and some Conservatives, were critical of this stance and said that it would give parliament no chance to have its say if the UK's negotiators are unable to reach any deal with the EU at all.
Labour's Keir Starmer accused the UK government of a "last-minute climb down", after it had repeatedly called for voting on a Brexit deal in the House of Commons.
The Conservatives made the concession after facing into a defeat in the House on an amendment calling for a vote on the final deal.
"With less than 24 hours before they had to defend their flawed Bill to Parliament, they have finally backed down," Labour's shadow Brexit secretary Starmer said.
Conservative Dominic Grieve said that negotiations with the EU should be extended if a deal can't be found and that parliamentarians should have a say before the date that the UK is due to leave the EU in 2018.
Last week, the EU's chief negotiator Michel Barnier said he is making contingency plans for the "possible" failure of Brexit talks.
"It's not my (preferred) option," he told French weekly Le Journal du Dimanche (JDD). "But it's a possibility. Everyone needs to plan for it, member states and businesses alike. We too are preparing for it technically."
On Friday, Barnier gave Britain a two-week ultimatum to make concessions on a divorce agreement if it wants to unlock the next phase of talks in December.
With reporting from AFP