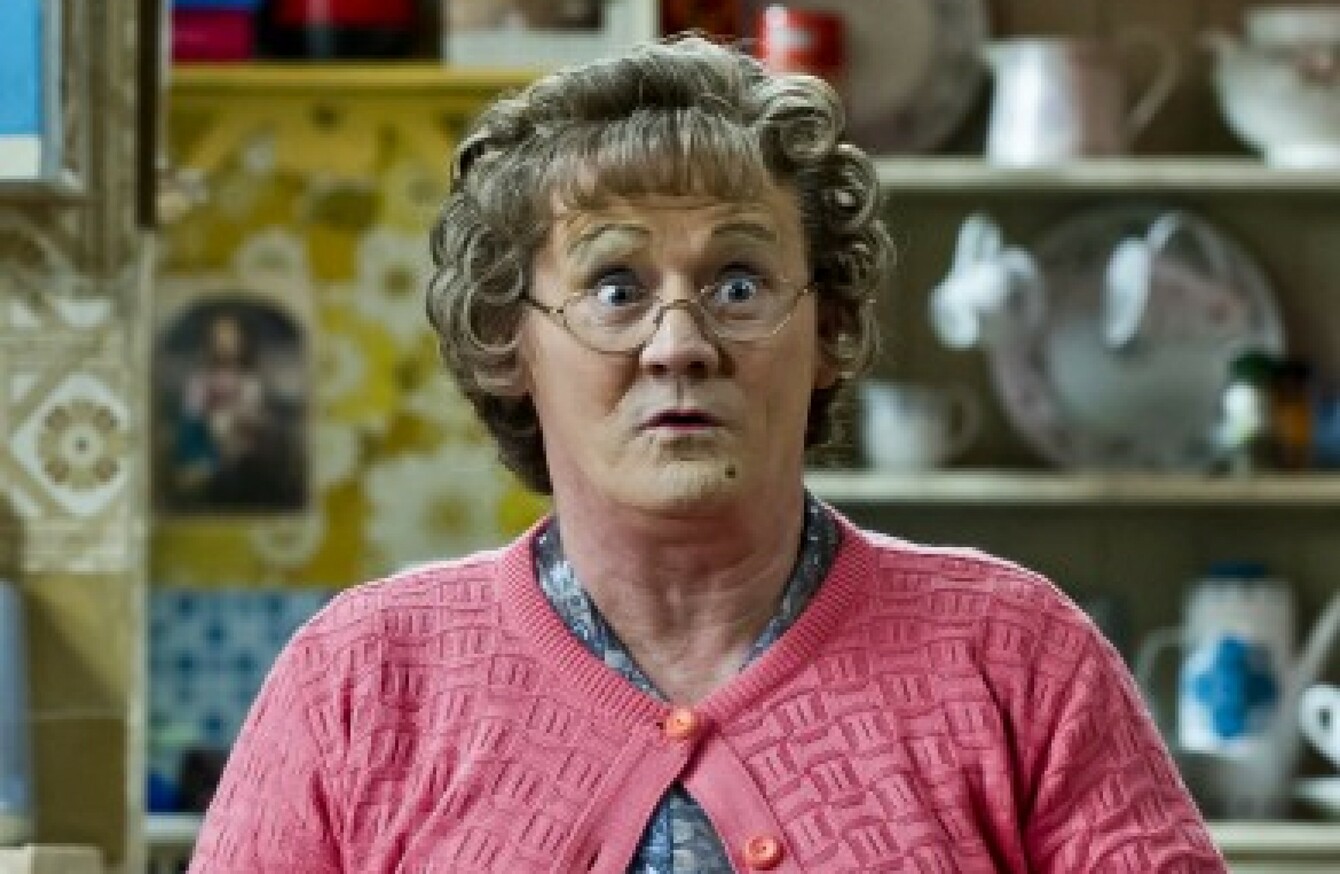 Image: TheJournal.ie
Image: TheJournal.ie
SAOIRSE RONAN WAS nominated for best actress this year for the British Academy Film and TV Awards, and now another Irish treasure has shown how popular they are in the UK.
Mrs Brown's Boys, written by and starring Brendan O'Carroll, won the best British sitcom of the century according to the Radio Times magazine which polled 14,000 readers online.
Two other shows written by Irishman Graham Linehan made the top 20 list; The IT Crowd and Black Books. There was no place for Father Ted which aired in the '90s.
Mrs Brown's Boys (started 2011)
The Office (2001)
Peter Kay's Car Share (2015)
Count Arthur Strong (2013)
The IT Crowd (2006)
The Thick Of It (2005)
Gavin & Stacey (2007)
Miranda (2009)
Raised By Wolves (2015)
Outnumbered (2007)
Peep Show (2003)
Black Books (2000)
Green Wing (2003)
The Inbetweeners (2008)
Bad Education (2012)
Peter Kay's Phoenix Nights (2001)
Yonderland (2013)
Twenty Twelve/W1A (2011)
Benidorm (2007)
Detectorists (2014)
Mrs Brown's Boys follows Agnes Brown, played by O'Carroll in drag, as the typical Irish mammy.
Although the show has received poor reviews from critics, viewers have turned up in high numbers. The show's Christmas special beat every other show in the UK, including the Queen's speech, apart from the final ever episode of Downton Abbey. It also topped the list of Christmas specials airing in Ireland.
The show airs in Ireland, the UK, Australia and Canada among others. The series even spawned a feature film, Mrs Brown's Boys D'Movie.
There had been talks of another movie, but O'Carroll revealed that the sequel was delayed due to uncertainty over funding after Brexit.
O'Carroll says the win "vindicated the fans' belief in the show.
They kept us on air – it certainly wasn't the reviewers.