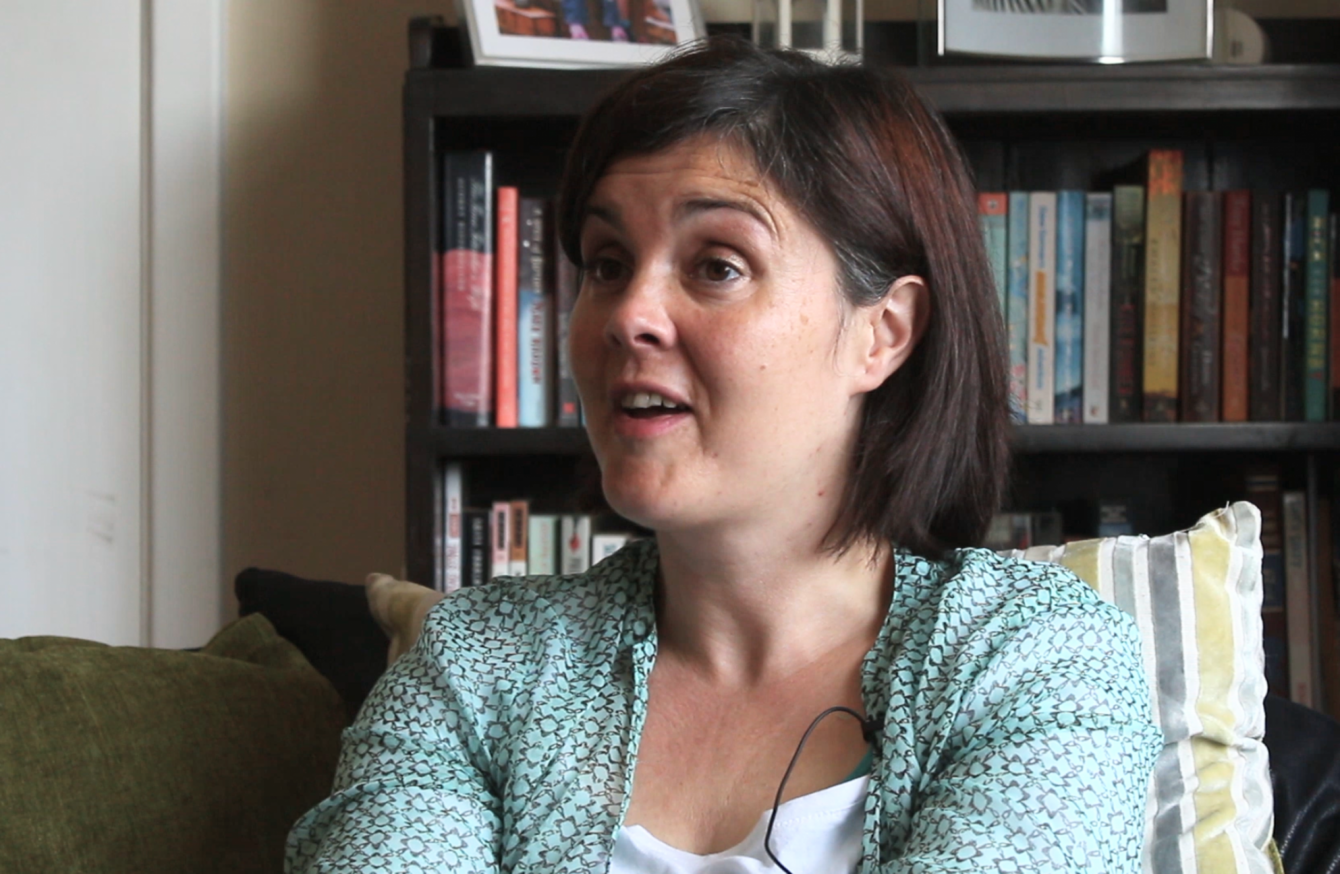 Source: TheJournal.ie/YouTube
CLAIRE MITCHELL IS a mother of two, a graphic designer and a proud Cork woman.
She also suffers with Multiple Sclerosis, a neurological condition which sees the immune system attack the protective layer around nerve fibers.
As Budget 2017 approaches, Claire, like the other 9,000 Irish people who have MS, will wait and see what measures will befall those living with a disability.
Claire, who lives in Montenotte in Cork city, believes she is lucky; she can work and provide for her two children.
Cuts
But there are thousands out there, Claire says, who have been left nearly destitute by stringent cuts imposed by austerity budgets.
According to the Disability Federation of Ireland, the budget for disability health services was reduced by €159.4 million between 2008 and 2015.
Some of the cuts included:
Blind Tax Credit, Incapacitated Child Credit, and Home Carer Credit cut by 10%.
Income threshold for medical cards for the over-70s lowered to €900 for a couple and €500 for a single person.
Disability Allowance, Blind Pension, Invalidity Pension, and Carer's Allowance cut by an average of 8% from 2009.
Number of waiting days for Illness Benefit during which no payment is made increased from 3 to 6 days in 2013.
Discontinued the weekly rate of €230.30 for Invalidity Pension at age 65, and reduced it to €193.50 in 2013.
It is these cuts she wants to see reversed.
Speaking to TheJournal.ie, Claire said:
"I think investment needs to be put into grants for modifying homes or cars. This will ensure those with greater levels of disability remain living at home for as long as possible. I would call on the Government to invest in disabilities. We are equal.
I think its important they invest in services so they can get the best out of their lives.
Define
While Mitchell knows she has a degenerative disease, she is living her life in a way where she will not let a disability define her.
It's that message she is trying to hammer home to people who might perceive her differently.
Speaking from her home, she added:
"It's important to me that I'm not defined as someone who has MS, that I'm not perceived as the one up the road who has MS.
My name is Claire. I am a person. I'm no different to anyone else.
"I don't agree with a label being put on anyone."
Claire was diagnosed with the disease 10 years ago.
She described how even though she was expecting the diagnosis, it was still a bombshell.
Relapsing
But it was the first year of living with the disease which did most of the damage.
Claire struggles with her mobility at times, much of the left side of her body has been damaged by a number of relapses she suffered in the first 14 months post-diagnosis.
However, this damage was avoidable, according to Claire.
She believes that regular access to a neurologist at the start of her journey with MS would have shown that the initial medication she was on was doing no good.
She explained: "I hope for Budget 2017 that significant investment is made in neurology in general. We need more neurologists. Services for people with disabilities can't be cut any further.
"After my diagnosis, the first drug I was on for about a year, I had to self-inject. It turned out it wasn't working at all for the year. I had been relapsing all along.
I didn't release the slightest tingle was a relapse. I was so new to the disease.
"Because it took so long for me to get back in to see the neurologist, I had in fact been relapsing continuously for the first 14 months.
"I'll never recover. The lazy left leg got worse and worse. I never regained the strength in that leg as a result of waiting to get on that new medicine.
"We have the lowest rate of neurologists in Europe. I think it's vital that investment is put into services."
While Claire manages her condition with relative ease, there are still drugs she'd like to see on the market.
There's one type of medication Claire would like to take but risks prison time if she attempts to buy it today.
That drug is cannabis.
She explained: "We don't have full access to medicines particularly medicine which would improve the lifestyles of those with MS. On a daily basis we need to have a quality of life.
What I'd like to see on the market is Sativex- a cannabis based medicine. It's scientifically proven that it helps muscle tremors and pain.
Legalise
"Cannabis-based drugs are available in the UK, Canada, Italy, Spain and North America so I think it needs to be made available to patients to improve their lives.
"At the moment, as an MS patient in Ireland, if I used cannabis or cannabis based products, it's illegal, I'd face a €2,000 fine and up to 12 months in prison if I'm caught.
"Cannabis needs to be legalised for medicinal purposes in this country. The country needs to wake up to the fact it helps people with neurological conditions."
Not only does Claire believe support structures need to be invested in, she feels, along with many people who live with a disability, that the Government is ignoring them.
Ireland is the only country in the EU which has not ratified the UN Convention on Persons with Disabilities.
Claire said: "I think it's very important to recognise that people with disabilities are equal. We deserve equal rights and equal opportunities. I think they're (Government) not recognising people living here have valuable things to offer.
"It's important that I'm seen the same as someone who doesn't have a disability."
For now, Claire, along with the 57,000 estimated people living with a disability, will be waiting on Michael Noonan to deliver some good news for once, news which will allow many people get back to living a fulfilling and happy life.
Video by Nicky Ryan