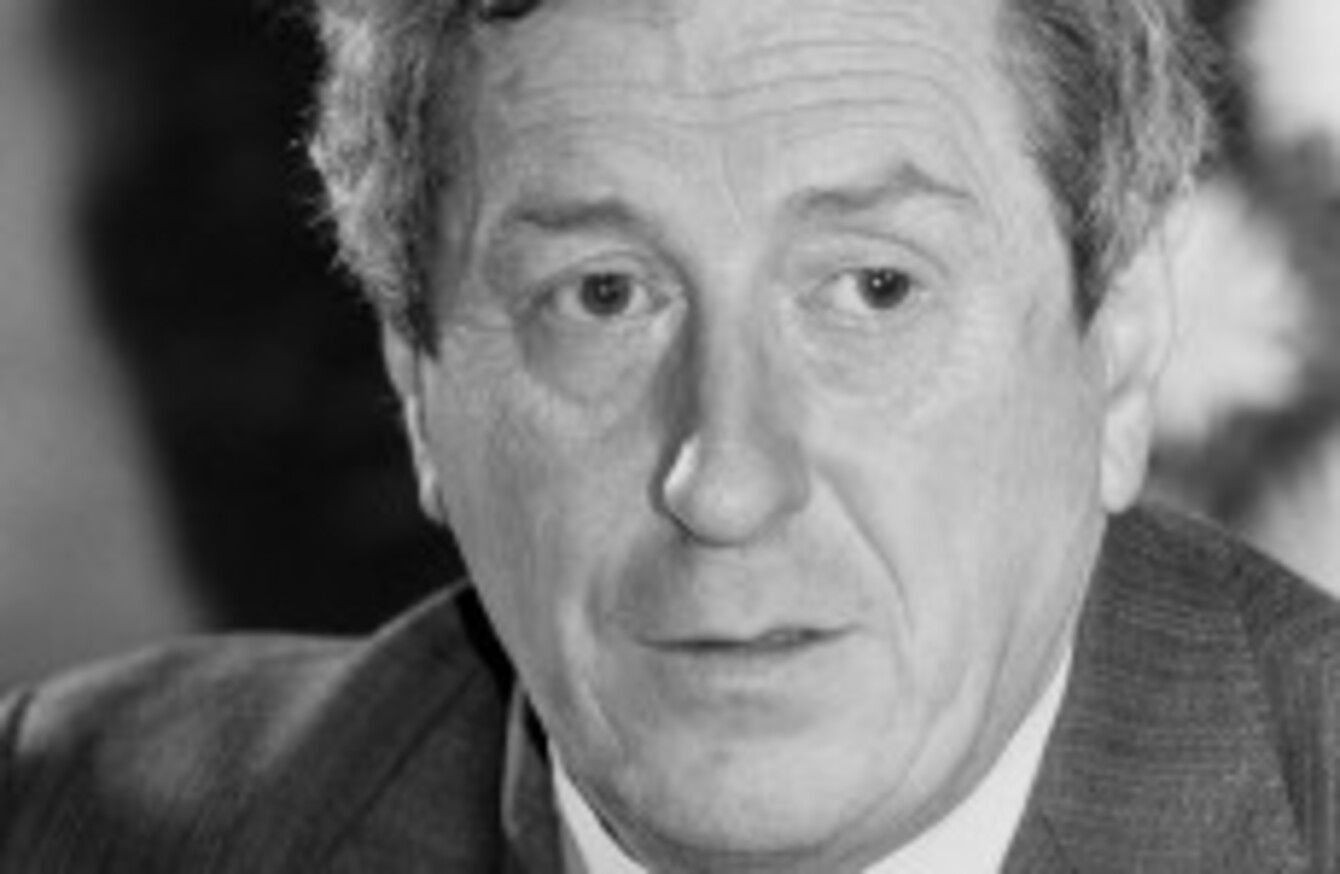 Garret Fitzgerald - the Taoiseach in 1983
Image: Press Association Images
Garret Fitzgerald - the Taoiseach in 1983
Image: Press Association Images
THERE WAS A considerable amount of correspondence between departments and the British Government in the run up to the state visit of Zimbabwean Prime Minister Robert Mugabe in 1983.
Discussions about whether Taoiseach Garret Fitzgerald should bring up the case of six detained Zimbabwe Air Force officers – two of which had Irish connections – was a hot topic.
Air Force
In 1982 a series of explosions at Thornhill Air base in Zimbabwe resulted in 12 aircraft being destroyed . Shortly after incident, several air officers were detained under new emergency powers in relation in connection with the sabotage operation.
Some were released and some were tried for sabotage of the aircraft. However in August 1983, six air crew were acquitted by the High Court in Zimbabwe, but they continued to be detained, with no retrial.
Throughout the trial it had been alleged that some of the men had undergone torture and were given electric shock.
State papers reveal that prior to Mugabe's visit, the Department of Justice received reports that Wing Commander Peter Briscoe and Wing Commander John Cox and possibly three other air crew were entitled to Irish citizenship.
The brother of Briscoe wrote to the Irish consul in South Africa and requested that an Irish passport be issued to his brother upon his release from prison stating that they would be "indebted" if this was possible.
Taoiseach Garret Fitzgerald replied stating there was no "political objection" to an Irish passport being issued to him upon his acquittal. View the letter here, here and here.
The state documents go on to state that the British Embassy had got in touch with the Department of Justice and suggested that the Irish Government "express concerns to Prime Minister Mugabe about the case during his official visit".
Britain
Despite it being stated by the news wires that Ireland had agreed to raise the issue, a government document reveals that there were concerns about media reports that the Irish Government "did not, repeat not, say that we would raise issue" adding that they had merely indicated that it was possible it might arise.
The document goes on to state:
It would appear that UK is attempting to use Mugabe's Irish visit to exert maximum leverage.

Apparently Mugabe responded 'fiercely' to British High Commissioner… We are advising the Taoiseach to be very cautious in way in which he approaches subject…
#Open journalism No news is bad news Support The Journal

Your contributions will help us continue to deliver the stories that are important to you

Support us now
The document can be seen below:
Another state document reveals that the incident and whether to bring it up with Mugabe was again a topic of discussion, with a note stating that Government may need to intervene if the UK's Prime Minister Margaret Thatcher asked Taoiseach Garret Fitzgerald to take up the matter with Mugabe.
When Mugabe did visit, Taoiseach Fitzgerald did raise the matter of the detained air crew with Mugabe. The Department of Foreign Affairs said the issue was "couched very carefully" so as not to upset the Zimbabwe leader.
The state visit was fraught with tension before Mugabe arrived and during the visit, as during a state banquet for Mugabe, FitzGerald took too long to pick the dinner's wine and more than 30 unaccounted for guests turned up, in a dinner party that was planned right down to the detail, as seen with this seating arrangement for the night.