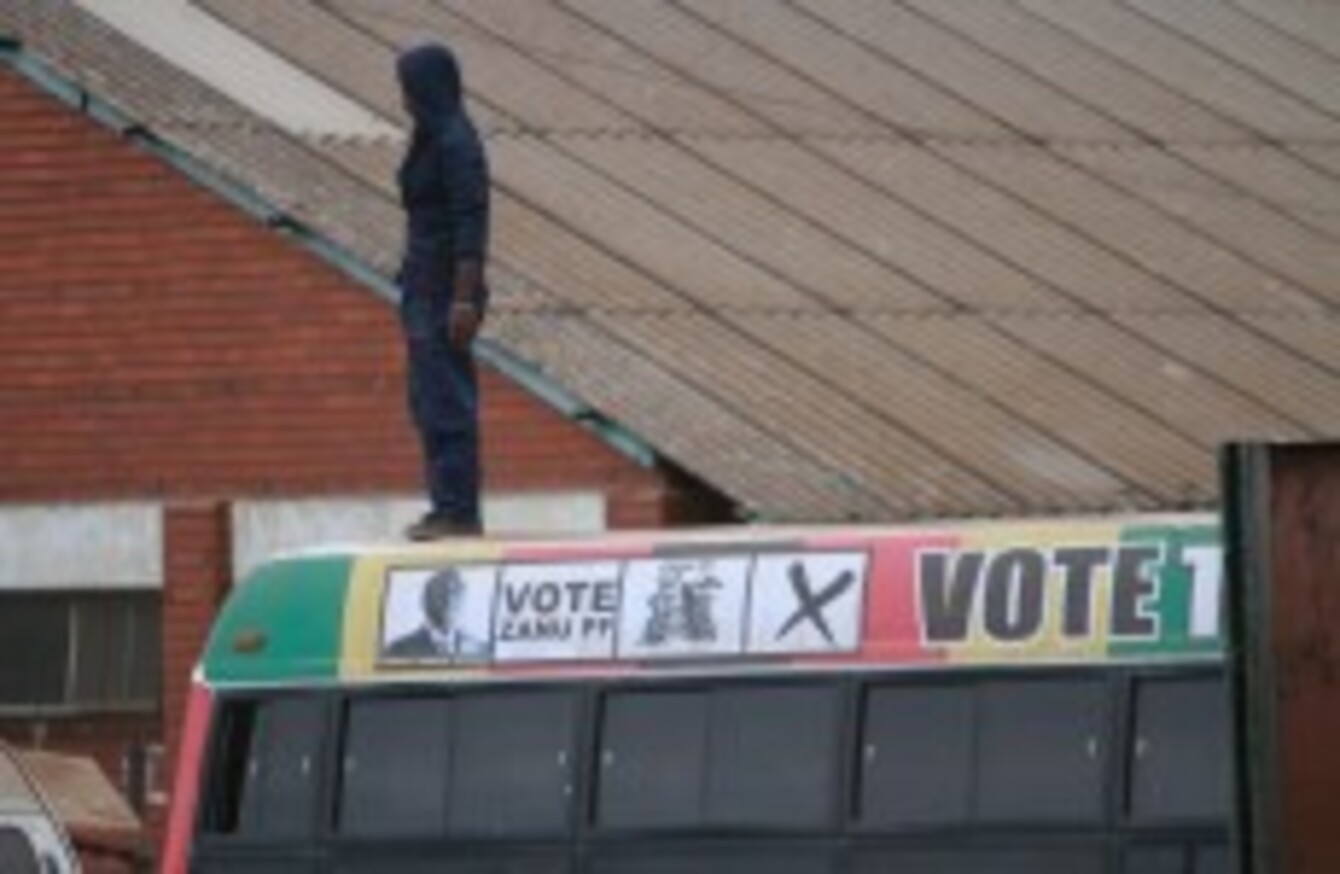 A man observes from on top of a campaign bus for President Robert Mugabe
Image: AP Photo/Tsvangirayi Mukwazhi
A man observes from on top of a campaign bus for President Robert Mugabe
Image: AP Photo/Tsvangirayi Mukwazhi
INTERNATIONAL UNEASE MOUNTED today over the re-election of Africa's oldest leader Robert Mugabe in polls denounced by Zimbabwe's opposition as "stolen".
Mugabe, 89, in power since 1980, trounced his long-standing rival Morgan Tsvangirai in Wednesday's polls with 61 percent of the presidential vote while his party swept to a crushing parliamentary majority.
But 61-year-old Tsvangirai, who has unsuccessfully tried to unseat Mugabe three times, condemned the vote as "fraudulent and stolen" and has vowed to challenge it.
Doubts
Western powers have voiced serious doubts about the polls following concerns over irregularities. Germany said the election "casts a big shadow on the political and economic future of Zimbabwe", while Australia called for new polls.
US Secretary of State John Kerry had described the election as "deeply flawed" and said Washington "does not believe that the results …today represent a credible expression of the will of the Zimbabwean people."
British Foreign Secretary William Hague added his own "grave concerns" over the conduct of the vote in the former colony.
Observers raised concerns over the availability of the voters roll, the printing of extra ballot papers, and the turning away of voters at polling stations.
With gentler assessments from African observers who nonetheless noted the flaws, President Jacob Zuma of powerful neighbour South Africa offered his "profound congratulations" to Mugabe on Sunday.
Zimbabwe's main opposition leader Morgan Tsvangirai in Harare. Pic: AP Photo
"President Zuma urges all political parties in Zimbabwe to accept the outcome of the elections as election observers reported it to be an expression of the will of the people," a foreign ministry statement said.
The reaction in Zimbabwe's Sunday press was starkly divided, with state-controlled newspaper The Herald proclaiming "President Mugabe romps to victory", while the independent Daily News headlined, "It's a Crisis".
Polls
The vote marks the end of a tense compromise government between Tsvangirai and Mugabe, forced by bloodstained 2008 polls, that helped steer the isolated nation out of a protracted crisis.
In Harare's oldest township Mbare today, several hundred Mugabe supporters carried a white coffin draped in an MDC flag, with a red knotted scarf placed on top with the inscription "RIP Morgan".
Some carried shovels chanting that they were going to bury Tvangirai's party, the Movement for Democratic Change.
Government
Tsvangirai vowed to challenge the result in court and said the MDC would boycott government institutions. "We will not join government," he said. "We will go to court."
Tsvangirai defended his 2008 decision to enter into an uneasy power-sharing government with Mugabe, who has had him arrested, beaten and charged with treason. "Our participation rescued this country," he said, citing the country's stabilisation after years of meltdown.
But Mugabe's ZANU-PF party says there is no need for the MDC in the new government.
#Open journalism No news is bad news Support The Journal

Your contributions will help us continue to deliver the stories that are important to you

Support us now
"We have received over 60 percent of the vote, we have two-thirds majority, why would we want to bring someone else on board?" State Security Minister Sydney Sekeramayi told AFP.
The MDC now has until Saturday to present evidence of fraud to the constitutional court, but finding a smoking gun may prove difficult. The inauguration is expected within 48 hours of the court's decision.
Zimbabweans queue to cast their votes in the country's general elections in Goromonzi, rural Zimbabwe, on Wednesday July 31, 2013. Pic: AP Photo/Skyler Reid
Tsvangirai said he would submit a dossier of "all irregularities and all the illegalities" to the influential 15-member Southern African Development Community (SADC) and called for an urgent summit.
But Emmerson Mnangagwa, defence minister and a key Mugabe lieutenant, hit back at the accusations, arguing instead that the result was a game-changer.
SADC, which engineered the power-sharing government, said the vote was "free and peaceful" but top SADC election observer Bernard Membe noted: "We did not say it was fair ... we didn't want to jump to a conclusion."
The poll's credibility was further tarnished by the resignation of one of the nine official electoral commissioners.
In a letter seen by AFP, Mkhululi Nyathi quit over "the manner" in which the polls "were proclaimed and conducted".