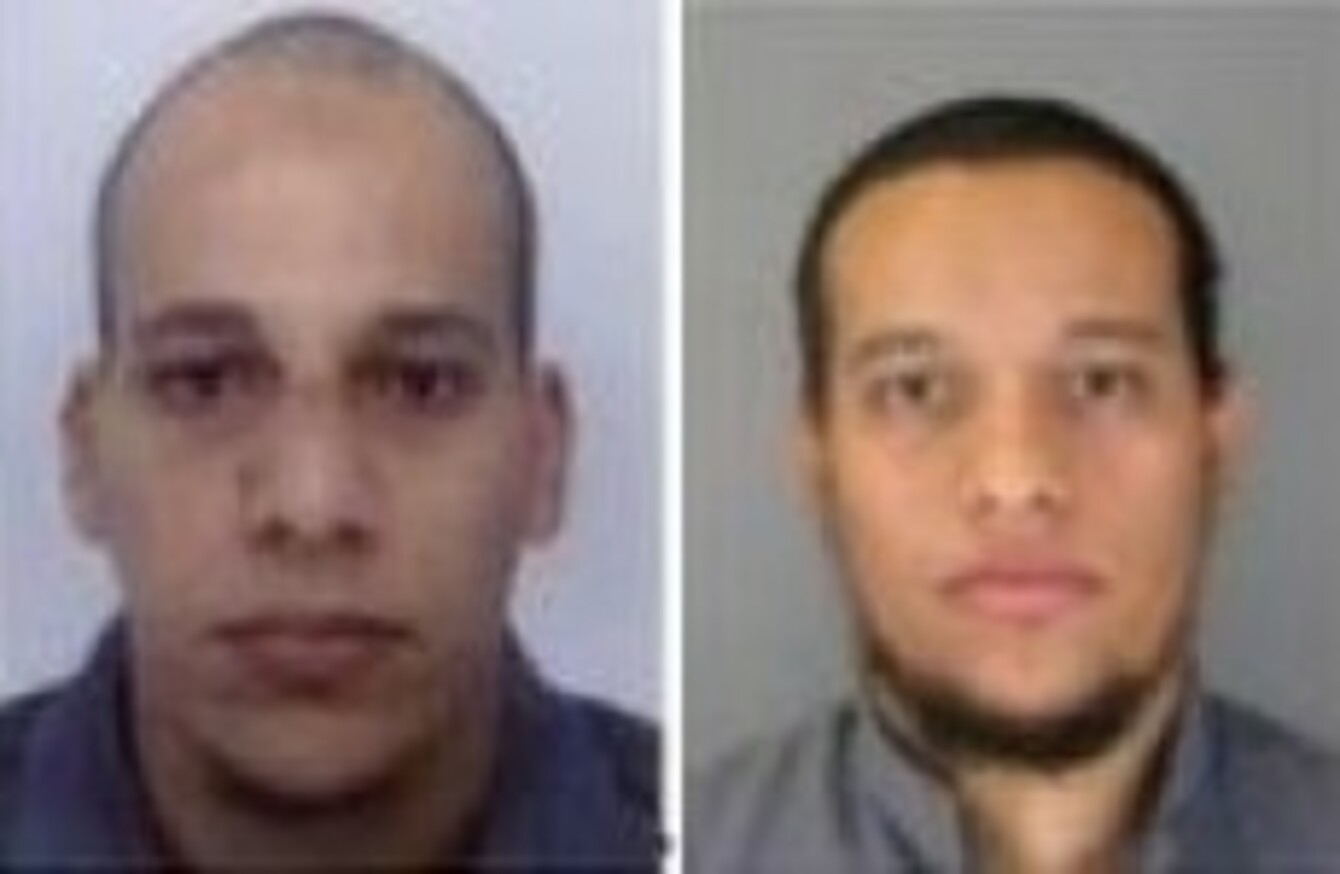 Cherif and Said Kouachi have both been buried in secret ceremonies.
Image: French Police
Cherif and Said Kouachi have both been buried in secret ceremonies.
Image: French Police
Updated 9.51 am
CHERIF KOUACHI, ONE one of the two brothers who killed 12 people in the attack on Charlie Hebdo, was buried amid tight security outside of Paris late last night.
Kouachi was buried just before midnight last night at a cemetery in Gennevilliers, where he used to live, officials said.
No relatives attended the funeral and the grave is unmarked to avoid it becoming "a pilgrimage site" for Islamist militants.
His brother, Said Kouachi,  had already been buried in secret on Friday it has emerged.
Said Kouachi was buried Friday in the northeastern city of Reims, where he lived for around two years, under heavy police protection and with a handful of family members present.
His grave was unmarked and the name of the cemetery was not divulged.
The mayor of Reims, Arnaud Robinet, said he was forced by law to accept the burial but was initially opposed to the gunman being buried in his city.
He feared "a tomb that could become a shrine for people to gather around or a pilgrimage site for fanatics."
Said Kouachi's wife decided not to attend the burial in order to keep it secret, according to her lawyer Antoine Flasaquier.
"She is now relieved that her husband has been buried with discretion and dignity," the lawyer said.
Charlie Hebdo
ALMOST HALF OF French people oppose publication of cartoons depicting Islam's Prophet Mohammed, according to a new poll Sunday.
As global debate deepened on the limits of free speech in the wake of the Charlie Hebdo killings,  Ifop poll found 42% believe Mohammed cartoons seen as offensive by many Muslims should not be published. Exactly half of those surveyed said they backed "limitations on free speech online and on social networks."
However, 57% said opposition from Muslims should not prevent the cartoons being published, according to the poll, published in Le Journal du Dimanche.
The poll found overwhelming support — 81% — for stripping French nationality from dual nationals who have committed an act of terrorism on French soil.
Sixty eight percent favoured banning French citizens from returning to the country if "they are suspected of having gone to fight in countries or regions controled by terrorist groups," such as Syria.
The same percentage backed bans on people suspected of wanting to join jihadist movements from leaving France.
However, 57% of respondents to the poll opposed French military intervention in countries including Libya, Syria and Yemen.
The poll was conducted last week in the wake of the slaughter at Charlie Hebdo's office in Paris, where Islamist gunmen killed 12 people, saying they were taking revenge for repeated publication by the magazine of Prophet Mohammed caricatures.
On Saturday, five people were killed and churches were set on fire in Niger in the latest protests by Muslims against Charlie Hebdo's decision after the massacre to print another Mohammed cartoon.
French Foreign Minister Laurent Fabius condemned the violence in Niger while President Francois Hollande called freedom of expression "non-negotiable".