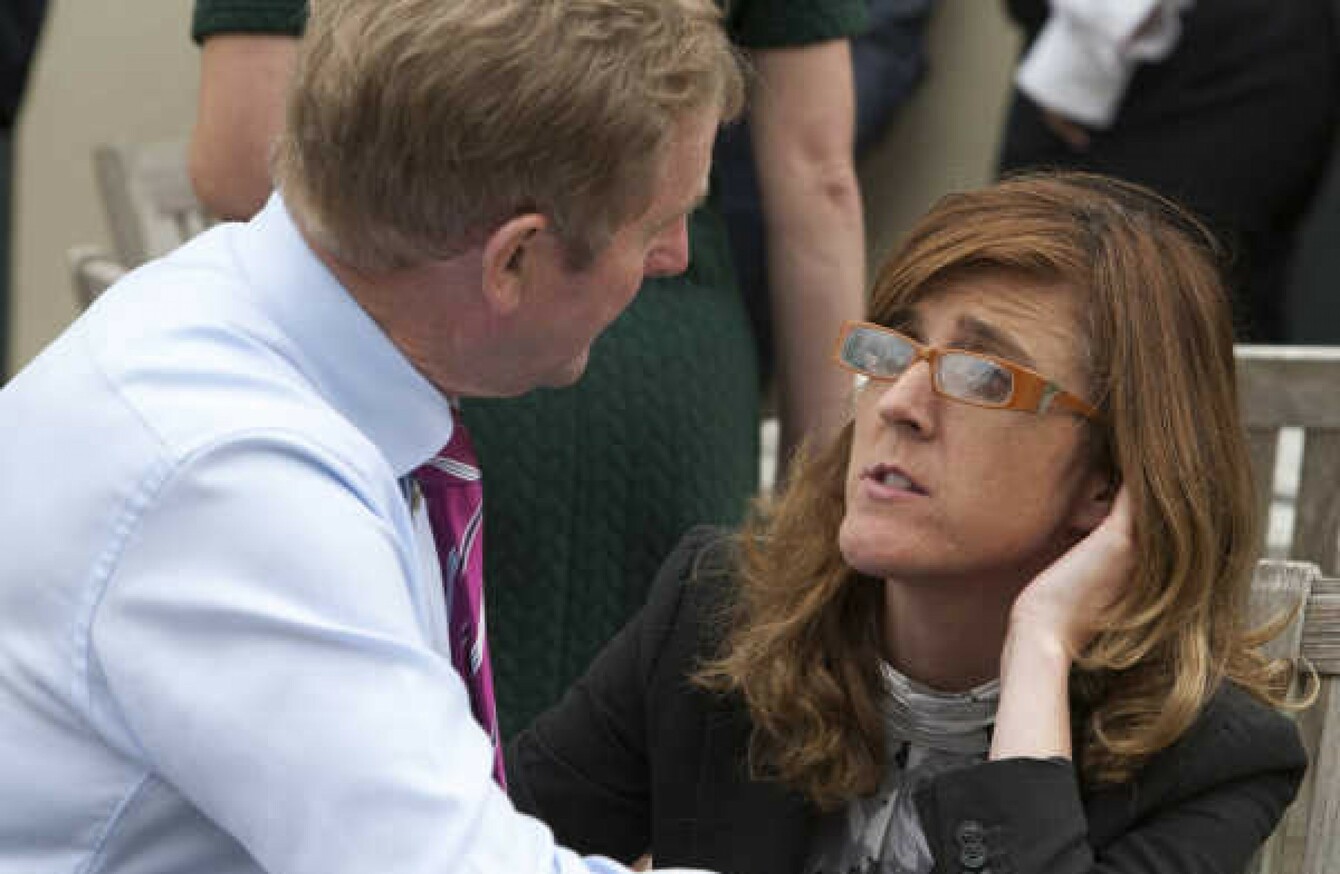 Michelle Mulherin was appointed to the Seanad by Taoiseach Enda Kenny, a fellow Mayo politician.
Image: Rollingnews.ie
Michelle Mulherin was appointed to the Seanad by Taoiseach Enda Kenny, a fellow Mayo politician.
Image: Rollingnews.ie
A FINE GAEL Senator has complained to the GAA after failing to obtain any tickets for the All-Ireland Final.
Mayo senator Michelle Mulherin has effectively accused Croke Park of discriminating against unelected representatives, after being told her Seanad seat does not guarantee her two tickets for this weekend's Dublin-Mayo showdown.
The GAA allows TDs from participating counties to buy two tickets at full price. Mulherin claims senators from participating counties were allowed to buy a ticket last year.
TheJournal.ie has established that the GAA are open to granting requests from senators in certain circumstnaces – for example, with proven track records of contributing to their local clubs.
"To clarify, I sought to buy two tickets from Croke Park," Mulherin said on Twitter.
Each year until this their policy gave option to both TDs and Senators. Maigh Eo Abu!
"This isn't about me," she told Drivetime on RTÉ this evening. "I'm a very proud supporter of the Mayo team."
The former Fine Gael TD said she attended the Mayo-Tipperary semi-final, and was at one of the earlier Championship rounds, although she failed to specify which match.
"Myself and the rest of the county are just so behind this team…," she said.
"This isn't about Michelle Mulherin, this is about a policy of the GAA at Croke Park, which is discriminating against Senators in the Houses of the Oireachtas.
Basically, every year, senators and TDs from competing counties could write in, send in a cheque to purchase a couple of tickets, and they were accommodated.
"That has been the precedent every year. This isn't about me. I didn't dream this up. This was standard practice."
Mulherin, a Taoiseach's nominee to the Seanad, said "there is blue murder for tickets in Mayo", but was told by the GAA that the pressure for tickets was coming from Dublin.
Asked whether TDs or senators should get this special deal, she said: "That's a matter for Croke Park."
"It's a special arrangement," she added, although said she didn't believe the arrangement should be abolished, and called the ticket arrangements "a mystery".
Prerogative
The GAA does not put tickets for All-Ireland final on public sale, but instead distributes them to every club in the country – with a larger proportion doled out to clubs from counties competing in the All-Ireland.
A Croke Park spokesman said it is GAA policy to give free tickets for any game outside the final.
It's unclear how many of Mayo's games in the League and Championship Mulherin attended year. The Senator failed to return calls from TheJournal.ie today.
Irrelevant
A GAA spokesman said that it's not true to say their ticketing rules have changed since the 2015 final, when Dublin dethroned champions Kerry.
"Every year we review our ticketing policy," a GAA spokesman told TheJournal.ie.
Regardless of whether senators got them last year or not, it's irrelevant as it's the GAA's prerogative to decide who gets tickets when.
It's my information that senators weren't all covered – it's decided on a case-by-case basis.

The idea is to manage the massive volume of requests we receive every year.
It's understood that elected public officials or senators, whether appointed or elected, who demonstrated a track record of promoting gaelic games are prioritised by central GAA headquarters when it comes to applications for tickets.
It's also understood that the GAA feels a greater obligation towards TDs who are elected, compared to politicians appointed to the Seanad by the Taoiseach.
A number of TDs from counties not competing in the final have also had ticket requests turned down by the GAA.
The GAA added that there is nothing to stop any politicians who failed to get tickets from contacting their local county board or their local GAA club.
Demand
On Monday, GAA Árd Stiúrthóir Páraic Duffy sent a letter to Mulherin rejecting her request for tickets for Sunday's match, stressing the high demand for tickets.
"Unfortunately, we are unable to facilitate your request as the demand for tickets exceeds the number available," Duffy wrote.
At central level, we can only make tickets available for purchase to TDs of competing counties.
A Croke Park spokesman told TheJournal.ie that it was more than happy that it caters for public representatives – pointing out that the Taoiseach, Ministers and TDs and councillors from both competing counties are allowed to buy tickets.
Discrimination
However, Mulherin has accused the GAA of discriminating against certain members of the Oireachtas.
Earlier this week, Dublin councillor Mark Ward criticised fair-weather GAA "spectators" for taking All-Ireland final tickets, and depriving year-round supporters of gaelic games from attending the most important match of the year.
He also criticised ticket-touting. Backbench Fine Gael TD Noel Rock is preparing to publish a private member's bill which would ban the above-cost reselling of tickets for gaelic games matches and other events.
In the meantime, the gouging continues. Tickets for this Sunday's final between Mayo and Dublin were for sale for up to €590 on the controversial site needaticket.ie earlier this week.
The tickets appear to have been bought in the interim.