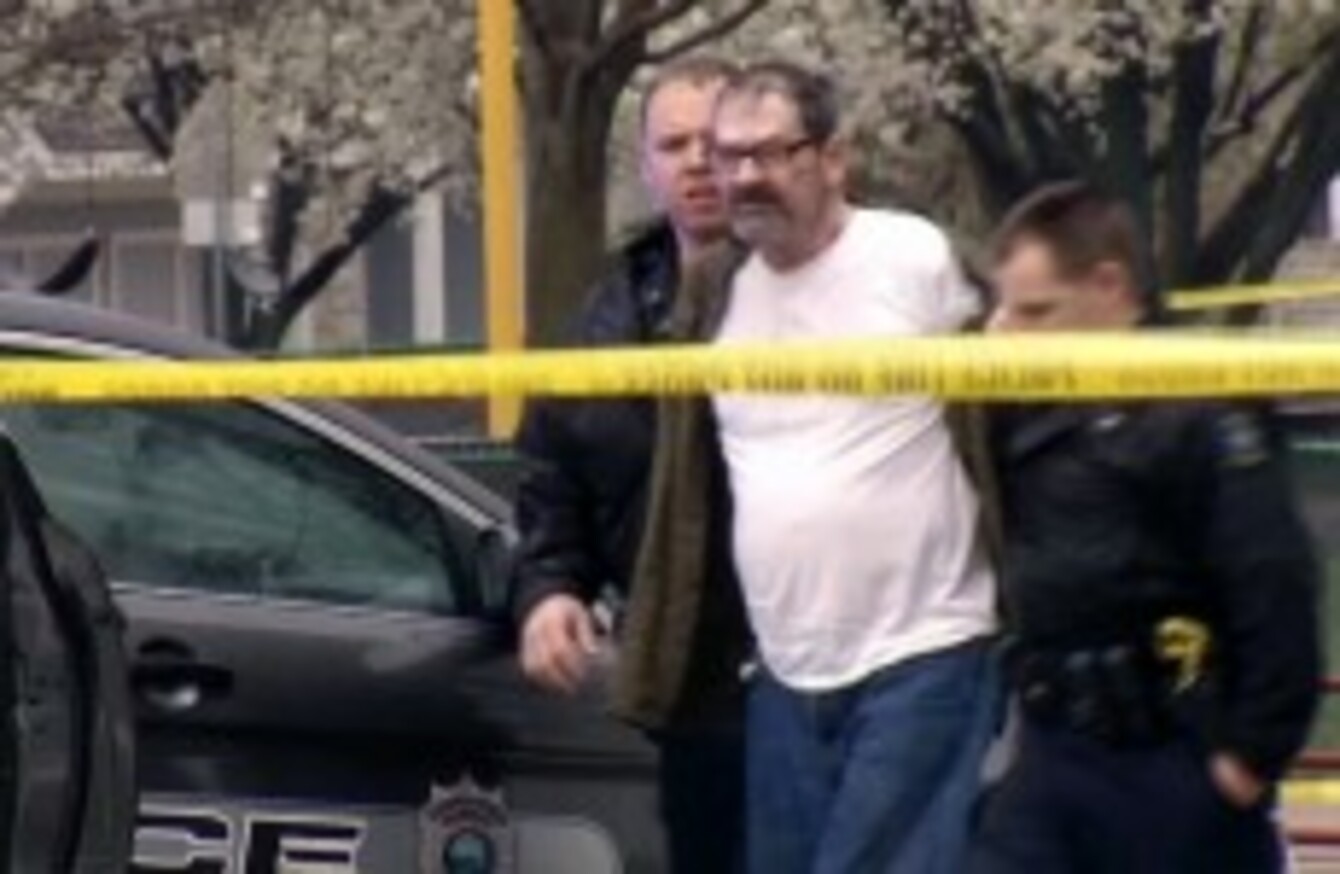 Frazier Glenn Cross is escorted by police after the shootings.
Image: AP Photo/KCTV-5
Frazier Glenn Cross is escorted by police after the shootings.
Image: AP Photo/KCTV-5
PROSECUTORS HAVE FILED a death penalty murder charge against a white supremacist accused of fatally shooting three people at Jewish sites over the weekend, judicial sources said.
Frazier Glenn Cross, 73, was charged with one count of capital murder for the deaths of a 69-year-old doctor and his teenage grandson outside the Jewish Community Center of Greater Kansas City.
He also faces one count of first-degree murder for the death of a 53-year-old woman at the nearby Village Shalom retirement community where she was paying a weekly visit to her mother.
Cross was scheduled to appear in court today, a spokeswoman for Johnson County District Attorney Stephen Howe said.
Sunday's bloodshed — on the eve of the Jewish holiday of Passover — occurred in the Kansas City suburb of Overland Park. All three victims were Christian.
Local police, FBI agents and federal prosecutors said yesterday they intended to pursue Cross for hate crimes, which under federal law calls for tougher sentencing.
Cross shouted "Heil Hitler" from the back of a police car when he was taken into custody on Sunday.
The Southern Poverty Law Center and Anti-Defamation League described Cross as a North Carolina native and former US army Green Beret commando who, in the 1980s, founded and led the Carolina Knights of the Ku Klux Klan and the White Patriot Party.
The centre, which monitors hate groups, said Cross, a Vietnam war veteran, is well-known for espousing anti-Semitic and white supremacist views.
He spent three years in federal prison after being indicted on weapons charges and for plotting robberies and the murder of the law centre's co-founder Morris Dees.
More recently, resettling in rural Aurora, Missouri, Cross helped launch a short-lived newspaper called The Aryan Alternative and "actively promoted his racist and anti-Semitic views online," the Anti-Defamation League said.
"I'm a patriotic white man… The only thing I ain't figured out is whether to hate all you (expletive) Jews or just the Zionists," Cross candidly told Kansas City television station KMBC in a 2006 interview.