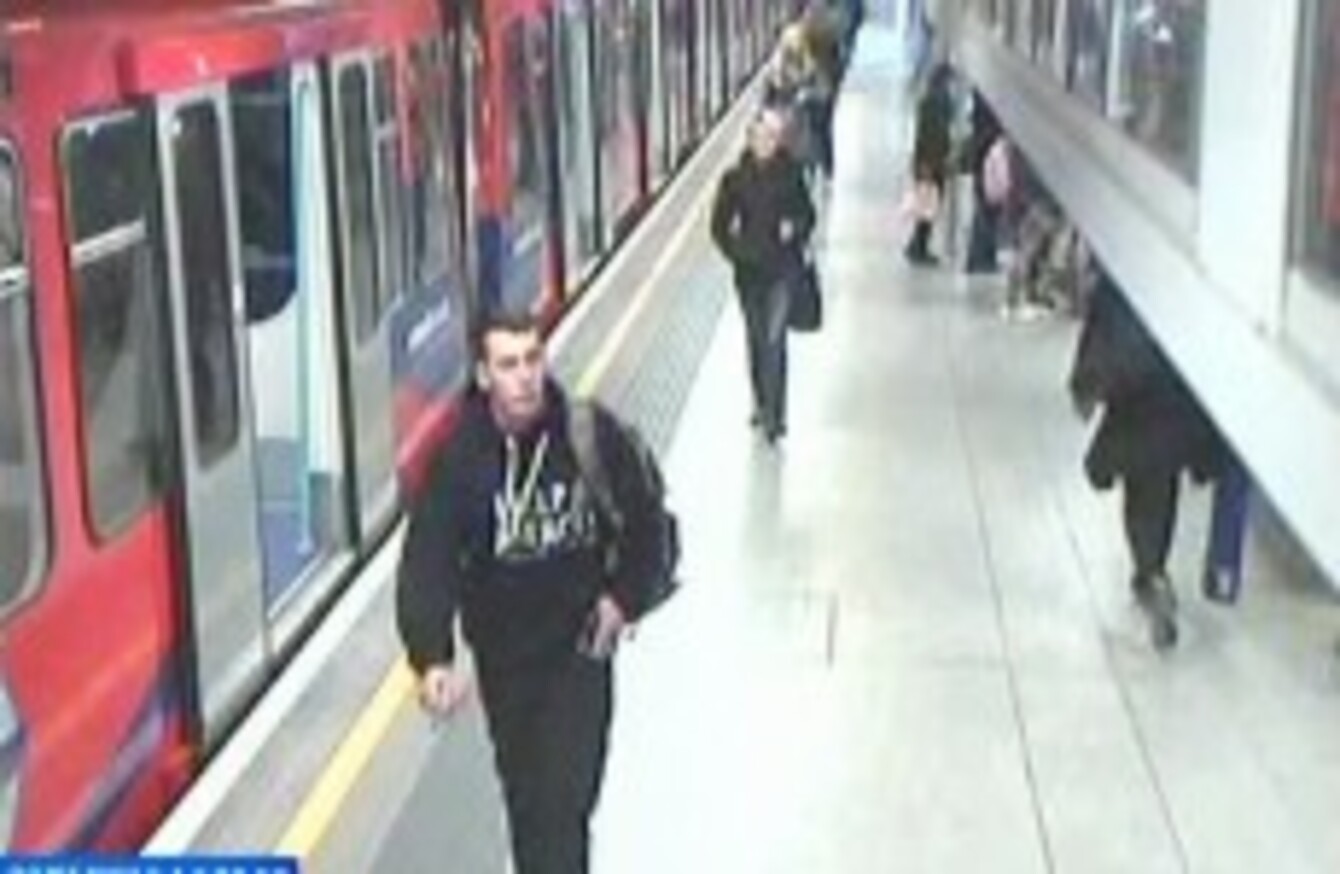 A CCTV image of Lee Rigby shortly before his death.
Image: Metropolitan Police/PA Wire/Press Association Images
A CCTV image of Lee Rigby shortly before his death.
Image: Metropolitan Police/PA Wire/Press Association Images
THE BRUTAL MURDER of a British soldier on a London street has the hallmarks of a militant Islamist attack but one conducted by 'lone wolf' operators – which experts describe as a security nightmare.
Counter-terror police are investigating Wednesday's attack in which two men hacked Drummer Lee Digby to death in broad daylight. They were shot and wounded by police and are now in hospitals under armed guard.
The gruesome nature of the murder — some witnesses say the men tried to decapitate their victim — their politically-fuelled rants to passers-by, and their apparent desire for publicity all point to militant Islamist extremism, experts say.
But the small scale of the attack — far removed from the massive destruction of the September 11 2001 attacks on the United States and the coordinated suicide bombings in London in 2005 — fit with fears that lone operators are now a serious threat.
"The problem with amateurs is they just do something — and that's what makes them dangerous," John Gearson, professor of national security services at King's College London, told AFP.
Police outside Kings College Hospital in London where one of the suspects was brought for treatment (Stefan Rousseau/PA Wire)
"This is a departure from the established type of attacks that you see or the established plan that you see of terrorism causing mass murder," explained John O'Connor, a former head of the Scotland Yard police headquarters' 'Flying Squad' detective unit.
"The bottom line is that it could spring up anywhere and that's the concern. It's very difficult to keep a tab on where this is going and where the threat level is," O'Connor told the BBC.
Security experts have long been warning of the risk of terror attacks from individuals who slip under the surveillance radar.
Soldiers at Wellington Barracks in London keep guard after the attack on Drummer Lee Rigby. (AP Photo/Kirsty Wigglesworth)
Last year Jonathan Evans, the head of British spy agency MI5, warned about the threat from "lone actors" who were hard to identify because they used everyday weapons, often did not belong to any group and did not attend terror training camps abroad.
"The one thing that will be causing them (security forces) not to sleep at night is the 'lone wolf'," RUSI security analyst Margaret Gilmore told AFP ahead of the Olympic Games in London last year.
Attempt to maximise the publicity of the attack
Although the investigation is at an early stage, experts have pointed to the similarities between the London murder and the acts of Islamist fanatics in extremist videos broadcast on the Internet.
Matthew Henman, senior analyst at defence group Jane's, highlighted the targeting of a soldier, and said the suspects' failure to flee the scene and tirades before filming onlookers suggests "an effort to maximise publicity of the attack".
A floral tribute outside the Royal Artillery Barracks in Woolwich. (Gareth Fuller/PA Wire)
Prime Minister David Cameron has vowed the security services "will not rest until we know every single detail of what happened and we've brought all of those responsible to justice".
He acknowledged reports that the two suspects may have been previously known to the intelligence services, but praised the work of the security forces in foiling plots up until now.
The murder was the first fatal Islamist attack in Britain since 52 people were killed in suicide bombings on the London transport system eight years ago.
Since then, surveillance has been stepped up, as have border controls, and many plots have been disrupted.
Some of these have targeted British soldiers, who were once told not wear their uniforms in public due to a threat from Irish republicans, but in recent years have been encouraged to do so.
Last month, three British men were jailed for planning terror attacks, including at Royal Wootton Bassett, a town which for years was the first to receive soldiers killed in Afghanistan.
Another pair were jailed the same month for planning terror acts including an Al-Qaeda-inspired plot to send a remote-controlled toy car into an army reservist centre.
In 2008, another man, Parviz Khan, was jailed for life for plotting to kidnap and kill a British Muslim soldier. He admitted he intended to film his beheading.