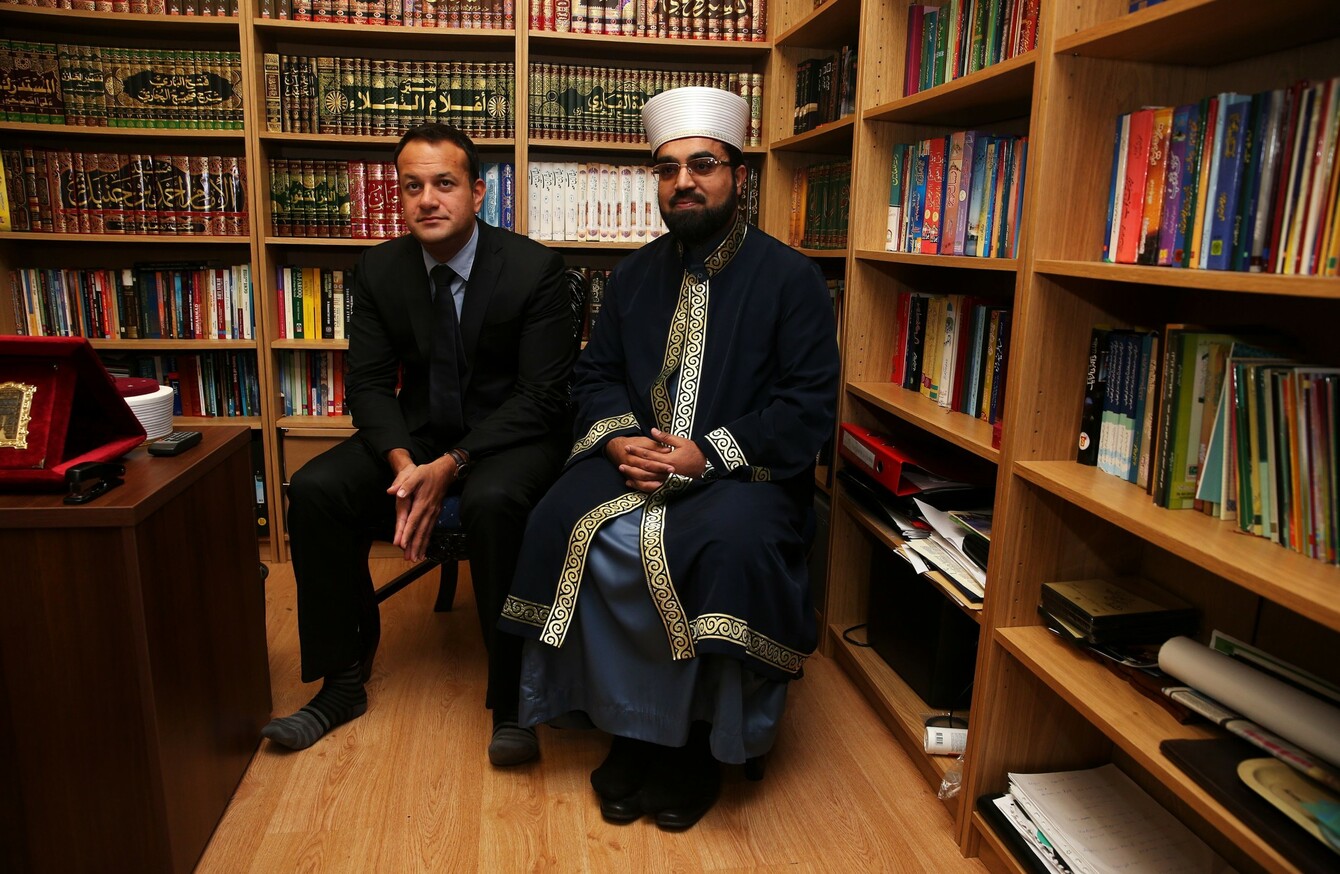 Shaykh Muhammad Umar Al-Qadri [left] and Minister for Social Protection Leo Varadkar pictured in Blanchardstown last year
Shaykh Muhammad Umar Al-Qadri [left] and Minister for Social Protection Leo Varadkar pictured in Blanchardstown last year
MEMBERS OF THE Ireland's LGBT community have been invited to celebrate Ramadan, a month-long period of fasting observed by Muslims.
The invitation has been extended by the Irish Muslim Peace & Integration Council, who have invited different communities to join them for Iftar later today – the meal that breaks the day-long fast.
"As more than one billion Muslims worldwide celebrate Ramadan by fasting and appreciating the blessings given to us," said Shaykh Dr Umar Al-Qadri, Chair of Irish Muslim Peace & Integration Council, "it is important for the Irish Muslim community to reach out to our neighbours as an example of true Islamic ideals."
Alongside the LGBT community, the council has also invited Holocaust survivor Tomi Reichental who attended the first community Iftar when it was held at the Al-Mustafa Islamic Centre last year.

Speaking to TheJournal.ie, Shaykh Al-Qadri confirmed that he had invited Amnesty International's Colm O'Gorman and had reached out to various groups through social media.
What is Ramadan exactly?
This celebration in Dublin will see groups brought together for the breaking of the daily fast (Iftar). Eid al-Fitr – the three-day festival marking the end of the Ramadan – will take place the following week on Wednesday 6 July.
The fast takes place in the ninth month of the Islamic calendar, when Muslims believe that the first verses of sacred text the Quran was revealed to Muhammad.
If you think giving up chocolate for Lent is tough going, it doesn't have a patch on Ramadan; Muslims are required to fast each day from sunrise to sunset – with eating food, drinking any liquids (including water), smoking cigarettes and engaging in sexual activity all prohibited.
The Eid celebration at its end is one of the biggest events on the Islamic calendar, and plays out a bit like Christmas – with families coming together and gifts being exchanged.
The celebration will take place at the Al-Mustafa Islamic Centre in Blanchardstown later today and is open to the public – but anyone looking to head along is asked to RSVP in advance.
More details are available from info@impic.ie.