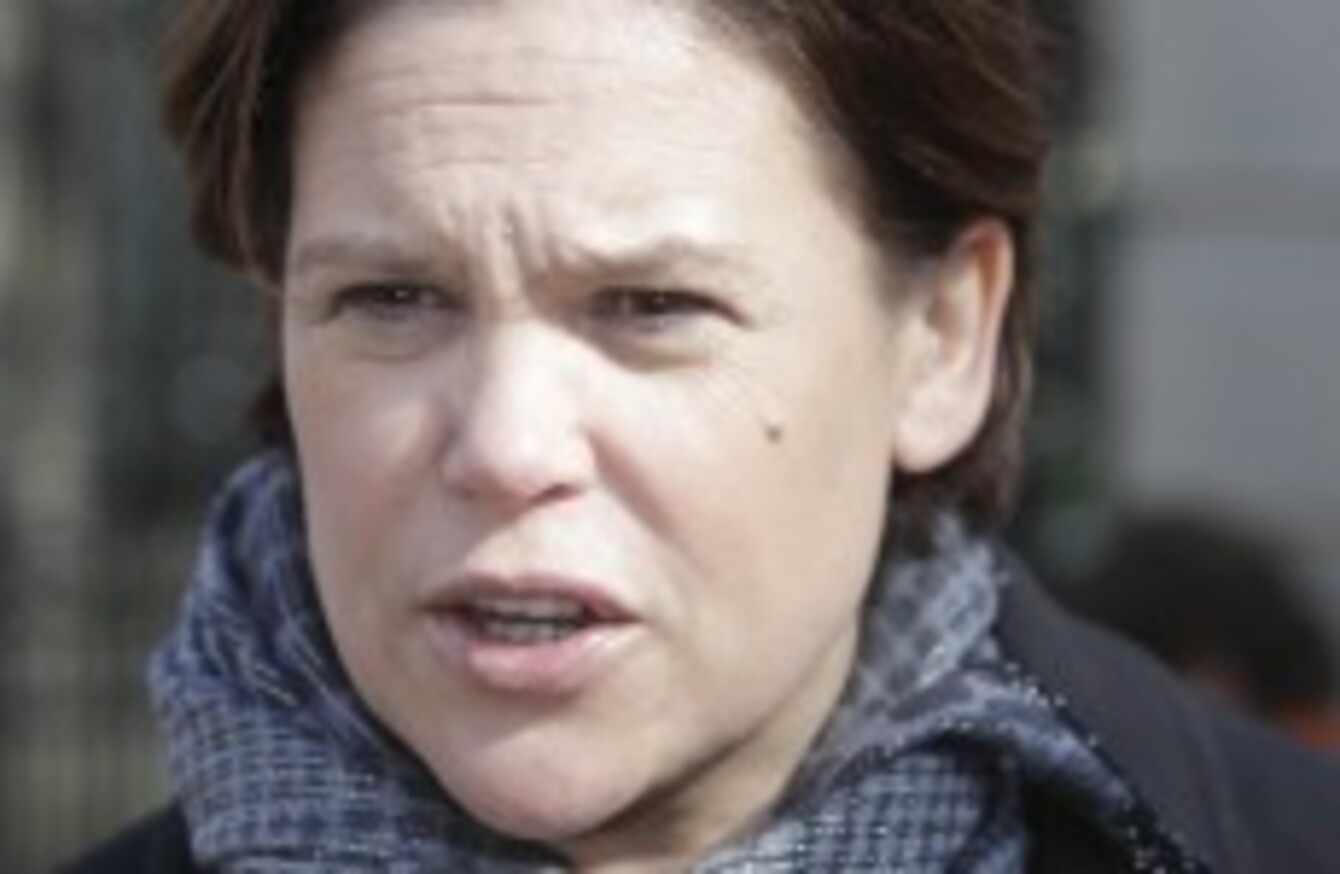 Mary Lou McDonald
Image: Niall Carson/PA Archive/Press Association Images
Mary Lou McDonald
Image: Niall Carson/PA Archive/Press Association Images
THE AUTHOR AND former presidential speechwriter Peggy Noonan once said: "A speech is poetry: cadence, rhythm, imagery, sweep!  A speech reminds us that words, like children, have the power to make dance the dullest beanbag of a heart."
One can not underestimate the power of a good speech or the effectiveness of a speech's key line.
With that in mind, over the course of the summer TheJournal.ie is asking some of the most prominent figures in Irish society from politicians to sports stars to nominate their favourite speech of all time and tell us why they like it so much.
Today: The Sinn Féin vice president and Dublin Central TD Mary Lou McDonald. She writes:
My favourite speech is Constance Markievicz's Women, Ideals and the Nation delivered in Dublin in 1909 to the Students' National Literacy Society.

One hundred years on we are still debating the challenges of equal representation in political life. Thanks to the courage and commitment of women like Constance Markievicz women's participation in public life and political decision making is an accepted right. However the challenge now is to deliver the appropriate environment, structures and practical supports to fulfil her vision.

This speech was delivered by Constance Markievicz nine years before she was to become the first woman elected to the Dáil and ten years before she was the first female politician in Europe to hold a ministerial office. She, like so many women at that time, held a vision of a united Ireland forged equally by men and woman.

It is worth remembering that not long after Markievicz delivered her speech John Dillon, then Deputy Leader of the Irish Parliamentary Party stated that "Women's suffrage will, I believe, be the ruin of our Western civilisation. It will destroy the home, challenging the headship of man, laid down by God."

Republican women and the Countess alike challenged this view believing the "old idea that a woman can only serve her nation through her home is gone" declaring "now is the time, on you the responsibility rests. It may be as a leader, it may be as a humble follower… perhaps in a political party, perhaps in a party of your own… but it is there."
Constance Markiewicz was the first woman elected to the British House of Commons but did not take her seat in Westminster. Later she was one of the first women to hold a cabinet position as Minister for Labour between the turbulent years of 1919 and 1922 (Photo: Wikimedia Commons)
TheJournal.ie was unable to obtain a copy of the speech in question but excerpts of it and a speech that Constance Markiewicz made to the Irish Women's Franchise League in Dublin in October 1915 have been provided via Senator Ivana Bacik. (Both speeches are printed in Margaret Ward's In Their Own Voice: Women and Irish Nationalism.)
I take it as a great compliment that so many of you, the rising young women of Ireland, who are distinguishing yourselves every day and coming more and more to the front, should give me this opportunity. We older people look to you with great hopes and a great confidence that in your gradual emancipation you are bringing fresh ideas, fresh energies and above all a great genius for sacrifice into the life of the nation….

Lately things seem to be changing… so now again a strong tide of liberty seems to be coming towards us, swelling and growing and carrying before it all the outposts that hold women enslaved and bearing them triumphantly into the life of the nation to which they belong…..

Women, from having till very recently stood so far removed from all politics, should be able to formulate a much clearer and more incisive view of the political situation than men. For a man from the time he is a mere lad is more or less in touch with politics, and has usually the label of some party attached to him, long before he properly understands what it really means…

Now, here is a chance for our women… Fix your mind on the ideal of Ireland free, with her women enjoying the full rights of citizenship in their own nation, and no one will be able to sidetrack you, and so make use of you to use up the energies of the nation in obtaining all sorts of concessions – concessions too, that for the most part were coming in the natural course of evolution, and were perhaps just hastened a few years by the fierce agitations to obtain them…..

You will go out into the world and get elected onto as many public bodies as possible, and by degree through your exertions no public institution – whether hospital, workhouse, asylum or any other, and no private house – but will be supporting the industries of your country….

Tommy Moore, the popular poet of his day and also many days later, has set Ireland a very low idea of woman to worship. To him, woman is merely sex and an excuse for a drink. Not a companion or a friend, but a beautiful houri holding dominion by her careful manipulation of her sex and her good looks…

The better ideal for women who, whether they like it or not, are living in a work-a-day world, would be – If you want to walk round Ireland, or any other country, dress suitably in short skirts and strong boots, leave your jewels and gold wands in the bank, and buy a revolver. Don't trust to your 'feminine charm' and your capacity for getting on the soft side of men, but take up your responsibilities and be prepared to go your own way depending for safety on your own courage, your own truth and your own common sense, and not on the problematic chivalry of the men you may meet on the way….

A consciousness of their own dignity and worth should be encouraged in women. They should be urged to get away from wrong ideals and false standards of womanhood, to escape from their domestic ruts, their feminine pens. .. We have got to get rid of the last vestige of the Harem before woman is free as our dream of the future would have her….