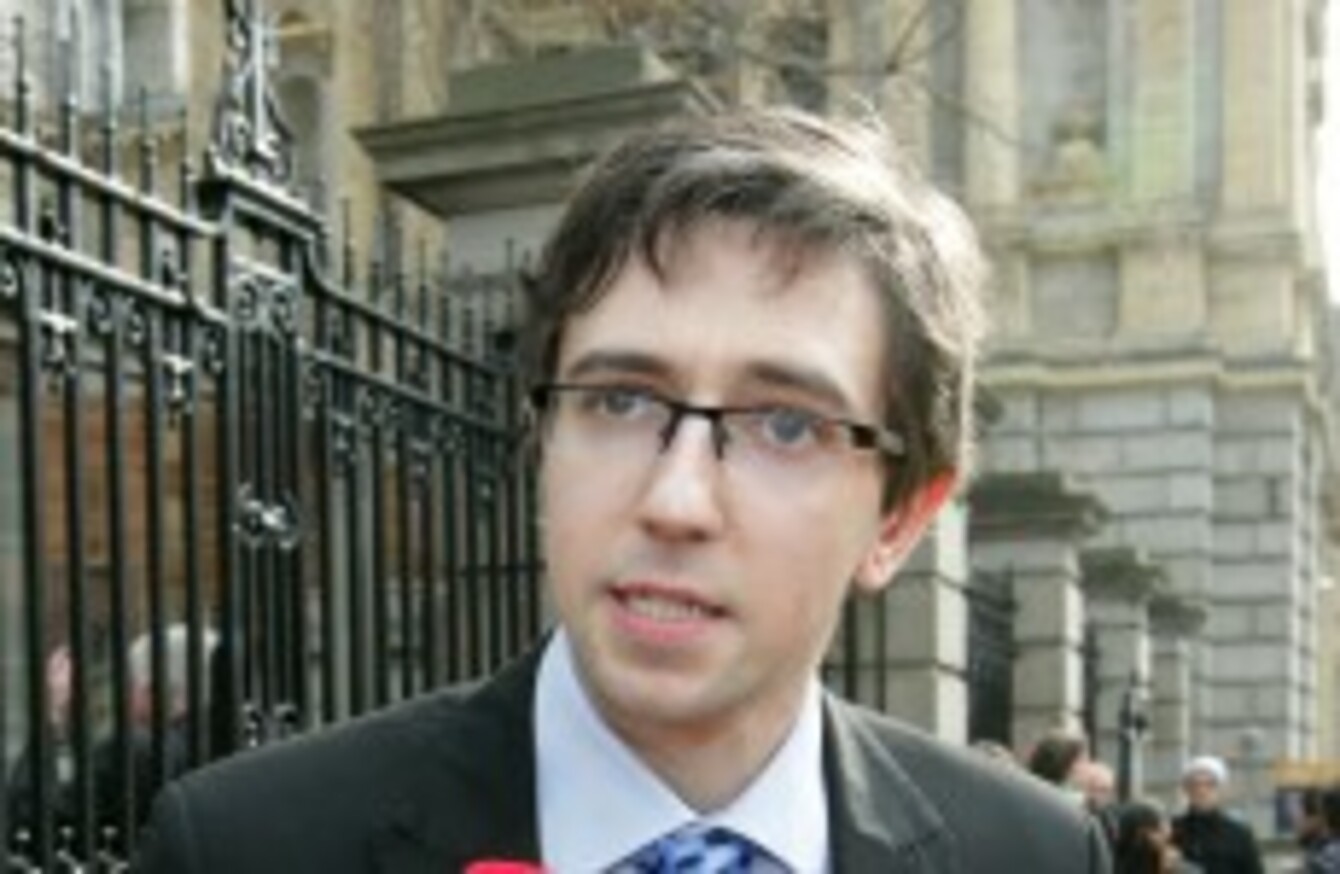 Simon Harris
Image: Mark Stedman/Photocall Ireland
Simon Harris
Image: Mark Stedman/Photocall Ireland
THE AUTHOR AND former presidential speechwriter Peggy Noonan once said: "A speech is poetry: cadence, rhythm, imagery, sweep!  A speech reminds us that words, like children, have the power to make dance the dullest beanbag of a heart."
One can not underestimate the power of a good speech or the effectiveness of a speech's key line.
With that in mind, over the course of the summer TheJournal.ie is asking some of the most prominent figures in Irish society from politicians to sports stars to nominate their favourite speech of all time and tell us why they like it so much.
Today: Fine Gael Wicklow TD Simon Harris. He writes:
One of my favourite speeches is the

Day of Affirmation speech by Bobby Kennedy

. This was a speech he made whilst a US Senator to the National Union of South African students.

Though the phraseology can be dated in parts of the speech, I think the over-riding message is clear and powerful. I particularly like two aspects of the speech:

"The importance of youth and the qualities of youth in offering the world hope and the need for younger people to play their part in tackling the challenges we face as a society and as a world."

This recognition of the role that the next generation need to play to better society is relevant today as it was then. In Ireland, unlike many other countries, we all too often thing that you have to reach a certain stereotypical middle-age time frame in your life to be ready to play your part, to make a difference to society, to provide leadership, etc.

This is clearly nonsense. We saw where leaving one generation to run our own country got us. Representative democracies and societies require a mix of ages, views and backgrounds. As the youngest member of the Dáil, I find Bobby Kennedy's call to action encouraging and motivational. It is though important to note that he refers to "youth" not just as a physical age but also as a way of thinking!

"Appreciating the benefit of individual action – one person can make a difference."

All to often, the challenges facing us all in life, in work, in politics can seem so major that the easy and understandable response can be for people to resign themselves to the fact that, in their view, they can do nothing to improve things.

Perhaps, the best part of this speech overall is the part that debunks that myth, when Kennedy states: "Few will have the greatness to bend history, but each of us can work to change a small portion of the events, and then the total — all of these acts — will be written in the history of this generation."

At a time when Ireland and Europe face such difficult challenges, I think all of us, including those of us in politics need to remember this. Everybody has a role to play. We don't need 'armchair generals' or 'Monday morning quarter backs'  - we need every person in their own way to do their bit and to do their best.

This speech calls us to action and to do what we can to face the challenges of our generation. These challenges may differ from country to country but the overarching aim of each generation to better their world is what unites people.
Bobby Kennedy, brother to the former US President John F Kennedy, was a US senator and noted civil activist. In the speech to the National Union of South African students, Kennedy talks about liberty, apartheid, the right to free expression and the need for civil rights in the United States at a time when the American civil rights movement was ongoing. Following his own brother's assassination, Bobby was shot and mortally wounded. He died in 1968. (AP Photo)
The full speech by Bobby Kennedy to the National Union of South African students in 1966 can be read here. You can listen to Bobby Kennedy speak his own words here:
#Open journalism No news is bad news Support The Journal

Your contributions will help us continue to deliver the stories that are important to you

Support us now
(Via YouTube/andygw87)