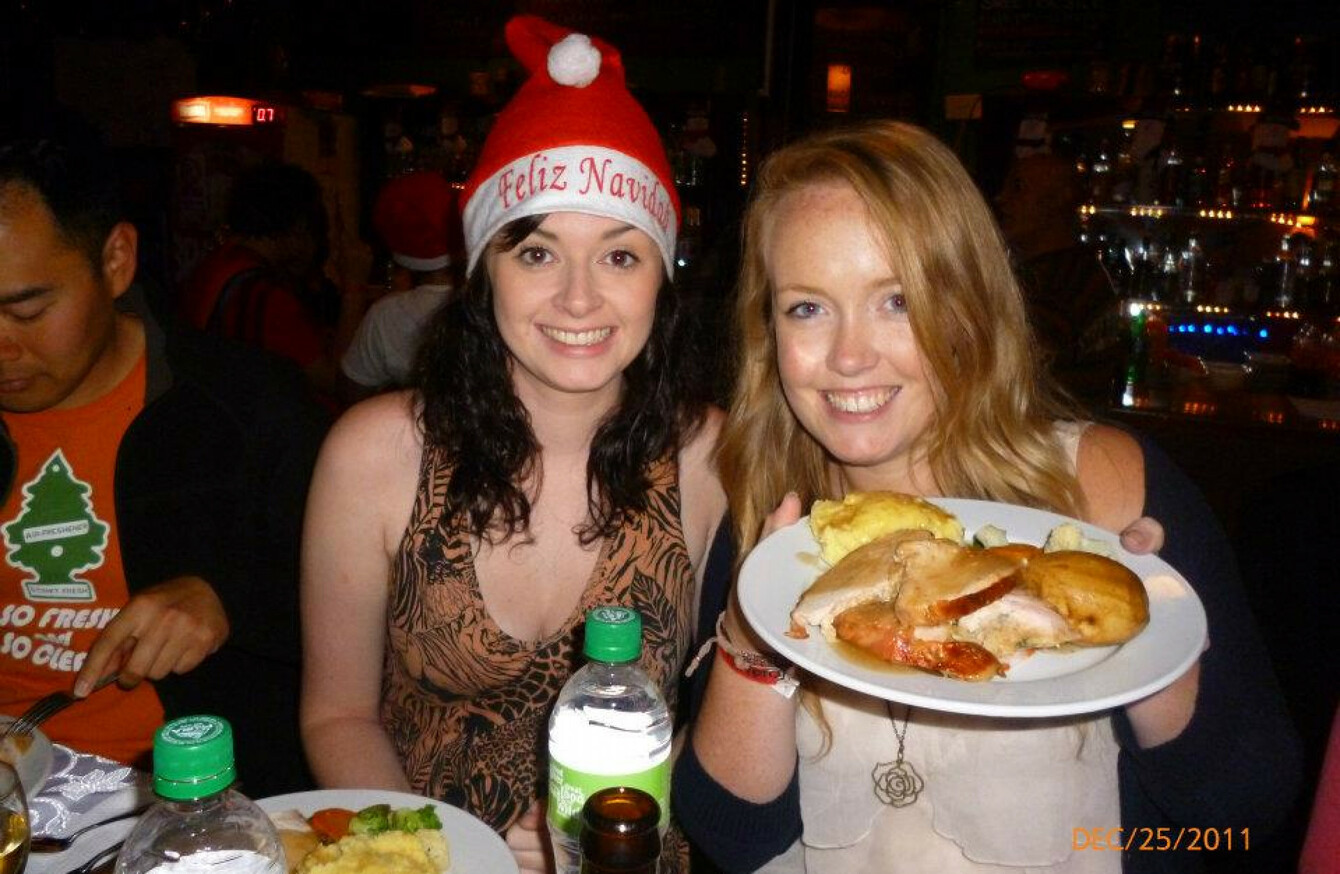 Image: Trudi McDonald
Image: Trudi McDonald
Every week this December, we'll be hearing the tale of a first Christmas. Here Trudi McDonald from Co Cavan remembers her first Christmas spent away from home. 
BEFORE CHRISTMAS 2011, I had been travelling with three friends around South America.
One of my friend's friend's brother's friends – classic Ireland – was running a hostel in Peru. So we decided to go there for Christmas and go to Machu Picchu in the New Year. We had been travelling on a shoestring budget in the months before so we wanted to somewhere that was going to guarantee us a good time, a comfy bed and a hot shower.
Instead of stockings, we had alpaca printed knee socks and instead of Christmas jumpers we had those llama jumpers that everyone who has ever gone to South America comes home with.
We did a gift exchange and once we were all kitted out in our new llama print gear, we all sat around holding mass candles (they are very popular in Peru) singing Christmas hymns.
The non-Irish people who were in the hostel thought we were mad but ended up getting involved. As the hostel was run by an Irish guy, they had the works for Christmas dinner – turkey, ham, potatoes (all Peruvian style!) – which was amazing after three months of rice and beans.
By the end of the day, everyone was up on the tables dancing, drinking rum and at the end of the night, there was a big singsong.
Christmas is also my birthday and I celebrated turning 22 in Peru. It was one of the best birthdays I've had because usually with a Christmas birthday, you don't really get to celebrate with your mates – everyone disperses.
I had randomly bumped into a guy from my hometown in Cavan earlier in the trip, and as it turns out my Mam had given him a gift and some cash to get me a cake in case he did run into me on his way around South America. Which he did… because, again, classic Ireland. 
So he landed into my room on Christmas morning with a bottle of tequila, a basket of limes, a big thing of table salt and a massive panettone cake with candles stuck in it, singing Happy Birthday!
Having spent a good few Christmases away and now being back in Ireland, I think something to remember is that Christmas at home doesn't really change and the most comforting thing is that you can always come home and it'll be the same next year.
I have really fond memories of all the years I was away, and I think the most important thing is to not try to emulate an Irish Christmas when you're overseas because it'll always be a bit disappointing – plus, noone can make a Christmas dinner like your own Mam.
As told to Amy O'Connor.