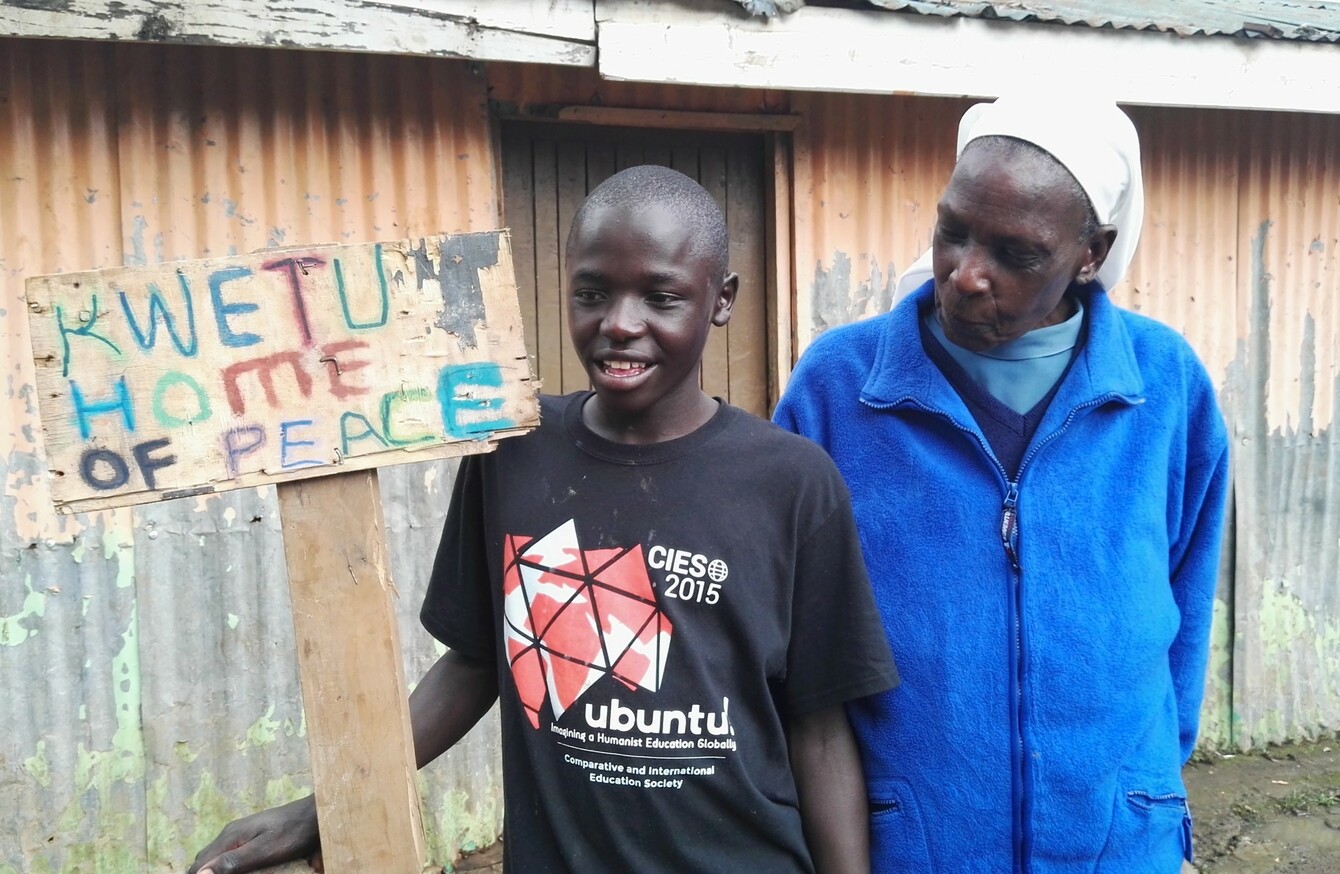 LIVING ON THE streets of Nairobi, a child does not remain a child for very long.
Having either left or been forced out of their family homes, the city's street boys are vulnerable to its many dangers. All are victims of violence, many are sexually abused and most are addicted to drugs.
When TheJournal.ie, along with Trócaire, visited the Kwetu Home of Peace rehabilitation centre for street children, 23 new boys had just been taken in the week before.
Aged between eight and 13, the boys learn, for the first month, simple things like washing themselves and their clothes, eating together at a table and just generally living with other people.
"These kids, they are always fighting because on the streets, it's about survival and the strongest survives," director Sister Angela Odhiambo said.
The name here was chosen deliberately, to help the boys feel at home. Kwetu means 'ours', so it's 'our home of peace'. The boys need to feel that it is their home, that they belong. Peace is important because on the streets and where they have come from in their homes, there's a lot of challenges, a lot of violence and so on.
Alone in the world
There are a number of reasons these boys ended up on the streets of Nairobi. For most of them it is related to poverty.
"There's no food, they don't go to school and maybe their parent's own life is messed up and they don't take responsibility for the child. So the child finds himself alone in the world and he decides to go to the streets to fend for himself. Sometimes they go because they are trying to support the parents – especially if there are other siblings – so he becomes like a breadwinner."
Sometimes the mother in a family dies and the father decides he does not want the boy to stay, so he forces him out. Tragically, Sister Angela explained some of the children were abandoned by aunts or other family members in the city after both their parents passed away.
Staff from Kwetu go out into the streets of Nairobi where the boys live in groups to try to enrol them in the rehabilitation programme.
"We try to convince them that they do not have to end up being thugs. Right now they are small, they do not very harmful things like stealing and adults get them to do things like carrying weapons, carrying drugs and so on.
But when they grow up, it's a different story altogether. We tell them they don't have to die like that."
Eating from rubbish bins
The boys we met, who were just a week off the streets, eyed our media group curiously but suspiciously. They talked loudly with each other and played like other children, but they all looked old and tired.
One told us he used to eat from rubbish bins when he lived on the streets.
"I slept on the ground – here I sleep in a bed," another told us.
When they first arrive at the centre, they have a lot of difficulties. Staff stay with them at all times to stop them fighting with one another, but also to win their trust and offer their support, counsel and kindness. These children have been through a lot.
Many cannot sleep at night when they first arrive, some suffer terrible withdrawal symptoms from the drugs they were using on the streets. Sister Angela said one of the new boys told them he was hearing voices at night.
Their drugs help them in many ways, it gives them the strength of being brave to do what they need to do. It also makes them numb, they don't feel anything when they do what they need to do. It helps them not to feel hunger or not to feel cold, it helps them sleep.
Reuniting them with their families
Once they have settled in Kwetu they begin a kind of informal education and then move to another centre where their counselling continues but where they can begin to attend regular schools.
"This starts the process of integration. When they are in school, according to us this child has done well no matter what, because their lives were completely disrupted and they have been out of school and out of home and out of everything for a long time. So for them to come back and go to school and perform is a success - no matter what marks they get."
Staff then start the process of trying to track down the child's family. It can take some time for the boys to trust them enough to open up about where they came from.
"One of the things we want to know from them is who is alive and if there are people alive, where they are".
It can be a painful process for all involved when a child is reunited with their family, but Sister Angela and her staff stay working with them for years after they are brought back together.
It is also costly for Sister Angela's organisation, especially when staff have to travel all over the country to find families and reunite the children with them. Their work would be impossible without donations like those coming through Irish charity Trócaire.
Problems that first forced the children out like poverty, for example, can be tricky to solve.
Staff work with parents to help them form community groups that band together to save money and give soft loans to each other, like a mini credit union. This is an initiative NGOs across Kenya have been promoting – a way for communities to help themselves. They can use the money to start small businesses to help them put food on the table.
When we spoke with her, Sister Angela said they were struggling with the case of one child whose mother is also living on the streets and has serious addiction issues.
"She does drugs 24 hours and even when she comes here she is on drugs. She lives in a kind of makeshift house close to here and is in a very bad situation. But they like each other so much, they really love each other, they have this strange…connection with one another. So we don't know what to do about this case right now."
Pride
Though it can be a struggle to reunite children with their families, Kwetu gives all of them a second chance at a good life and there are some positive stories.
In December we integrated a child – very bright, really gifted, very nice. His mother is on the streets and he was doing very well in school. We could not put him back with her so after a long search we got an aunty. Then we negotiated between the mother and aunty. So we have put him in a boarding school and he goes home on holidays for a short time.
One boy went all the way through high school and is now working at the Kwetu home. Sister Angela said the young boys who arrive do not believe him when he first tells them he was like them once. Having him around serves as an inspiration to the others.
And another boy, now fully grown, did so well in high school that he is attending one of the best universities in the country. While he studies, he is living with his mother in Kibera, the city's largest slum.
"We are very proud of him," sister Angela told us, beaming with pride. "That gets me out of bed in the morning."
Last month Trócaire launched its 'Fight for Justice' Lent campaign. The money the charity raises will go towards supporting initiatives like Sister Angela's home of peace.