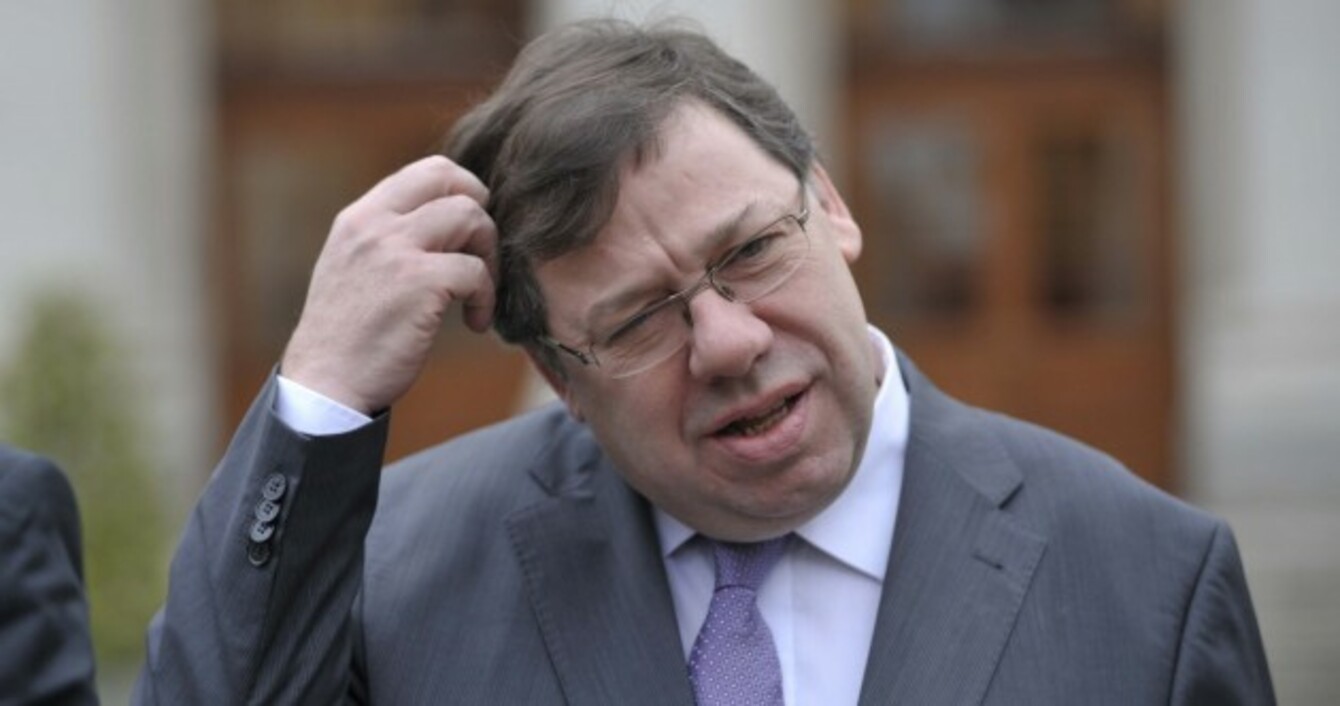 Former Taoiseach Brian Cowen
Image: Sasko Lazarov/Photocall Ireland
Former Taoiseach Brian Cowen
Image: Sasko Lazarov/Photocall Ireland
Updated 16.46
NAMA HAS BEEN accused of being used to deliver a "bailout by stealth" to the banks after paying way over the odds for the billions in bad loans it took over.
The head of the state's bad bank today told the Oireachtas banking inquiry the loans it bought would have fetched about €10 billion less if they were put on the open market.
Nama paid €31.8 billion between 2010 and 2011 to buy out loans with a face value of €74 billion from five "participating" banks. The agency is expected to pay back all that money to taxpayers by 2018 with a €1 billion "surplus" for the state.
But chief executive Brendan McDonagh today said the same loan book would have only fetched about €22 billion if sold to private investors.
That was because Nama was required under its EU-approved mandate to buy the loans based on their values in November 2009, despite property prices falling up to 30% further since then.
No private investor would have transacted on this basis," he said.
The majority of that benefit went to the nationalised Anglo Irish Bank and Irish Nationwide, and AIB, in which the government owns a 99.8% stake.
However over €5 billion was also paid to the Bank of Ireland – in which the state took only a 14% share - for its bad loans, which means much of the benefit flowed to the bank's shareholders.
'If the rules applied'
Socialist TD Joe Higgins said "if the supposed rules of the capitalist markets applied" the banks would have taken billions less than they eventually received from Nama.
So … rather than a €1 billion surplus to taxpayers, wouldn't it be more accurate to say Nama was used to give a further €10 billion by way of a bailout to the banks," he said.
Late last year, the net cost to taxpayers of the bank bailout was put at €40 billion after the state recovered some of the €64 billion in total it had pumped directly into the failing financial institutions.
Nama chairman Frank Daly said the agency "didn't really have much say over what was actually paid to the banks" because of the valuation rules.
"If Nama had paid the banks €10 billion less, the reality is that that money would have had to be put into the banks anyway – they would have recapitalised and that's all still really coming from the taxpayer," he said.
There had to be a solution, we had an extraordinary economic situation at that time – the whole credibility of this country was at stake."
Biggest borrowers owed €34 billion
Earlier the inquiry heard the biggest 29 borrowers whose debts Nama took over owed a combined €34 billion to the banks.
McDonagh said it was clear lenders and developers "shared a groupthink view" during the boom that prices would continually keep on rising.
"Few, if any, financial institutions wanted to be left out of what was seen as a profitable business due to larger lending margins and relatively low operating costs," he said.
It was difficult to avoid the impression that the institutions perceived lending as a sales activity and that, in the rush to expand bank balance sheets, a rigorous focus on lending quality was lost."
Nama figures handed to the inquiry showed the three-biggest debtors that fell under its control owed a combined total of nearly €8.3 billion, while 12 owed more than €1 billion apiece.
#Open journalism No news is bad news Support The Journal

Your contributions will help us continue to deliver the stories that are important to you

Support us now
'Clearly excessive'
While McDonagh said lending to major developers was "clearly excessive", the quality of those deals was still higher than many loans given to smaller operators.
Many of those agreements were struck with individuals or syndicates whose main businesses weren't property development and for clearly non-viable projects in rural areas.
There appeared to be a highly accommodating attitude among financial institutions towards the more prominent debtors and a concern that if the institution was not suitably amenable, the debtor would look elsewhere for the funding of future projects," he said.
'Hope value'
Daly said banks often lent developers 100% of the money they wanted for projects while putting themselves in a position to wear all the losses if the deals went sour.
He said a lot of the lending appeared to be based on "hope value more than anything else" with disregard for how much developers had also borrowed from other banks.
That was despite only a small future fall in house prices being enough to make whole tranches of development land virtually worthless.
First published 11.30am