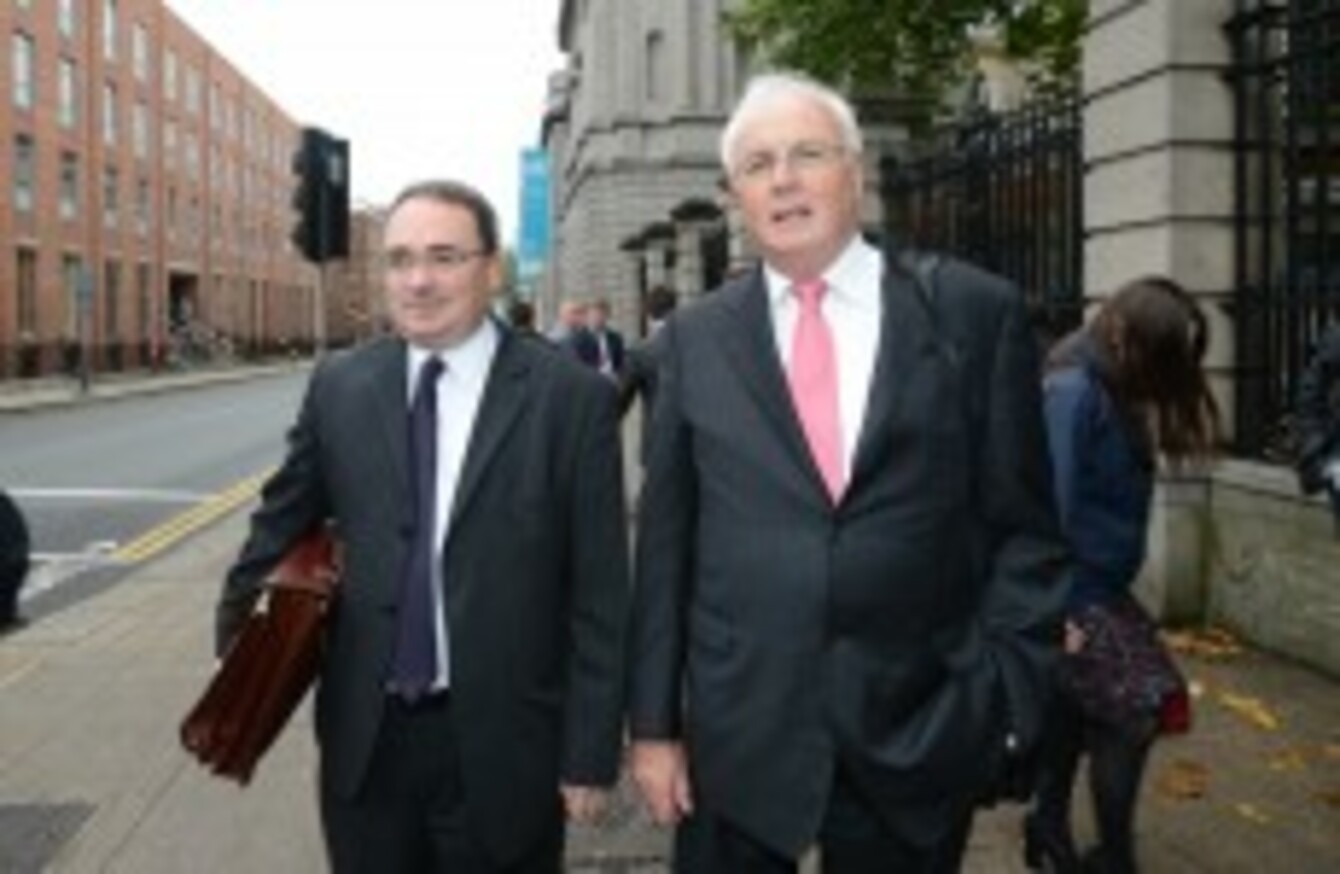 Brendan McDonagh, NAMA CEO and Frank Daly, Chairman of NAMA on their way to the meeting this afternoon
Image: Sasko Lazarov/Photocall Ireland
Brendan McDonagh, NAMA CEO and Frank Daly, Chairman of NAMA on their way to the meeting this afternoon
Image: Sasko Lazarov/Photocall Ireland
CHIEF EXECUTIVE OFFICER of NAMA, Brendan McDonagh has said the agency was "angry and disappointed" about alleged removal of data by an employee from the agency without authorisation.
The CEO was speaking in front of the Joint Oireachtas Committee  on Finance, Public Expenditure and Reform this afternoon along with Chairman of the agency Frank Daly.
NAMA first initiated an investigation after it became aware that the former employee, Enda Farrell had bought a house from a NAMA debtor.
Farrell, a former portfolio manager with the agency, said he had been told there were no compliance issues as long as the property was his main home, which it was. NAMA said it had established that while Farrell "did not disclose the transaction", the sale of the house had been approved under normal procedures.
During the Deloitte investigation, however, NAMA said it became aware that Farrell may have taken confidential data from the agency without its prior authorisation - and last month secured a High Court order allowing his home to be searched without notice.
"Cast a shadow"
McDonagh said the issue has "cast a shadow over our work in recent months" and expressed a "real sense of disbelief" that the reputation of the agency had been put at risk.
Chairman Frank Daly said Farrell had sent 33 emails to his wife containing information from NAMA and then had those forwarded to his personal account. He said this information was sent to less than ten parties, all of which have been identified to date and he didn't believe there were any more to come.
Daly said the information contained partial or limited information and in some cases were simply Farrell's "own view of the world" and added that these parties were cooperating fully.
Information taken by the former employee included loans acquired by NAMA but Daly said there is no evidence that he sent it anywhere but to himself.
Commercial interests
The Chairman said some of the suggestions of the impact this issue has had on NAMA have been exaggerated. "I have no reason to believe it has compromised NAMA's commercial interests," he said.
"Aside from Enda Farrell, there has been only one other employee subject to investigation but I am precluded from making further comment until the investigation is completed."
He said the agency has revised its internal policy for staff which means employees are now required to seek pre approval for the purchase of any property so it can be checked against NAMA's register. The agency is also introducing a requirement that all buyers in which the agency has an interest must declare close connections with an office of the agency.
"We will learn from the experience as any business should and redouble our efforts to ensure it doesn't happen again," he added.
McDonagh said the criticisms of the agency's transparency do not stand up to scrutiny and NAMA is "subject to a standard that does not appear to apply elsewhere".
"We are part of the solution, we did not create the problem," he said.
Comments on this post have been disabled as court proceedings are ongoing.