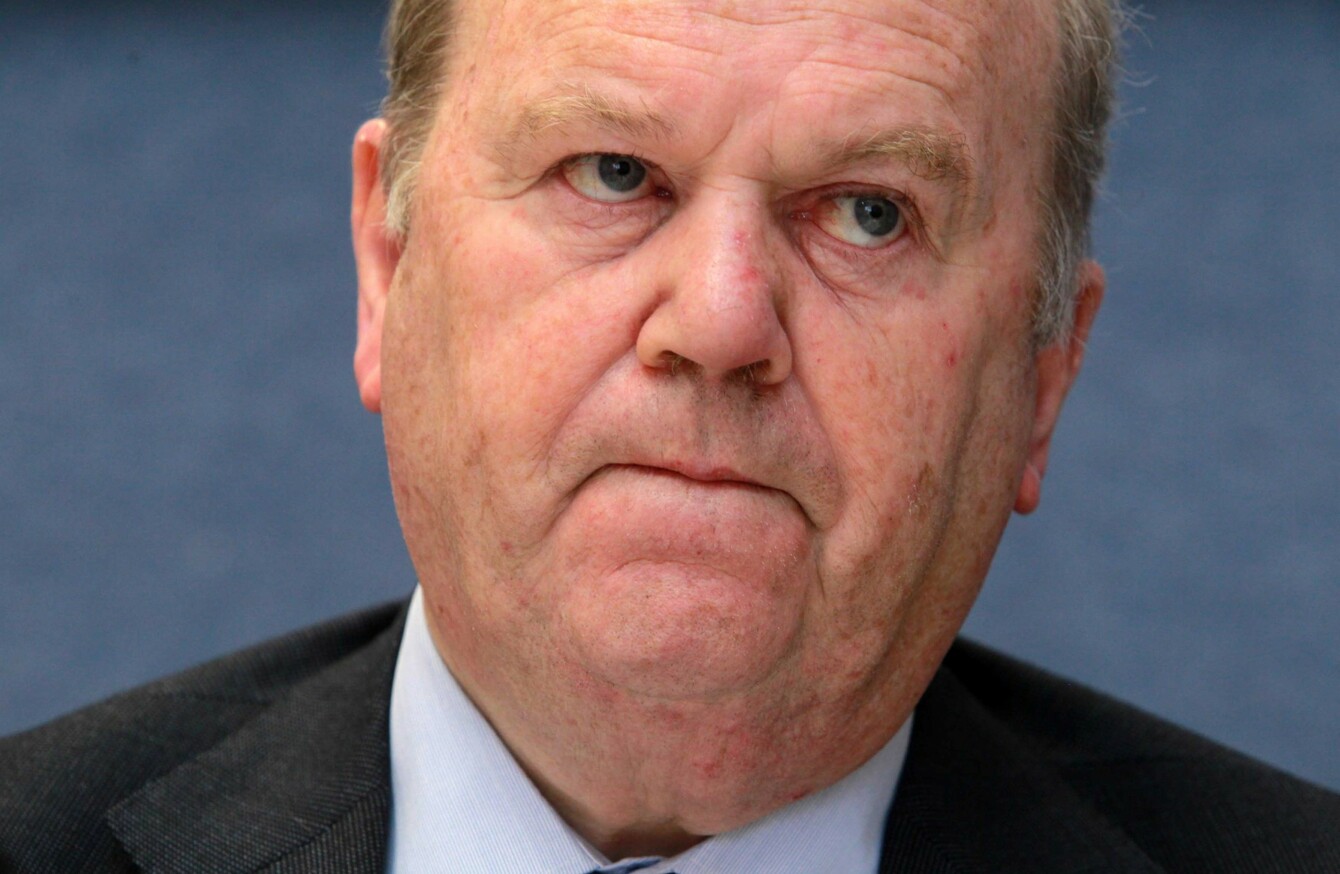 Finance Minister Michael Noonan
Finance Minister Michael Noonan
THE CHAIRMAN OF Nama's audit committee has said if the group was more transparent it wouldn't have made as much money as it did.
Brian McEnery told Marian Finucane on RTÉ Radio 1 if information about how the organisation carried out the sale of distressed assets was made public "we would not get the same kind of yield on behalf of the taxpayer".
McEnery said this approach would have "absolutely" damaged the commercial interests of Nama, "which are the commercial interests of the taxpayer".
"It isn't as if everything has been perfect in Nama, there have been one or two leaks of information and when that happened we came in for a mighty, mighty amount of criticism," McEnery said, adding he thought this was justifiable due to the sensitive nature of the information.
He strongly criticised the report compiled by the Comptroller and Auditor General (C&AG) into the sale of Nama's Northern Ireland property portfolio, Project Eagle, to US firm Cerberus for €1.6 billion in 2014.
The report said the state lost around €220 million in the sale.
McEnery said the C&AG was "wrong" to say a 5.5% discount should have been given on the loans, saying at least 10% was more appropriate.
He said the C&AG tendered for expert commercial advisers in relation to the report but didn't appoint any, indicating he did not have "good commercial expertise" when compiling the report.
Frank Cushnahan

McEnery said politicians in Northern Ireland had sought to appoint members to Nama's board, but the organisation "continually resisted this for good reason" as Irish taxpayers were funding its work.
Instead, an advisory committee was set up. Frank Cushnahan was one of the advisers. He's under fire after BBC Spotlight secretly recorded him accepting a £40,000 (about €47,250) cash payment from a Nama borrower in 2012.
Earlier this year, Spotlight alleged Cushnahan was caught on camera saying he was due to be paid a 'fixer's fee' of £5 million (€6.4 million) if a bid for the Northern Ireland portfolio by US investment fund Pimco was successful. The deal collapsed in 2013.
In today's Sunday Independent, Cushnahan said he has "consistently denied any wrongdoing and has now been released from police bail".
McEnery told Finucane Nama did not consult with the Northern Ireland advisory committee when making decisions, adding that the information Cushnahan is said to have given clients seeking to buy the loan book was "incorrect" and he was "up to 80%" wide of the mark in terms of some balances.
McEnery said he wasn't saying Cushnahan had done anything wrong, but might have been "peddling influence that he didn't have".
He said if the allegations against Cushnahan are proven to be true, he would express "utter disgust".
McEnery noted that investigations are underway, saying: "We'll see where they go to."
He added that Nama is on track to make a profit of around €2.5 billion for the state, as well as developing 20,000 housing units.
Public Accounts Committee
Representatives from Nama are soon due to appear before the Public Accounts Committee (PAC).
Speaking on RTÉ's The Week in Politics, Sinn Féin's deputy leader Mary Lou McDonald called for Finance Minister Michael Noonan to also appear before PAC to discuss the Project Eagle sale.
#Open journalism No news is bad news Support The Journal

Your contributions will help us continue to deliver the stories that are important to you

Support us now
"I think one of the things we will have to be quite insistent on is that Michael Noonan comes before the committee," McDonald, who is a member of PAC, said.
[He] needs to present himself before the committee and, having failed to discharge his duties and halt the sale of Project Eagle, he now needs to come into the committee and give a full account as to why that was the case.
McDonald said she was "worried" Noonan would not appear before PAC and send officials from the Department of Finance instead.
"I find it absolutely extraordinary that a senior cabinet minister would try to put this off.
"I would go so far as to say if Michael Noonan refuses to come before the committee it renders his position untenable."
Also appearing on the programme, Social Protection Minister Leo Varadkar said Noonan should not appear before the committee.
"He shouldn't go before the PAC, ministers don't go before the PAC. They are responsible to the Dáil," Varadkar said.
He added suggestions that Noonan was involved with the day-to-day running of Nama were incorrect, stating: "That is not the case."
During the week it was confirmed a commission of inquiry will be established to look into the Project Eagle sale.
- with reporting by Cormac Fitzgerald