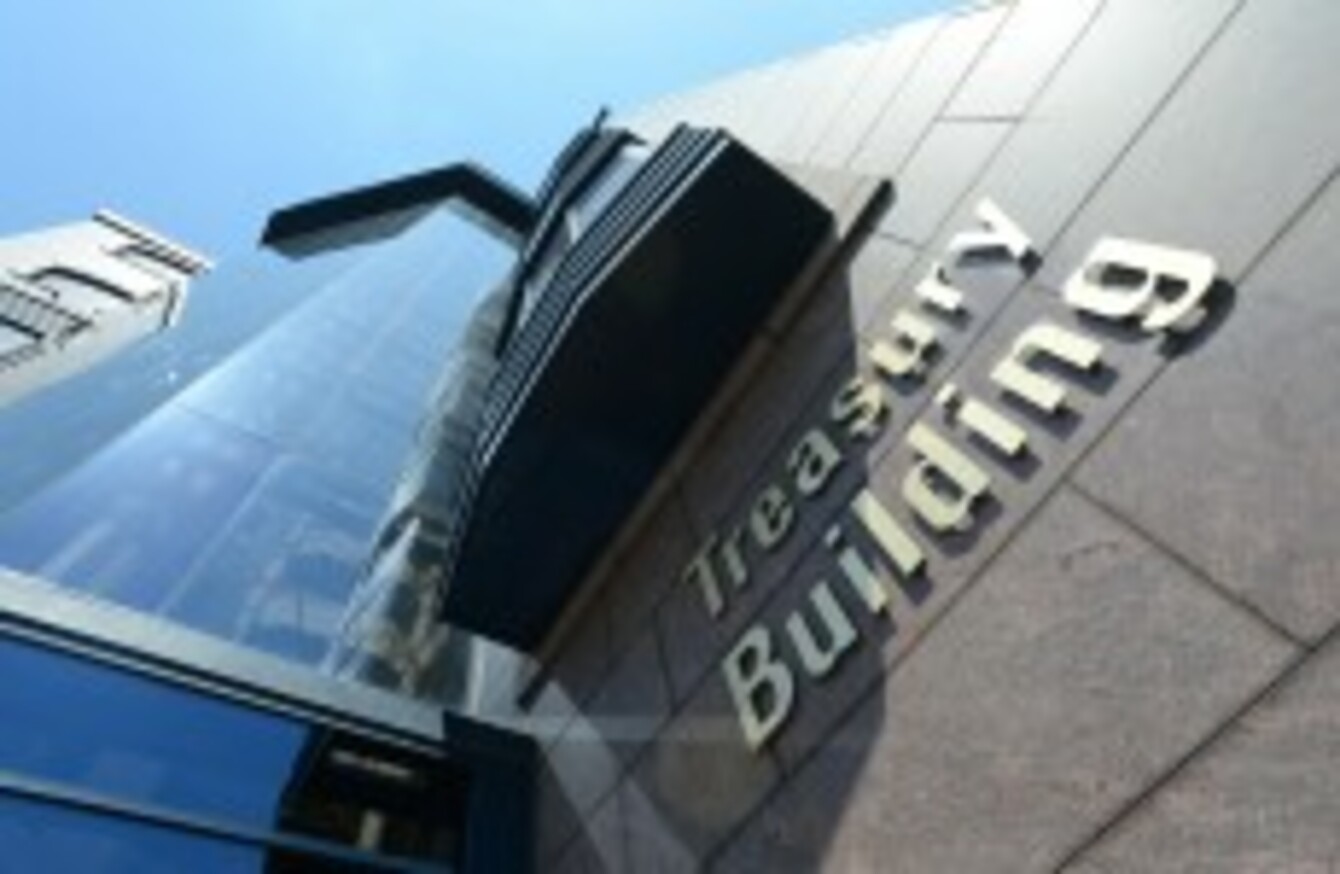 NAMA'S headquarters in the Treasury Building Dublin.
Image: Photocall Ireland
NAMA'S headquarters in the Treasury Building Dublin.
Image: Photocall Ireland
THE MINISTER FOR Finance revealed in the Dáil this week that 92 staff members at the National Assets Management Agency (NAMA) earned over €100,000 in 2012.
In a response to a parliamentary question posed to him by TD Michelle Mulherin, Michael Noonan said he was advised that 87 staff assigned to NAMA had salaries of over €100,000 at end 2011, while 51 staff assigned to NAMA had salaries of over €100,000 at end 2010.
Earnings
The figures for 2012 show that 132 staff members earn less than €100,000, while 88 NAMA staff members earn between €100k – €200k.
Two NAMA staff members earn between €200k – €300k, while another two staff members earn between €300k – €400k.  The figures state that no one earns more than €400,000.
The minister noted that the public service pension deduction is applied to NTMA employees.
The breakdown of the figures can be seen below. If you cannot see the table click here.
The Government introduced a €200,000 pay cap for any public workers shortly after coming into office – and came into difficulty earlier this year when it unsuccessful attempted to have the agency's highest-earning staff take voluntary pay cuts.
Voluntary pay cuts
In April, Michael Noonan confirmed that three staff at the NTMA would not be following their colleagues in taking a voluntary 15 per cent pay cut – even though the NTMA chief executive John Corrigan and NAMA chief Brendan McDonagh, were taking voluntary cuts.
Earlier this month Noonan added that he did not plan to hold any further consultations on staff pay and had abandoned any hope of encouraging the highest staff to take voluntary cuts.
The figures released by the minister also give a breakdown of NTMA staff salaries in 2012. It shows that 11 NTMA staff earned over €200, 000, one of whom earns between €400k – €425k.
When both NTMA and NAMA staff figures are combined, 15 staff members earned over €200,000 in 2012.
Figures obtained by RTÉ for 2010 showed that while a number of staff at the National Treasury Management Agency and NAMA did receive bonuses, senior managers opted not to accept theirs.
John Corrigan of the NTMA, Brendan McDonagh of NAMA, and Brian Murphy of the National Development Finance Agency all turned down their bonuses – all of which were worth at least 60 per cent of their basic salaries.
Corrigan could have received a payment of €392,000, McDonagh was due €258,000, and Murphy could have received €198,000 – meaning a combined saving of €848,000.
Better remuneration
In recent months, NAMA chief Brendan McDonagh said that ten per cent of NAMA staff have left their positions as they were getting better remuneration elsewhere.
It was also revealed that the staff numbers at NAMA have jumped in recent years. In 2010, just 100 people worked for NAMA. This figure increased by 93 people in 2011 and in 2012, more than 224 people worked for the agency.
The number of people working at NAMA to the end of November this year was 315 people. McDonagh says that NAMA expects to hire an additional 220 staff to deal with this increased workload early next year.