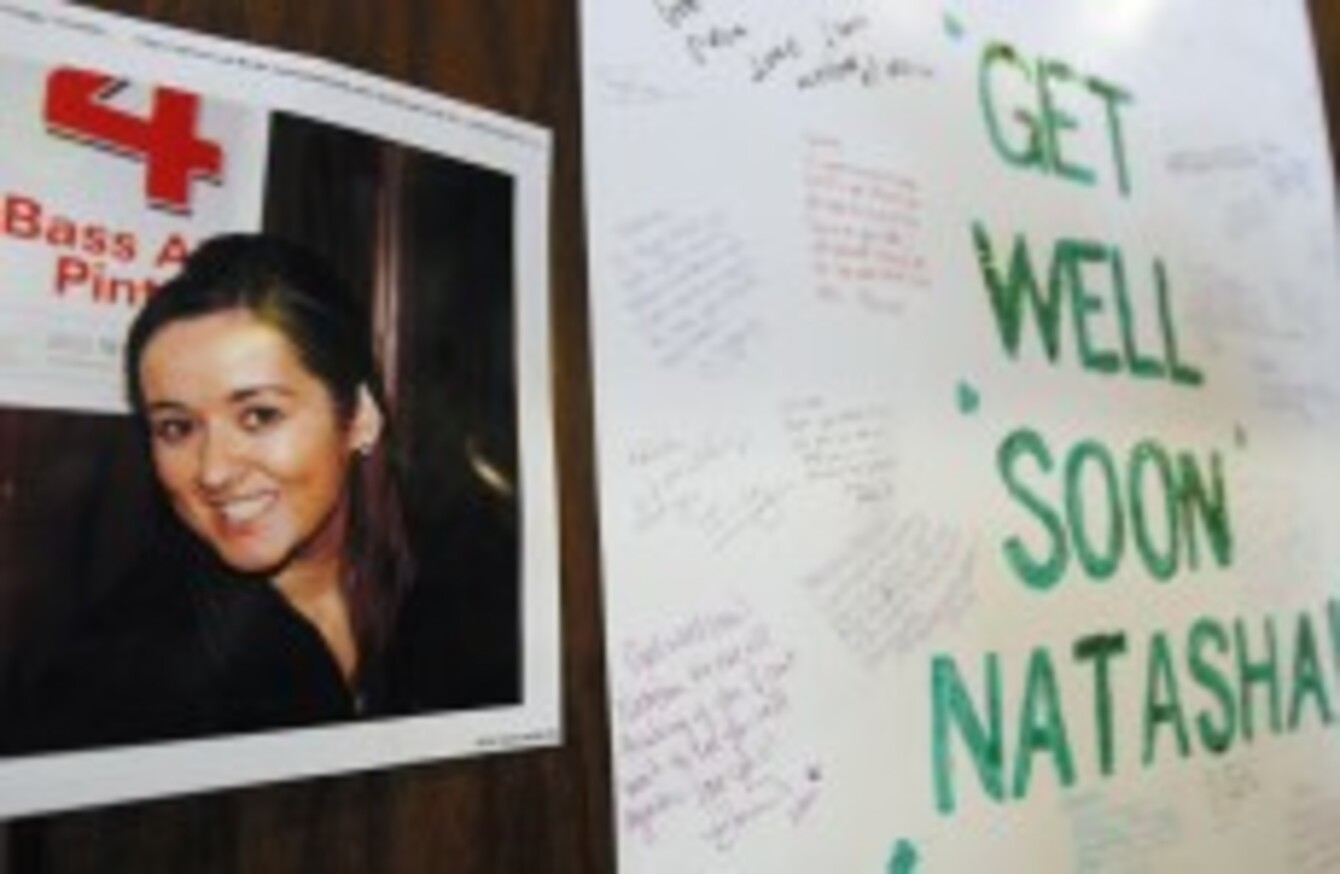 2010 file photo of a 'get well' message posted for Natasha in the Chicago bar where she worked
Image: Nam Y. Huh/AP/Press Association Images
2010 file photo of a 'get well' message posted for Natasha in the Chicago bar where she worked
Image: Nam Y. Huh/AP/Press Association Images
THE TRIAL IN Chicago of a 34-year-old man accused of the attempted murder of an Irish student in the Bucktown area of the city three years ago has heard the entire attack lasted just three minutes.
Natasha McShane, from Silverbridge in Armagh, has been left with extensive brain injures and speech problems as a result of the assault, and still needs help walking.
Heriberto Viramontes is on trial in the US city charged with attempted murder, aggravated battery and armed robbery in connection with the baseball bat attack on Natasha and her friend Stacey Jurich in April 2010.
The court heard yesterday from prosecution witness Marcy Cruz, who says she was with the alleged attacker on the night in question.
Cruz, who has pleaded guilty to her part in the attack, testified against the accused as part of a plea deal. According to Chicago Sun Times, Cruz said Viramontes parked her minivan in the Bucktown area of the city and left the vehicle carrying a baseball bat, telling her he didn't want her to be involved in what he was about to do.
She said he was gone just long enough for one song to play on the radio, and that he returned carrying two purses, jumping through the rear sliding door and telling Cruz to drive off.
Cruz told the court that they later stopped in an alleyway to divvy up the credit cards and other contents of the purses.
She told the court that Viramontes had said the girls were "really pretty" and that he had done some "bogus sh**".
According to the Chicago Tribune, Cruz admitted she lied to authorities at first. Questioned by Viramontes' attorney, Chandra Smith, she said she had initially claimed to have bought the two purses from a man named 'Jamaica' for $80. She said Viramontes had told her to lie.
Viramontes' lawyers claim he is an innocent man, and that the evidence linking him to the crimes is circumstantial.
Last week, jurors in the trial were shown video evidence of Natasha, who's now 27, struggling through physical therapy and having difficulty carrying out basic everyday tasks.
Her mother Sheila told the court that her daughter, who had been studying at the University of Illinois, "doesn't speak or walk on her own".