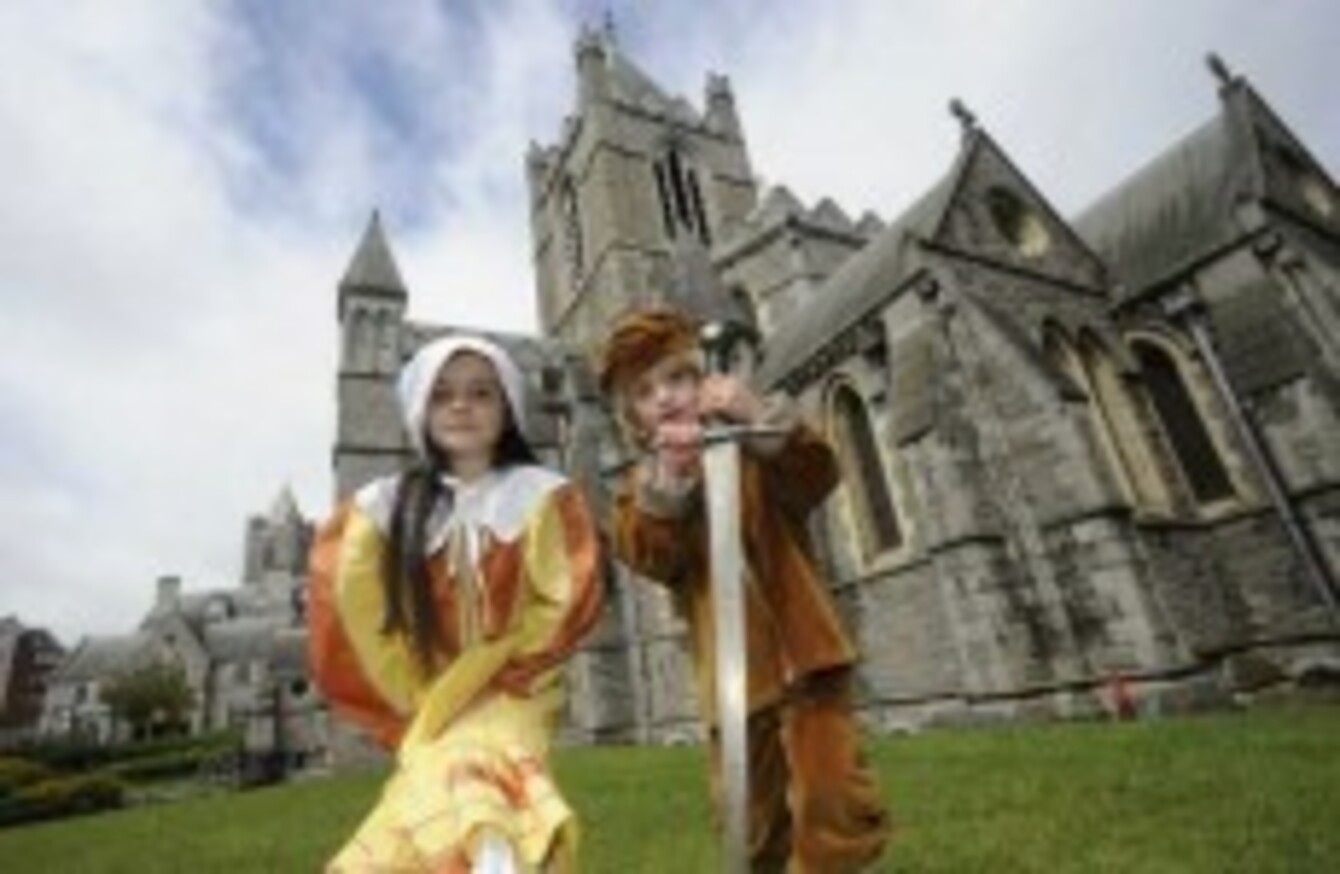 Elisha Stanley, 7, from whitehall with Luca O Shea, 5, from Greystones in Dublin at the launch of National Heritage Week at Christ Church Cathedral, Dublin
Image: Sasko Lazarov/Photocall Ireland
Elisha Stanley, 7, from whitehall with Luca O Shea, 5, from Greystones in Dublin at the launch of National Heritage Week at Christ Church Cathedral, Dublin
Image: Sasko Lazarov/Photocall Ireland
TODAY MARKS THE start of National Heritage Week, which will see hundreds of events taking place around the country with a view to protect and enhance the richness, quality and diversity of Ireland's national heritage.
More than 600,000 people are expected to take part in Heritage Week -with a staggering 1550 events due to take place nationwide.
Most of the events are free to everyone, and events can bee checked through the free iPhone / Android Heritage Week Event App.
Speaking on the eve of the week Michael Starrett CEO of the Heritage Council, , the agency tasked with identifying, protecting, preserving and enhancing Ireland's national heritage, said: "Once again we have seen a fantastic response to National Heritage Week with hundreds of people volunteering their time to organise events in their local areas.
"When the Heritage Council first took over the running of National Heritage Week in 2005 there were just 500 events taking place during the week. Today the week has tripled in size and this is a direct result of the increasing levels of community involvement we are seeing nationwide. I would encourage everyone to check what events are happening in their local areas, you may be surprised to see what heritage is on your doorstep".

Uploaded by 
HeritageWeek
With the number of events taking place around the country, vistors can check what exactly is on in their area on heritageweek.ie.
Here are some highlights for today…
The Hollywood Fair, Co Wicklow
18th August : 18:00 – 23:45 and 19th August : 14:00 – 22:45
Depicting life in the pre-1950s era including a sheep fair, traditional crafts, music, ceili and games, vintage vehicles and machinery – open for all the family. Check out thehollywoodfair.com and Facebook page Hollywood Fair August 2012 for a comprehensive list of activities.
Glenribbeen BatWatch , Lismore, Co Waterford
18th & 19th August 20.30 – 22.00 & 24-26th August 20.30 – 22.00
Short lecture on Irish bats followed by a 300m walk down and back along a stream to witness three different forms of bats. Suitable for all ages. Initial lecture by cars so disabled can listen (walk not wheelchair accessible). Visitors are advised to bring warm clothes, good walking shoes/boots, insect repellant and a torch/flashlight.
Cork City Heritage Open Day
18th August – one day only
Cork City Heritage Open Day is a unique event celebrating Cork City's amazing architecture, tradition and history. For one day only, over 38 buildings not usually open to the public will allow entry to all – free of charge.
National Heritage Week 2012 will run from the 18th to the 26th of August