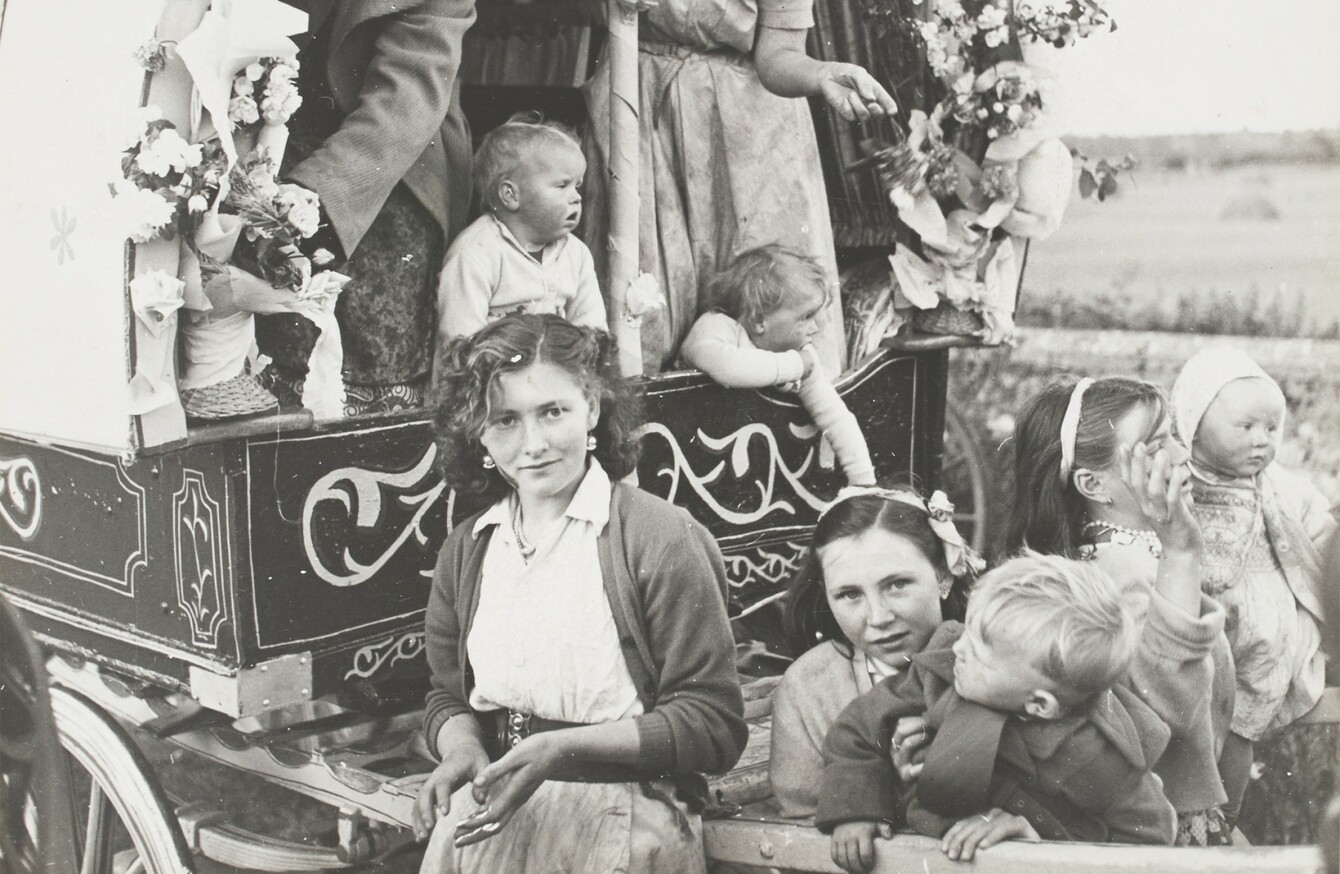 Image: National Library of Ireland
Image: National Library of Ireland
AS WE COME to the end of a year that has gone as none of us expected, there's comfort to be found in looking back to those who came before us. 
While we can't currently visit museums or libraries in person, the National Library of Ireland has put many of its photos online over the last 10 years. A selection of these is available on the library's volunteer-run Flickr photostream for free, allowing viewers to travel back in time and take a look at photos dating back to the 1800s.
Below are 16 of the most popular photos from the archives, from a family who survived the sinking Lusitania to crowds gathering at a tea and coffee van in 1910.
The first seven images are from the library's past Photo Detectives exhibition, in which the Flickr community came together to identify people, locations and dates previously unknown to the National Library. 
1. Children at the former home of Sean O'Casey, circa 1970
Once an unidentified photo from the Wiltshire Photographic Collection, Flickr user Sharon Corbet searched other National Library photos to see if she could find the location of this image. She tracked the house to 18 Abercorn Road in East Wall, which had once been the home of playwright Sean O'Casey in the early 1900s. 
2. Kerry fisherman Tadhg Devane in 1963
All that was originally known about the smiley man in this photo was that he was a fisherman in Portmagee, Co Kerry. Flickr user Mossy Carey took to the streets of Portmagee to find out more, and the gentleman was identified as Tadhg Devane, who was said to be 'a great character'.
3. Pupils at Good Counsel College, New Ross, Co Wexford, 1935

Taken in May 1935, this photo shows a group of boys at a small boarding school in Co Wexford. One of the boys was identified by Flickr user Michael Muldoon as his uncle, Charles Muldoon, from Co Galway. Charles was about 18 years old at the time, and went on to be ordained an Augustinian priest in Rome during WWII.
4. The Rileys, survivors of the sinking of the Lusitania, Cobh, Co Cork in 1915
The family in this photo has been identified as Annie and Edward Riley and their twins Sutcliffe and Ethel. The Rileys had been living in Massachusetts and were travelling on the Lusitania to visit relatives in England during WWI. The ship, however, was torpedoed by a German boat off the Irish coast, and the Rileys were among the 764 people (out of the 2,000 onboard) who survived. They are believed to be the only whole family to have survived the sinking of the Lusitania.
5. WWI veteran and uncle to the stars Edward Frazer, 1904
This man in this portrait, which dates back to 1904, has been identified as Edward Frazer. Edward lived an interesting life; he was born in China and attending a boarding school in Bray, Co Wicklow. The crest on his helmet allowed it to be revealed that he had served in Nigeria during WWI. It was also discovered that Edward was uncle to Hollywood film star Maureen O'Sullivan, who played Jane in the 1930s and 1940s Tarzan films, making him great-uncle to actor Mia Farrow. 
6. Woman sitting beside ornate bollards at the Parnell Monument, 1969
This photo was taken in June or July 1969, but much else remains unknown, like why the bollards were moved from the other end of O'Connell Street, or why they had holes in them. 
7. Crowds gather at Ballybricken Fair, Waterford City in 1910
At 566,774 views (and counting) this is the National Library of Ireland's most viewed photo on Flickr. It dates back to 1910 and depicts a market at Ballybricken, Co Waterford. Looks like people loved tea and coffee 110 years ago just as much as we do now.
8. Women and children preparing for Cahirmee Horse Fair, Co Cork, 1954
Taken in July 1954, this photo shows a family en route to Cahirmee Horse Fair in Buttevant, Co Cork. The woman to the front of the photo was identified by her granddaughter as Elizabeth 'Lizzie' Furey Hanafin. She was 17 at the time, and is the niece of late artist Ted Furey.
9. Pedestrians walking down O'Connell Street in June 1963
This photo, taken by photographer Richard Tilbrook, captures an array of pedestrians going about their business in 1963. Most noticeable is the nun, but there's also a window cleaner, a cyclist, a schoolboy and two women. Imagine the chaos on O'Connell Street if cars could still park like that today.
10. A photographer advertising his photo studio in Castlebar, Co Mayo, 1871
Taken on 26 October 1871, this image shows photographer Thomas J Wynne promoting his business on Main Street, Castlebar, Co Mayo. Can you spot the various props he has dotted around his stand?
11. A model is admired by two young boys in Dublin city, circa 1960
What a photo! This image of American model Linda Ward was taken between 1960 and 1966. Linda swapped New York for Dublin's modelling scene and married broadcaster Brendan O'Reilly, who was the presenter of Sports Stadium on RTÉ.
12. A man and his dog in Co Kerry, 1960
Taken in 1960, this photo shows a happy man and his happy dog outside an old chapel on the Dingle Peninsula in Co Kerry. The man has been identified as Seamus Johnson, and the chapel is Gallurus Oratory, which is said to have been built between the seventh and eighth century. 
13. A man and his goat in Co Cork, circa 1887
Taken near Fermoy, Co Cork in circa 1887, this is a Royal Welsh Fusilier with the Regimental Goat, complete with a crest strapped to its horns. 
14. A woman at a bazaar in 1909
This brilliant photo shows a woman, Miss Bay Farrell, standing proudly on a cart as a man seemingly snoozes on the ground beside the wheel. It was taken at a bazaar in Tramore, Co Waterford in June 1909.
15. Wren boys celebrate in Dingle, Co Kerry, circa 1980-1990
Taken between 1980 and 1990, this shot shows boys dressed up for the decades-old tradition to celebrate Wren Day on December 26th.
16. A snapshot of a drapers in 1925
This shot of the inside of Hadden's drapers shows an array of old brand names, including K Shoes, Vinolia and Grenson. The location of this shop has been disputed, but its thought to have been in Dungarvan, Co Waterford. 
Discover thousands of more photos on the National Library of Ireland's Flickr photostream, where you can gain unique insights into life across the island of Ireland from the middle of the 19th century all the way up to the late 20th century. Find other online events by the National Library of Ireland here.