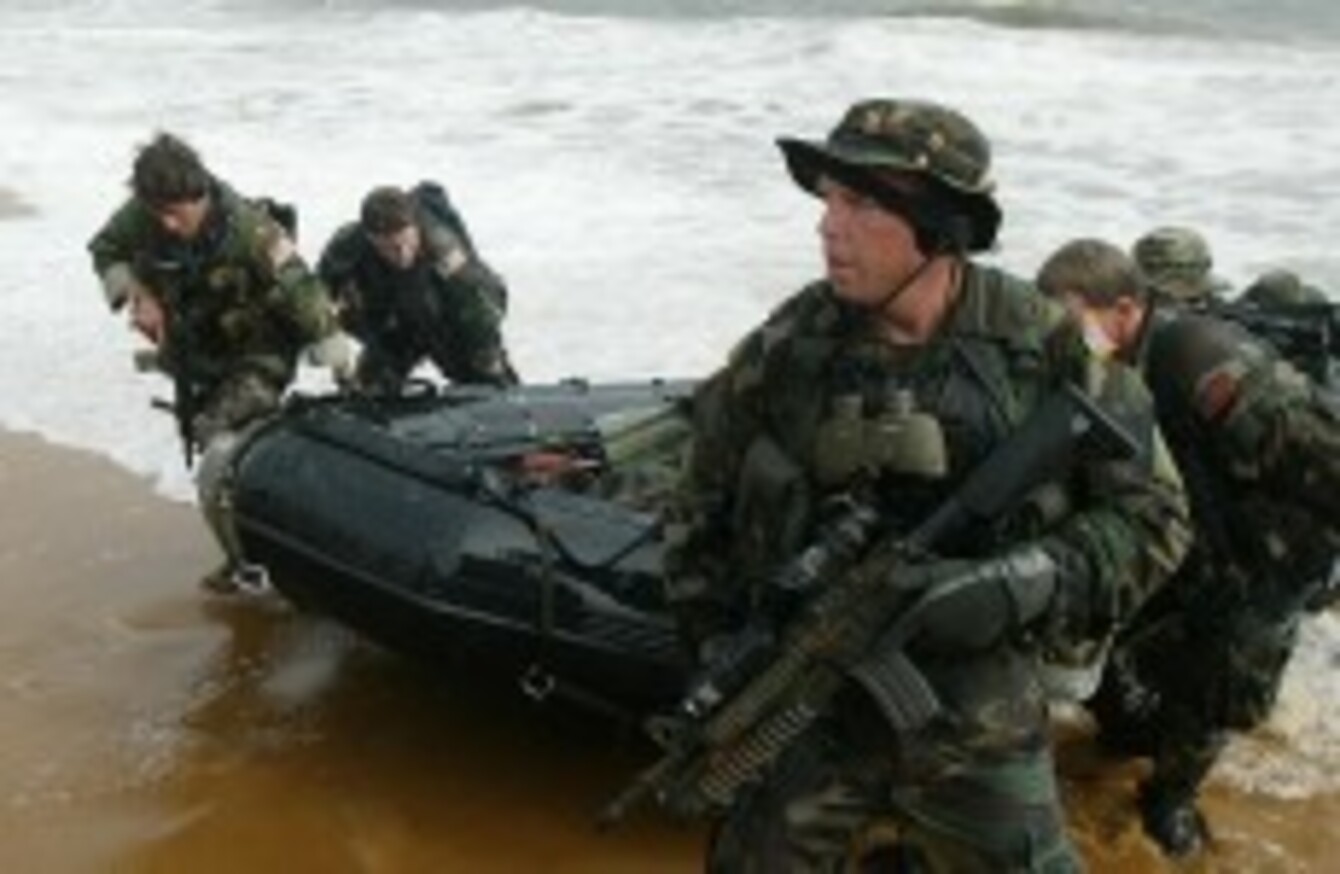 US Navy SEALs (File photo)
Image: AP/Press Association Images
US Navy SEALs (File photo)
Image: AP/Press Association Images
THEY CALL THEMSELVES the "quiet professionals," but lately, the US Navy SEALs can't seem to keep their mouths shut.
The elite commandos have long prided themselves on performing risky missions in humble anonymity, but insatiable public appetite for their war stories has led several SEALs to break with that tradition.
This week, a retired SEAL named Robert O'Neill stepped forward to say he was the triggerman who killed Bin Laden at his Pakistani compound in 2011.
O'Neill, 38, will tell his story on national television in a Fox News documentary due to air this week, titled "The Man Who Killed Osama Bin Laden."
"He died afraid and he knew we killed him. That's closure," O'Neill said of Bin Laden, in an interview broadcast on CNN.
The commando's decision to reveal himself comes after another SEAL special operator, Matt Bissonnette, published a book in 2012 about his role in the Bin Laden raid, "No Easy Day."
His account of the operation appears to differ from O'Neill's, and his popular book has got him into trouble with the Pentagon because he failed to get his manuscript approved before publication — opening himself up to potential prosecution for possibly divulging classified information.
The unabashed desire of some commandos to go public has alarmed the top brass and fellow troops in the close-knit special forces, who worry that swagger has taken the place of discretion, said officers and experts familiar with the SEALs.
When teammates stray
"I think it is something that the community as a whole is troubled about," said author Linda Robinson, who has written several books on the special operations forces.
Straying from the group's traditions jeopardises the bond of trust at the heart of the commandos' life-and-death team work, said Robinson, an analyst at the RAND Corporation think tank.
"The special operations community is all built around a team. When a team member goes off on his own, that is damaging in a very basic way," she told AFP.
For two SEALs to have broken "the code" of silence is worrisome, as it can not be dismissed as a "one-off issue," Robinson said.
"It's causing some soul-searching, and is leading them to ask what can they do to shore up the ethics of the community and the members who come in," she said.
Days after the documentary featuring O'Neill was announced, the head of Naval Special Warfare Command, Rear Admiral Brian Losey, denounced any member of the SEALs who would seek fame or fortune by revealing details of secret missions.
The SEAL credo states that "I do not advertise the nature of my work, nor seek recognition for my actions," Losey and the top enlisted sailor, Master Chief Michael Magaraci, wrote in a stern letter to troops.
We do not abide willful or selfish disregard for our core values in return for public notoriety and financial gain, which only diminishes otherwise honorable service, courage and sacrifice.
The letter's tone captured the mood of many SEALs, who are dismayed and disappointed with O'Neill and Bissonnette.
"They're not happy. It's not good for them personally or professionally," said one military officer who works with the commandos.
But O'Neill, in an interview recorded months earlier and broadcast by CNN, said the SEAL commandos were subjected to a double standard, as soldiers from other branches of the military were praised for their memoirs.
"Every Marine that gets up, every Ranger that gets up, every army guy that writes a book, they're lauded as heroes," he said.
You do it as a SEAL and you're a… villain.
With the Pentagon warning SEALs to stay quiet, critics have accused the US government of hypocrisy, as details of the Bin Laden operation were eagerly shared with select journalists and Hollywood filmmakers who portrayed the raid in the movie "Zero Dark Thirty."
The price of fame
Even before the controversy over the Bin Laden raid, a slew of best-selling books by and about the Navy SEALs have spawned a whole industry, including video games and even children's books lauding the troops who many Americans regard as real-life action heros.
Popular books include "Lone Survivor" by former SEAL medic Marc Luttrell, which was made into a hit film starring Mark Wahlberg, and "American Sniper," an autobiography by the late Chris Kyle, who was billed as the most lethal sniper in US military history.
But for some of the SEALs, the notoriety has come at a price.
Bissonnette told CBS that he sent a text to the head of SEAL Team Six after his book was released.
The commander replied, "Delete me."