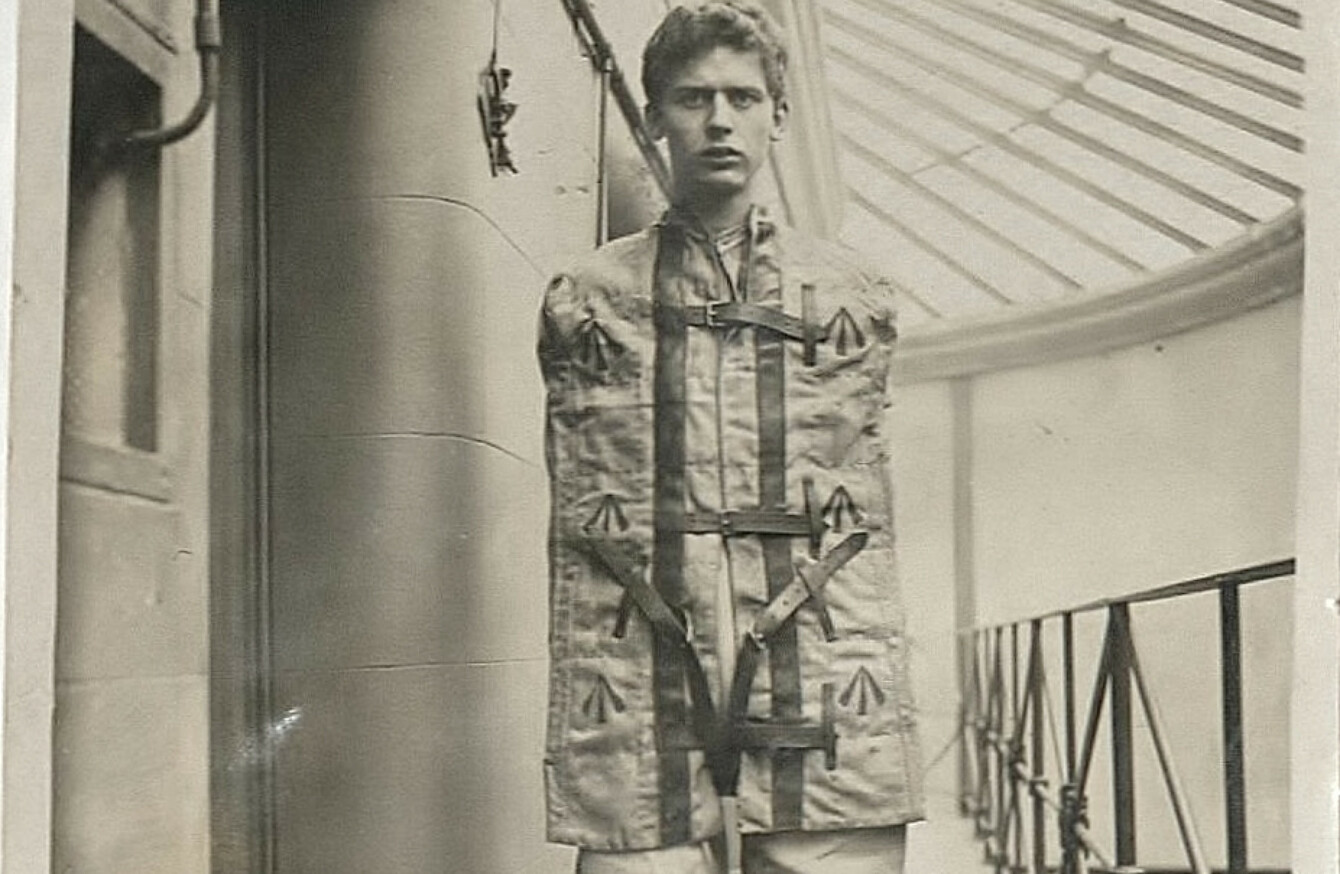 This photo was taken by the Howard league during a visit to Wakefield Prison in 1904.
This photo was taken by the Howard league during a visit to Wakefield Prison in 1904.
THE MAJORITY OF children sent to prison in Ireland in the 1960s were not offenders, instead they were imprisoned for issues relating to neglect and poverty – often common threads in their stories.
Dr Fiachra Byrne from the School of History in UCD told TheJournal.ie, "They were suffering from status offences.
Despite the rhetoric of the importance of family by the Irish State – that didn't apply to all children in Ireland, especially the ones who were put into institutions.
Ireland's relationship with young offenders continues to cause problems for the State.
St Patrick's Institution closed its doors on 7 April this year and all 17-year-olds are now sent to Oberstown. Announcing the closure the Minister for Justice at the time Frances Fitzgerald said:
St Patrick's Institution has been the subject of much criticism by various bodies and persons involved in the area of human rights and children's rights. The signing of these orders will now consign the name of St Patrick's to the history books and is a significant and progressive step forward in the treatment of children.
However Oberstown is not without its problems and there has been a string of high-profile episodes at the detention centre. Last August a major fire broke out at the centre after young offenders climbed onto the roof of the building during a protest.
In May, staff were threatened and assaulted before three youths escaped using an angle grinder to cut through the perimeter fence.
In July, the director of the facility Pat Bergin confirmed two incidents involving inmates, one of which required garda intervention. Last month a teenage boy was accused of causing €50k damage at the young offenders centre.
During this atmosphere of tension in our current detention services for young offenders, Dr Byrne is looking at Ireland's past and how we treated young offenders as adults, keeping them in their cells for 14 hours a day and implementing punishment diets and isolation.
Byrne is researching the mental health of juveniles in custodial institutions in Ireland and England from 1850-2000 as part of the project Prisoners, Medical Care and Entitlement to Health in England and Ireland, 1850-2000.
He explained that there was a huge resistance to child psychology in Ireland up to the 1950s due to the close connections between state and church. "Psychology was often seen as subversive to Catholic morals," he claims.
"That changes slightly in the 1950s, we then incorporate bits of child psychology without affecting Catholicism."
In the early 1960s, Artane Industrial school had over 700 boys, Byrne described them as, "Quite young kids with almost no offenders at all in there.
These children were kids deprived of a normal home life and they didn't have proper affection.
The first child guidance (care for psychologically or emotionally disturbed children) didn't start in Ireland until 1965, but that would have started in the UK in the 1920s. Byrne added:
Psychology here was dominated by priests in the 1930s. Proper studies were not started until the late 1950, early 1960s.
"They were still very much in a Catholic framework but there were liberal elements to it. It was modernising within a context."
Bread, water and isolation
St Patrick's Institution was the main penal repository for boys aged 16-17 years who were sentenced to prison in Dublin. By the late 1960s, it had an average population of about 170 and, by the early 1970s, its average population exceeded 200.
A survey of boys in St Patrick's in 1967 found that 69% had been committed for property crimes, while 24% had been committed for violent crimes.
Byrne said that although St Patrick's Institution catered for juvenile prisoners in terms of regime and physical environment, it differed little from prisons for adults. The children spent around 14 hours a day in their cells.
In 1971, the chaplain to St Patrick's, Gabriel Slattery, described this as a "considerable length of time", adding: "The psychological effects of this must be very serious especially for retarded or illiterate boys."
Punishment also mirrored adult prisons. It consisted of restricted diets, solitary confinement and loss of remission.
Inmates could be placed on a diet of bread and water for a three days during which time they would be confined to a small basement cell isolated from all contact by three locked doors and two corridors.
Describing the condition of the confinement, Slattery said: "The tiny window in these cells is well below ground level. The only furniture provided is a mattress, a few blankets, and a chamber pot in the corner. There is no table, no chair and no bed.
The cell is no larger than a domestic bathroom. The removal of the mattress during the day in some cases means that a boy must sit on the wooden floor and walk around the cell for 23 hours a day for three continuous days. The 24th hour the boy spends walking in circles around the walled-in tarmac watched by an officer only and cut off from all others.
After three days, the boy would normally be moved onto a diet of some porridge, potatoes, bread and water. He would still be confined to a cell but in a different section of the prison where it might contain an iron bed, a chair and a desk. This punishment could continue for up to 15 days.
The prisoners could then face into another 15 days where they were deprived of cigarettes and recreation, returning to their cells at 4.30pm after work and remaining there until the following morning.
Watershed Moment
In England, steps were being taken to humanise institutions in the 50s and 60s but that didn't happen over here until the 70s when new institutions – such as St Laurence's in Finglas – were set up.
The Kennedy Report in 1970 was the first time the severe issues in juvenile custody were recognised at policy level.
Byrne said the report "signaled a significant disenchantment with the institutionalisation of children in Ireland" and highlighted the importance of the emotional and psychological needs of children.
#Open journalism No news is bad news Support The Journal

Your contributions will help us continue to deliver the stories that are important to you

Support us now
The Kennedy Report described educational and training facilities in the institutions as "insufficient and primitive".
"St Patrick's is an old style penitentiary building with rows of cells, iron gates and iron spiral staircases. Offenders, in the main, occupy single cells. These are small and gloomy and each one has a small barred window almost at ceiling level. Offenders are held in these cells for approximately fourteen hours per day," it said.
The system of locking young persons into a cell alone for a good portion of the 24 hours can hardly be conducive rehabilitation. We feel that something should be done to improve conditions there.
The report recommended that inappropriate and inadequate institutions should be closed, that remaining services should be professionalised and that the emotional and mental well-being of children in care should be catered for. It also recommended that psychological and psychiatric assessment should be provided.
Byrne described how, as time went on, Ireland's institutions for children grew independent from church and gravitated more towards international norms.
Byrne said, "They started hiring social workers but some of those turned out to be sexually abusing the boys so the switch certainly didn't solve all problems."
Setting cells on fire and swallowing nails
The year after the report was published, the chaplain of St Patrick's Institution Gabriel Slattery wrote to Archbishop Charles McQuaid describing how some of the boys were protesting as one wing on the building was being 'hacked down' in preparation for plastering the cells. The boys were confined in semi-demolished, dust-filled cells due to pressure of numbers.
Slattery told McQuaid that in the previous weeks, more than a dozen boys swallowed nails in protest including one boy who swallowed a buckle. He said that two boys cut their wrists with glass and one boy tried to burn his cell while locked in at night but he was saved.
Another boy tried to stab another inmate with a knife because he had tried to stop a 15-year-old from jumping off a balcony. Slattery said the 15-year-old told him that he was terrified when locked up in his cell at night on his own.
Dr Byrne said the grim historical narrative of these institutions shows systematic neglect and, frequently, child abuse.
Byrne is a member of a team of historians at four different universities in England and Ireland that are working on the project Prisoners, Medical Care and Entitlement to Health in England and Ireland, 1850-2000.
Director of the UCD Centre for the History of Medicine, Associate Professor Catherine Cox, is a co-principal investigator of the project. Cox and Byrne presented some of their research at Parnell Summer School earlier this month.