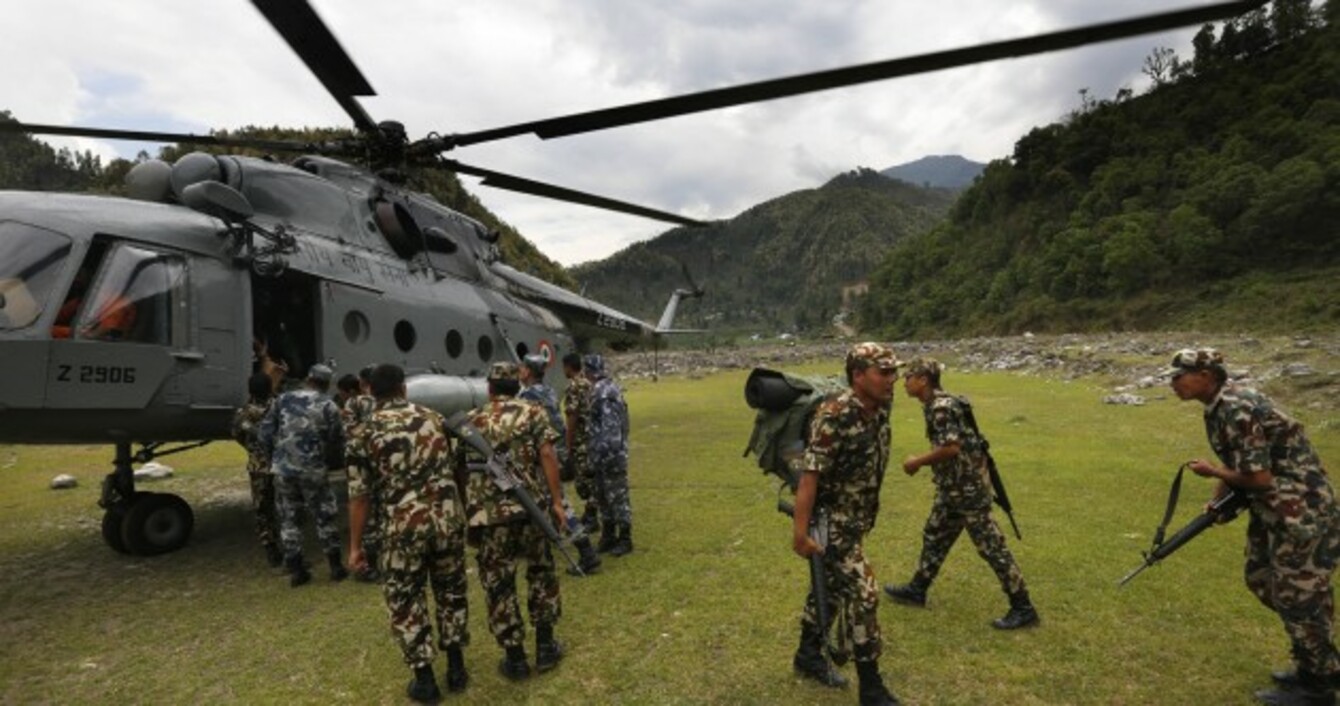 Nepal army soldiers get down from an Indian Air Force helicopter at higher reaches of mountains to help and evacuate earthquake victims.
Image: Manish Swarup
Nepal army soldiers get down from an Indian Air Force helicopter at higher reaches of mountains to help and evacuate earthquake victims.
Image: Manish Swarup
Updated 15.20pm
THERE ARE NOW four Irish citizens yet to make contact with loved ones to say they are safe following the devastating earthquake in Nepal.
The Department of Foreign Affairs and Trade said it is continuing to track the cases of approximately 150 Irish citizens who are believed to have been in Nepal at the time of the earthquake.
Speaking today Minister Flanagan confirmed that there are currently five people they are yet to make contact, falling from ten yesterday.
He said the vast majority of the approximately 150 Irish citizens believed to have been in Nepal are accounted for and are safe and well.
"As of this morning there are now 4 citizens on the Department's list with whom contact has yet to be made. Some of these people may be in remote areas where communications would be sporadic at the best of times, or may not in fact have been in the area at the time, which means it is taking time to formally account for all Irish citizens. There are no suggestions at this stage of any Irish fatalities."
One injured Irish citizen was successfully evacuated on a Norwegian flight this morning, following extensive contacts between the Department and Norwegian counterparts overnight.
A Consular Response Team remains in place in the Department and can be contacted on 01 418 0200.
On Monday Minister Flanagan and Minister of State Seán Sherlock, TD, approved support of up to €1 million for the humanitarian response in Nepal.
Irish Aid, the Government's programme for overseas aid,  is working to respond to the needs of those most affected through Irish Aid NGO partners in Nepal. Irish Aid is releasing emergency relief supplies from pre-positioned humanitarian stocks at the UN Humanitarian Response Depot in Dubai.
The Irish Aid consignment includes priority relief items – tents, blankets  and tarpaulins- which will assist an estimated 12,000 vulnerable people who need shelter in the aftermath of the earthquake.
Rescuers are continuing to search for survivors under very difficult circumstances.
A man has been plucked from the rubble of his Kathmandu home after he was trapped under masonry for around 82 hours.
Late on Tuesday, French rescuers managed to free the 28-year-old, who was barely conscious and covered in dust.
Drinking urine
Khanal said he knew what he must do to survive: drink his own urine.
He said he had been desperately calling relatives on his phone for days.
Dazed and caked in dirt, Khanal was carried out of the wreckage on a stretcher before being taken to hospital where doctors said he was lucky to be alive, suffering a leg injury.
Source: euronews (in English)/YouTube
Brother-in-law Purna Ram Bhattarai, 32, described how Khanal was left helpless when his leg was pinned under debris during Saturday's quake that has killed more than 5,000 people.
"He said that the walls just started crumbling, and there was nothing he could do. His leg was stuck and he was trapped," Bhattarai told AFP on Wednesday.
"He said he was so thirsty that he even drank his own urine, there was nothing else, no option," Bhattarai said as he waited at Tribhuwan University Teaching Hospital for Khanal to return from surgery on his leg.
From beneath the rubble, Khanal had called Bhattarai to plead for help.
But Khanal, who has a wife and a six-month-old baby and lives in Arghakhanchi district, had forgotten the name of the hotel where he had been staying since last Thursday.
"You won't believe it, but we could reach him on his phone even after two days," Bhattarai said.
Trapped
"'I'm trapped here' he said, but in panic he forgot the hotel's name. If he had remembered, maybe we would have found him earlier."
Bhattarai said the phone later went dead, sparking a desperate search of overwhelmed hospitals and mortuaries in the devastated capital.
"We looked everywhere, we went to all the hospitals. Checked patients and even the dead. We had lost all hope of finding him."
Source: Daily News/YouTube
"Luck saved him, it's like he has a second life. Everybody else is dead," said Bhattarai.
"He was conscious when he was rescued… he said 'Oh God, thank you'.""His wife was very relieved when we called her."
Like thousands of other young men who leave impoverished Nepal for work in the Gulf, Khanal had been scheduled to fly to Dubai on Sunday to start at a KFC outlet.
International rescue teams, some using sniffer dogs, have been racing against the clock to find survivors trapped in the rubble of houses and other buildings.
Overwhelmed
The government acknowledged it had been overwhelmed by the devastation from the deadliest quake in Nepal in over 80 years.
A total of 5,057 people are so far known to have died in Nepal alone from Saturday's quake, and around 100 more in neighbouring India and China.
Around 8,000 were injured while the United Nations estimates that eight million people have been affected by Nepal's worst natural disaster in eight decades.
Among the dead were 18 climbers who were at Mount Everest base camp when an avalanche from the quake flattened everything in its path. The victims included two Americans, an Australian and a Chinese national.
Although the aftershocks have begun to subside, hundreds of thousands of people were still sleeping outside in the streets as their homes had either been wrecked or were feared to be on the verge of collapse.
In Gorkha, one of the worst-hit districts, terrified residents ran with outstretched arms towards an Indian army helicopter to plead for food and water.
 Resources stretched 
The Nepalese army said that an improvement in the weather should help efforts to reach rural areas.
"We are moving forward with intensive rescue operations today," said Nepalese army spokesman Jagdish Pokharel.
"We are stretching our resources to reach out to as many areas as possible. The weather today has improved so we hope to help more victims today. Helicopters have been deployed to bring the injured to hospital."
An army helicopter reached the scene of an avalanche in the Ghoratabela district on Tuesday afternoon in a region that is popular with foreign trekkers.
The scale of casualties was unknown but 18 survivors had been rescued and there were believed to be 200-250 people in the area, said Gautam Rimal, a senior local official.
Nepal's only international airport on the outskirts of Kathmandu has been operating round-the-clock to accommodate the arrival of military planes carrying aid.
© – AFP 2015 Additional reporting Christina Finn. First published 07.30am