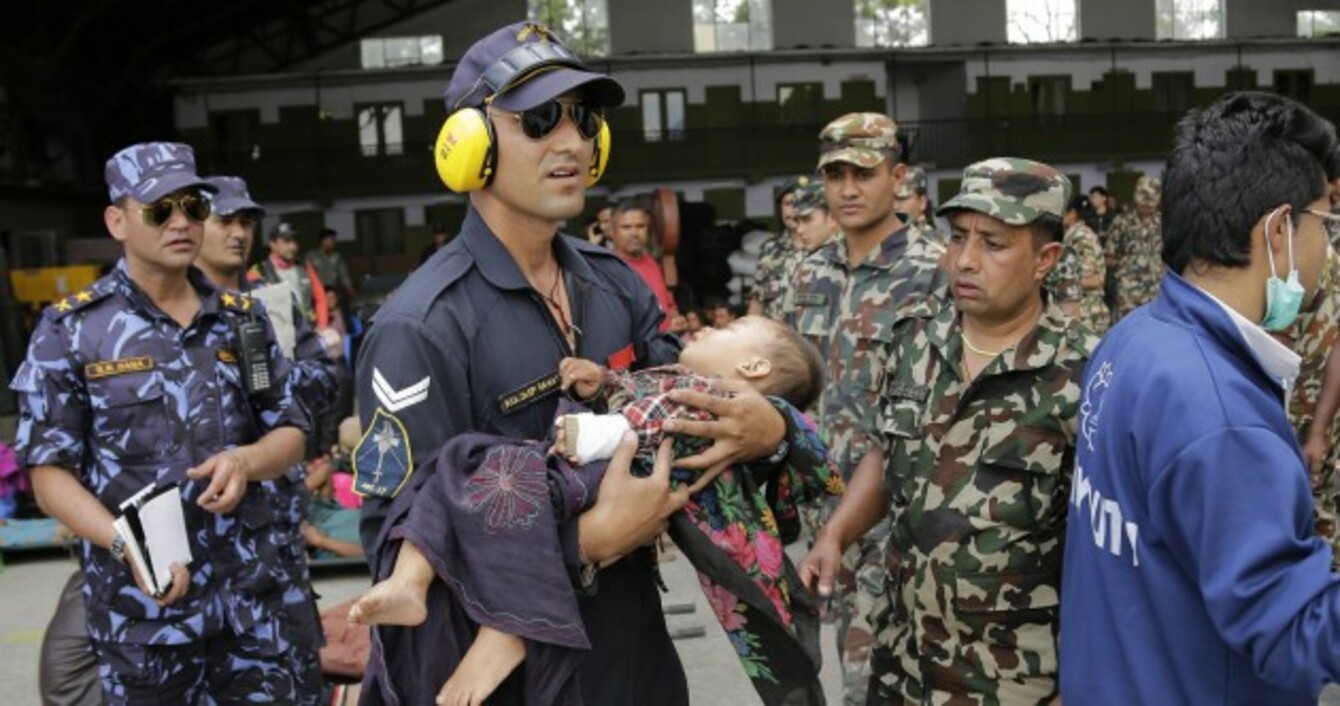 An Indian Air Force person carries a Nepalese child, wounded in earthquake, to a waiting ambulance after the child and mother were evacuated from a remote area at the airport in Kathmandu.
Image: AP/Press Association Images
An Indian Air Force person carries a Nepalese child, wounded in earthquake, to a waiting ambulance after the child and mother were evacuated from a remote area at the airport in Kathmandu.
Image: AP/Press Association Images
Updated 15.40pm
TEN IRISH CITIZENS on the Department of Foreign Affair's list of concern in Nepal have yet to make contact with home.
Minister for Foreign Affairs and Trade, Charlie Flanagan said the Consular Response Team in the Department is tracking the cases of some 150 Irish citizens who were believed to have been in Nepal at the time of the earthquake.
However, the vast majority of these citizens have now been accounted for and are safe and well.
Remote areas
Speaking today about the ten citizens who are unaccounted for, the minister said some may be in remote areas "where communications would be sporadic at the best of times".
"It is taking time to formally account for all Irish citizens. There are no suggestions at this stage of any Irish fatalities. One Irish citizen has been injured but is stable, and is due to be medevac'd when flight clearance permits."
He said the Consular Response Team will continue to work actively with the Embassy in New Delhi to trace everyone as soon as possible.
"Of the other citizens on our list, some have already left the area, and others have booked flights out over the next few days.
The minister said officials are coordinating closely with EU colleagues, including those with Embassies on the ground.
Commercial flights are operating out of Kathmandu so, in common with our EU partners, we are advising citizens who wish to leave to make arrangements to do so by commercial means."
Red Cross list
The names of five Irish people who are still yet to contact home in the wake of the Nepal earthquake remain on the Red Cross website.
The names Irish tourists or travellers have been posted using the charity's 'missing persons' facility.
The website allows relatives to register a person's details online.
Once they can get online themselves, the person listed can tick an 'I am alive' option to let people know they are okay.
The names are:
Alex Murphy (25) Dublin
Thomas Drumm (55) Monaghan
Ciaran Sands (55) Ireland
Niall Kavanagh (54) Dublin
Sam O'Neill (28) Ireland
The Irish Times reports that Paul Greenan (38) who runs a plant hire company in Dublin, was one of two people injured in the avalanche.
It's believed he was air-lifted off the mountain.
Death toll
A Nepal police official says at least 4,352 bodies have so far been recovered after last week's massive earthquake that struck just outside of capital Kathmandu.
Deputy Inspector General of Police Komal Singh Bam says 8,063 people have been injured in the magnitude 7.8 quake.
In neighbouring India 61 people were killed and China's official Xinhua News Agency reported 25 dead in Tibet.
The charity, GOAL, says they expect the death toll to rise to over 10,000 as many have not been recovered from the rubble at this stage.
18 people died following a devastating avalanche on Mount Everest. Helicopters have been evacuating scores of injured climbers and their teams from the area.
Longford climber Paul Devaney made contact via social media in the immediate aftermath of the disaster to let family and friends know he was safe.
There were no reports of any injuries in his international team, a post on Facebook said.
#Open journalism No news is bad news Support The Journal

Your contributions will help us continue to deliver the stories that are important to you

Support us now
"Base Camp is no longer considered safe due to the possibility of further aftershocks and resulting avalanches.
In the past few hours, the team posted on Facebook that they had been evacuated and were on their way to Pherice via Gorek Shep.
There they will camp for the next 3 days and the groups will formulate a plan to determine the next steps.
This morning Paul walked through the destruction at base camp where the extent of the disaster is beginning to hit hard. He described the past 48 hours as harrowing for all involved with the added terror of further tremors and avalanches taking hold over all those at camp since the quake.It is a heartbreaking situation to see yet another tragedy strike the mountain and those who climb her.As Paul's camp was just 50 metres from the blast zone, he is very much cognisant that he and his crew are extremely fortunate to be able to tell the tale while so many others were not and thoughts continue to be with the families and loved ones of all those lost as well as those who have suffered injury during the disaster.
Watch: Video captures terrifying moment when avalanche hit Everest base camp >
Supplies needed
The latest updates from Nepal say that army troops are loading blue tarpaulin sheets, medical kits and dehydrated food, water bottles, sacks of rice and blankets at a flat area that is being used as a helipad in Gorkha town.
Gorkha district was the epicenter of Saturday's magnitude 7.8 earthquake that has killed more than 4,400 people.
With the weather clearing it seems that for now helicopters will be able to pick up the supplies and relay to smaller villages.
The weather has been erratic over the last two days — there has been some rain and cloud cover making it difficult for helicopters to land in some areas close to the epicenter.
District official Surya Mohan Adhikari says the supplies will be sent out later in the day to villages that need them most.
He said that in the rural areas 90 percent of the people have been affected "by this calamity. They have lost their homes and livestock. They have no way of getting food."
He says it is very difficult to reach them. They are cut off by landslides on the mountain roads, and the wind and rain is making it difficult for helicopters to land.
Anyone concerned about family or friends in the region is being advised to contact the Department of Foreign Affairs response team on on 01 418 0200.
The Red Cross missing persons facility can be found here.
First published 07.30am. Additional reporting Associated Press