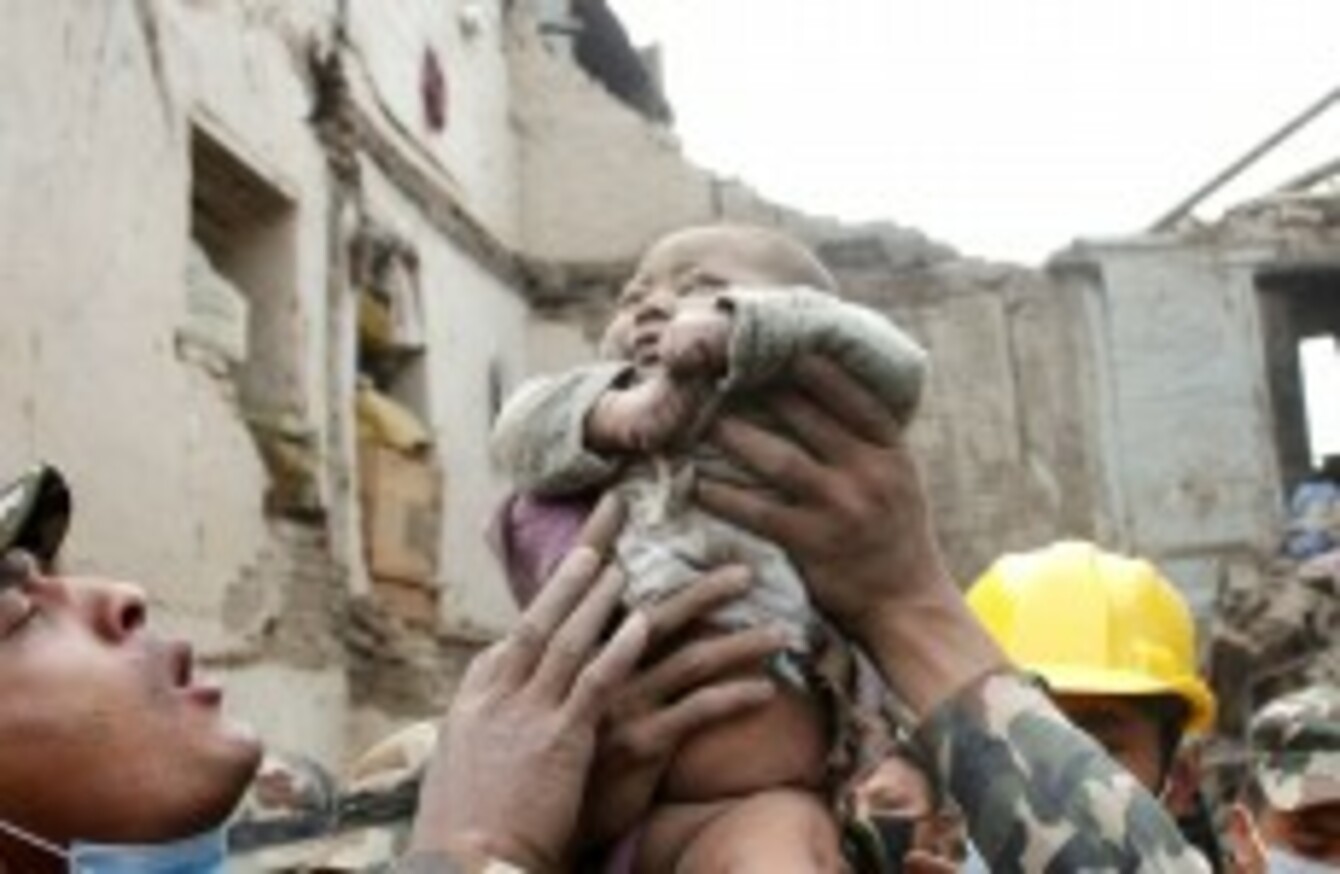 A four-month-old baby boy is rescued from the rubble of his house in Bhaktapur, last Sunday.
Image: Amul Thapa/AP/Press Association Images
A four-month-old baby boy is rescued from the rubble of his house in Bhaktapur, last Sunday.
Image: Amul Thapa/AP/Press Association Images
NEPAL HAS RULED out the possibility of finding more survivors buried in the rubble from the massive earthquake that killed more than 6,700 people and devastated vast swathes of one of Asia's poorest countries.
One week on from Nepal's deadliest quake in over 80 years, hopes of detecting more signs of life among the ruins of the capital Kathmandu have all but disappeared and the focus is shifting to reaching survivors in far-flung areas who have yet to receive relief supplies.
The UN children's fund UNICEF warned of a race against time to avert an outbreak of disease among the 1.7 million youngsters estimated to be living in the worst-hit areas, with monsoon rains just a few weeks away.
The 7.8-magnitude quake wreaked a trail of death and destruction when it erupted around midday last Saturday, reducing much of Kathmandu to rubble and even triggering a deadly avalanche on Mount Everest.
"It has already been one week since the disaster," home ministry spokesman Laxmi Prasad Dhakal told AFP.
We are trying our best in rescue and relief work but now I don't think that there is any possibility of survivors under the rubble.
Death toll
As well as updating the death toll to 6,621, Dhakal put the number of injured at 14,023.
While multiple teams of rescuers from more than 20 countries have been using sniffer dogs and heat-seeking equipment to find survivors in the rubble, no one has been pulled alive since Thursday evening.
More than 100 people were also killed in neighbouring India and China.
The exact scale of the disaster was still to emerge, with the mountainous terrain in the vast Himalayan nation complicating the relief effort.
The numbers of foreigners who have died was also unclear with around 1,000 EU citizens still unaccounted for in Nepal, according to diplomats.
Rameshwor Dangal, joint secretary of Nepal's National Disaster Management Division, said many people were waiting to either receive emergency aid supplies or else be airlifted to safety.
"In many areas people are not getting relief and it is natural that they are unhappy about it," he told AFP.
We estimate that there may still be around 1,000 people in Sindhupalchowk and Rasuwa areas who need to be rescued. This includes the injured and the stranded people, including the foreigners.
AFP journalists who reached part of Sindhupalchowk yesterday reported scenes of utter devastation. In nearby rice-farming communities, almost all the houses had been so severely damaged that they were no longer habitable, and locals were sleeping in makeshift tents.
Tens of thousands of survivors in Kathmandu have also been living out in the open in the week since the quake, having either lost their homes or fearful that aftershocks could bring teetering buildings to the ground.
#Open journalism No news is bad news Support The Journal

Your contributions will help us continue to deliver the stories that are important to you

Support us now
'Nowhere to go'
"We are not living in this tent out of choice. We are here because we have nowhere to go," said Dhiraj Thakur who has been camped out for the last week in Tundi Khel Maidan, an open area in the centre of the city.
I have seven family members with me which includes my wife, my sister, nephew and my parents. The rented room where we were living in Kathmandu is now in ruins.
"Most of our stuff is lost and even the person for whom I used to work as a driver is dead, so I don't know where I will get the money for renting another room," said the 24-year-old.
UNICEF said the health and wellbeing of children affected by the disaster were "hanging in the balance" as so many had been left homeless, in deep shock and with no access to basic care.
"Hospitals are overflowing, water is scarce, bodies are still buried under the rubble and people are still sleeping in the open. This is a perfect breeding ground for diseases," said Rownak Khan, UNICEF's deputy representative in Nepal.
We have a small window of time to put in place measures that will keep earthquake-affected children safe from infectious disease outbreaks, a danger that would be exacerbated by the wet and muddy conditions brought on with the rains.