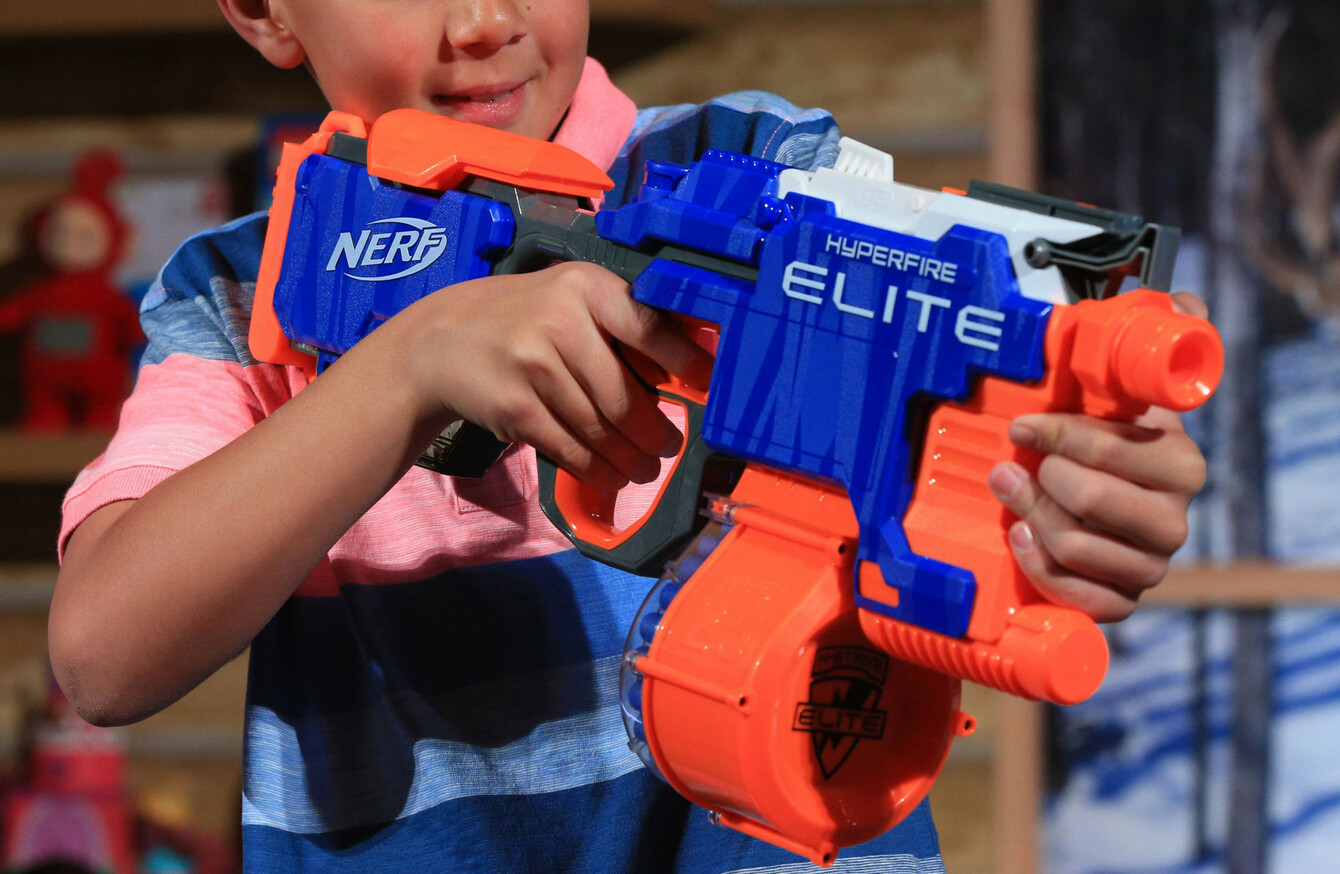 Image: Jonathan Brady via PA Images
Image: Jonathan Brady via PA Images
BULLETS FROM NERF guns can cause serious eye injuries, doctors from a London eye hospital have warned.
The warning comes after three people, two adults and one child, were presented to hospital on separate occasions with serious eye injuries after being shot at by a Nerf gun.
All three patients were in pain, had blurred vision and all had internal bleeding in the eye, according to doctors from the Moorfields Eye Hospital.
One of the three patients was a child, who had also developed swelling of the outer layer of the eye, the cornea, and the inner layer of the eye, the retina, from the force and speed of the bullet fired by the gun.
The patients were given eye drops, and when they went for their check-ups their sight had returned and the bleeding had stopped.
However, writing in the BMJ, the doctors warned that these types of injuries can have a serious impact.
They said that a projectile Nerf bullet travelling at high speed can cause irreversible damage.
Children should protect their eyes when playing with these guns, they advise.
"Sports in which the risk of [eye] trauma is relatively high, such as squash ball, have seen an introduction of protective eyewear in the UK," the authors wrote.
"This case series emphasises the seriousness of [eye] injury from Nerf gun projectiles and calls into consideration the need for protective eyewear with their use," they said.
One of the injured patients commented that the bullets, also known as darts, were generic versions and were harder than the branded versions. This is something that parents may not be aware of, the authors said.
They suggested that the safe age limit may need to be reviewed. Most Nerf products are aged 8 and over.
In a statement to TheJournal.ie, Hasbro, the company who makes Nerf guns, said:
"Product safety is of utmost concern at Hasbro. Nerf products are designed based on years of consumer insights and research, and undergo rigorous reviews and testing to assure that they are safe and fun to play with, and meet or exceed global standards and regulations."
Hasbro said that Nerf foam bullets and foam rounds are not hazardous when used properly.
Consumers must never aim Nerf blasters at a person's eyes or face, should only use the foam darts and foam rounds designed for specific Nerf blasters, and never modify darts or blasters.
"The Nerf brand encourages parents and caregivers to be involved in aspects of their children's development, including play," Hasbro said.
"Ultimately, a parent or caregiver knows his or her child best and is best equipped to make decisions on what forms of play and entertainment are most appropriate for his or her child."