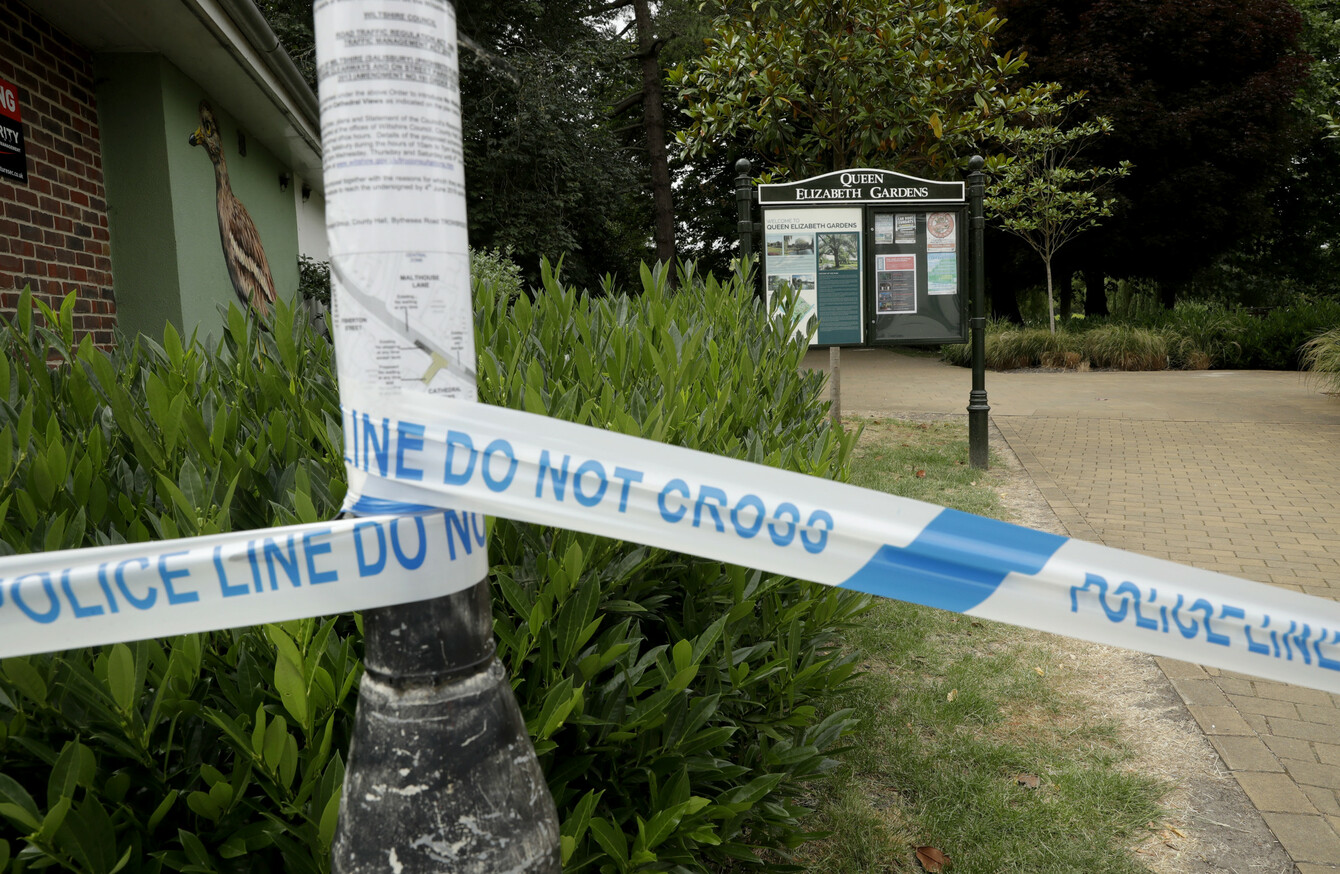 Police tape cordons off the Queen Elizabeth Gardens park in Salisbury.
Image: Matt Dunham via PA
Police tape cordons off the Queen Elizabeth Gardens park in Salisbury.
Image: Matt Dunham via PA
Updated Jul 5th 2018, 1:10 PM
MEMBERS OF THE public are being warned not to pick up objects if they "don't know what they are" after a couple has been left critically ill in the UK after being exposed to the same nerve agent used on a former Russian spy earlier this year.
The couple took ill on Saturday in the small town of Amesbury, close to the city of Salisbury, where former double agent Sergei Skripal and his daughter Yulia were found slumped on a bench on 4 March in an incident that sparked a diplomatic crisis with Russia.
"The possibility that these two investigations might be linked is clearly a line of enquiry for us," said Neil Basu, head of Britain's counter-terrorism police force.
British security minister Ben Wallace told BBC radio: "The working assumption would be that these are victims of either the consequences of the previous attack, or something else, but not that they were directly targeted".
Police announced late yesterday that tests on the couple, named locally as 44-year-old woman Dawn Sturgess and 45-year-old man Charlie Rowley, revealed they had been exposed to Novichok, but could not say whether it was the same batch used on the Skripals.
Novichok is a military-grade nerve agent developed by the Soviet Union during the Cold War.
fffdsfa
Police have called for calm but also said that anyone who had visited any of the five sites that the man and the woman went to on Friday and Saturday should wash clothing worn at the time and wipe down personal items.
Speaking to Sky News earlier today, Public Health England Paul Cosford said: "The general risk to the general public is low and it's perfectly reasonable to carry on with your day to day activities.
We've issued some proportional advice which is that if you were in one of the areas of concerns from 10 o'clock on last Friday evening, it's a sensible thing simply to wash your clothes and, of course, we should all remember not to pick up items that we don't know what they are.
The sites, which have now been cordoned off, are a park and a homeless hostel in Salisbury, as well as a pharmacy, church and the house in Amesbury.
A cordon could be seen around a bin at the homeless hostel.
A man living at the hostel, who spoke to AFP on condition of anonymity, said that the woman affected had been living there.
"We are all worried… What if it is something from in there?" he said, pointing to the building.
Wallace repeated the British government's accusations of Russian responsibility for the attack on the Skripals, which have been denied by Moscow, and said Russia could provide information that would protect local residents in Salisbury.
"We have said they can come and tell us what happened. I'm waiting for the phone call from the Russian state. The offer is there. They are the ones who could fill in all the clues to keep people safe," he said.
Kremlin spokesman Dmitry Peskov told reporters that the case was "very worrying" but Russia had no information "about what substances were used and how they were used".
"From the very beginning the Russian side proposed conducting a joint investigation with the British side and this proposal remained without a response," he said.
'Hallucinating'
Interior minister Sajid Javid chaired an emergency cabinet meeting on today and a spokesman said Prime Minister Theresa May is being kept "regularly updated".
Counter-terrorism police, which are in charge of the Skripal probe, are also leading the investigation into this incident.
Basu said there "remains a low risk to the general public," saying "we're satisfied that if anyone was exposed to that level of nerve agent by now they would be showing symptoms".
However, many questions remain over the source of the contamination and why tests were not conducted on the couple until Monday, two days after they were taken ill.
Local man Sam Hobson (29) told AFP he was a friend of the pair and had spent time with them as they fell ill.
"I came around Charlie's house in the morning and there were loads of ambulances outside, and his girlfriend was getting taken away," he said.
"She was complaining of a headache in the morning and she went into the bathroom to have a bath and he heard a thump and she was in there having a fit, foam coming out of her mouth."
#Open journalism No news is bad news Support The Journal

Your contributions will help us continue to deliver the stories that are important to you

Support us now
She was hospitalised at around 9.15am. Hobson then went with Rowley to a church fair where Rowley complained of feeling unwell.
"He was sweating loads, dribbling, and you couldn't speak to him," Hobson said. "There was no response from him, he didn't even know I was there. It's like he was in another world, hallucinating."
Hobson said he called the ambulance at around 2.30pm.
Hobson also said that the couple had visited Salisbury on Friday, speculating that "they must have touched something that was contaminated".
Basu said there was no evidence the man and the woman had "recently visited any of the sites that were decontaminated" after the poisoning of the Skripals.
Police had initially assumed that the two had consumed contaminated drugs.
But samples from both patients were sent to Porton Down defence laboratory on Monday "due to concern over the symptoms", Basu said.
Both are still in a critical condition and are at Salisbury District Hospital – the same facility where the Skripals were treated.
Skripal, 67, and his 33-year-old daughter Yulia, who was visiting from Moscow, were treated for weeks before being released from hospital.
The police said they suspected the nerve agent may have been smeared on a front door handle in liquid form.
The poisoning sparked a diplomatic crisis that saw Russia and the West expelling dozens of diplomats in tit-for-tat moves.