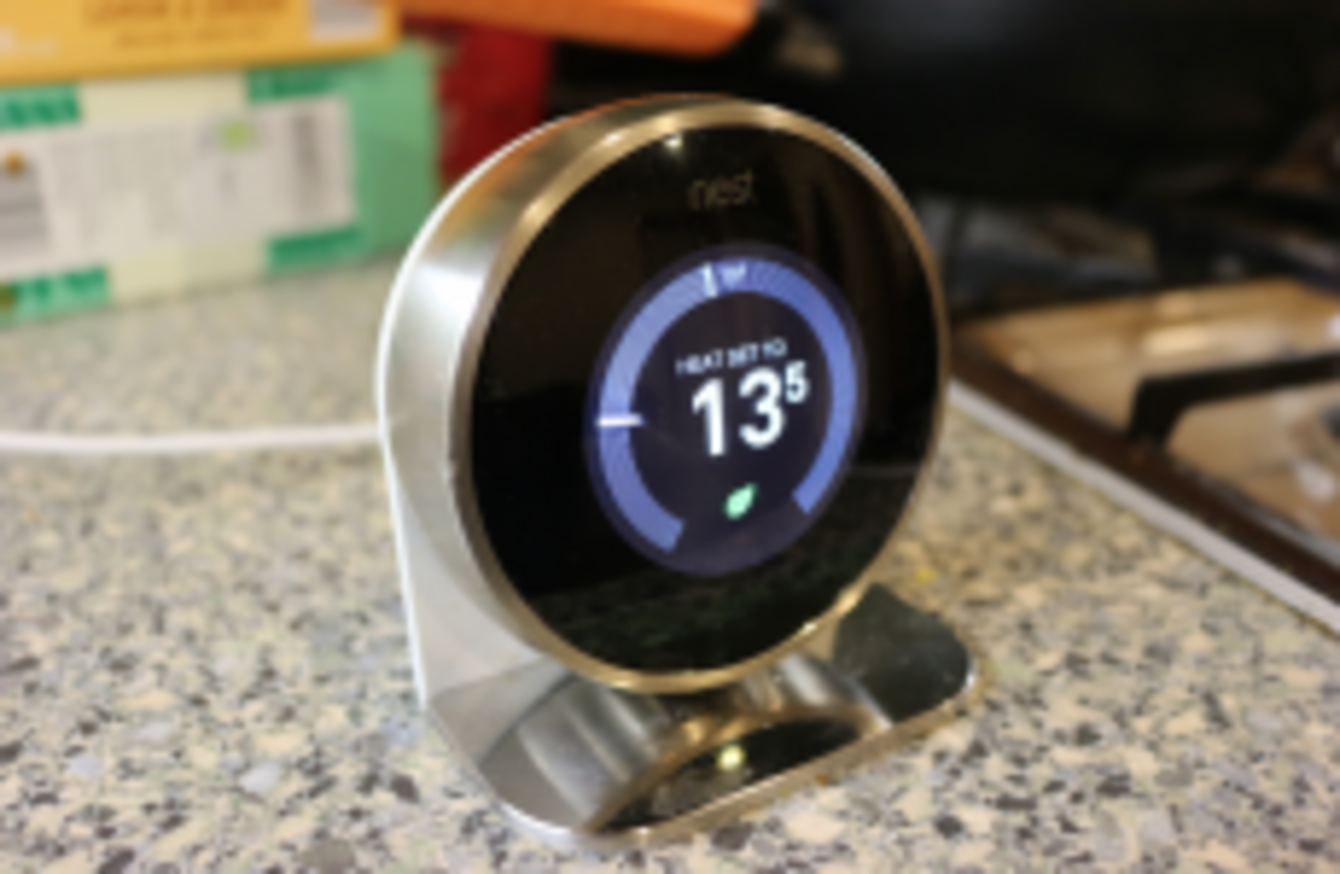 WHAT'S BEEN SAID about Nest that hasn't been covered already. While it's been covered extensively since its launch in 2012, and even more so since Google bought it this time last year, it took a while before it eventually made its way over here.
Nest has received much praise for how it has re-imagined something as mundane as the thermostat but does it live up to its reputation?
Design
There are only two components required to get Nest up and running, the controller (a aluminium cylinder ring) and the receiver which replaces your current thermostat and usually takes less than an hour for a professional to install.
It helps that Nest controller is quite a nice and stylish device, keeping things as simple as possible. The more steps and requirements you throw at, the more bogged down people will become until they give up.
The actual thermostat itself is easy to use and the simplicity behind it makes easy to understand, and even if you don't, the mobile app fills in some of the blanks. Twist it to adjust the temperature and push it in to access options. That's all you need to know.
The one thing you need to keep in mind is even if you don't intend to mount Nest onto the wall, the distance you can place it from the receiver is limited, and you have to have it plugged in constantly for it to work, but you can at least use your phone to control it remotely.
Display
Due to the nature and size of the thermostat, you will only get the minimum information from it. It is possible to check energy levels, schedule heating times and choose away mode, but everything outside of adjusting the temperature itself should be left to your smartphone app.
Simply because your phone has more real-estate and space to let you properly adjust and check the proper heating schedule.
The device will advise you on which temperatures are better for saving energy as you adjust it with a simple leaf icon. It's simple, but it's enough to get the point across when you're scheduling.
Learning
It's probably best to describe Nest learning mechanism as similar to a puppy. While it's rather good at determining when you're in our out of the house and the temperatures you like your house to be at, you will need to keep an eye on it for the first two weeks as it learns your schedule.
Part of this is done by the display's sensor, which lights up anytime you come close to it, but it also takes into account what you schedule.
Depending on the temperatures outside, it will adjust the heading to cope with the change, which can be useful in certain cases.
Instead of turning the heat on full blast for an hour at a time, Nest follows more of a continuous heating system where lower temperatures for longer is better in the long run.
Ultimately, this kind of learning is really going to be handy for any family or group that follow a (somewhat) consistent schedule. Since it does learn through its sensor, if anyone comes in close proximity to it, it will make a note of it for future reference, and learn through that.
This isn't a big issue, but if your first week or two using it involves you or someone else being home more often than usual, then it will treat that as a regular occurrence. It's better to nip it in the bud straight away than find it heats up the house when nobody is around.
On the go
As mentioned earlier, Nest's app (iOS and Android) gives you more scope for scheduling and checking your heating than the actual thermostat itself. Turning on the heat remotely is always appealing and if you're home a little earlier, you can increase the temperature so it's nice and warm when you arrive.
One of the problems with the app is it only allows one account to sign in, meaning you will either have to cede control to one person, or give a second (or third) person the account details.
It's not exactly ideal and a system which would allow one person admin status and others limited access might be better in the long run, especially since you can turn on an away feature.
Conclusion
Who this will appeal to will depend on how often you use your heating and how consistent a schedule both you and the people living with you are.
If you're a family, then it's likely that there will be enough consistency to allow and adjust the temperature to suit your family. Yet if there isn't – you live with other professionals for example – then its usefulness diminishes a little. Not entirely, but you will have to keep an eye on it for longer before.
And that leaves the big question: will you save money using it? The copout answer is it depends on how rigid your schedule is and those you live with. In our case, the heating bill was slightly less than the same period last year, and it's hard to tell since the weather has been inconsistent at best.
If it's a case that you have the heat on regularly and you only set it to specific temperatures, then the automatic adjustments will come in useful, but if those living in your house or flat aren't that consistent when it comes to schedule, then it may be harder to get the benefits from it.
If you have a system that already works well for you, then there isn't much here to convince you to change apart from it being a sleek gadget, but those who are looking for a replacement could be better served from this. It just really depends on what you're looking for.
Pros
- Easy to use and simple interface
- Learns quickly and adapts to changes in temperature.
- Simple app for remote control.
Cons
- You will have to keep a close eye on it at the beginning.
- You can't control hot water separately.
- App is really designed for only one person to control.
The Nest Thermostat costs €219 and is available at Google Play, Apple Store, Harvey Norman, Electric Ireland,