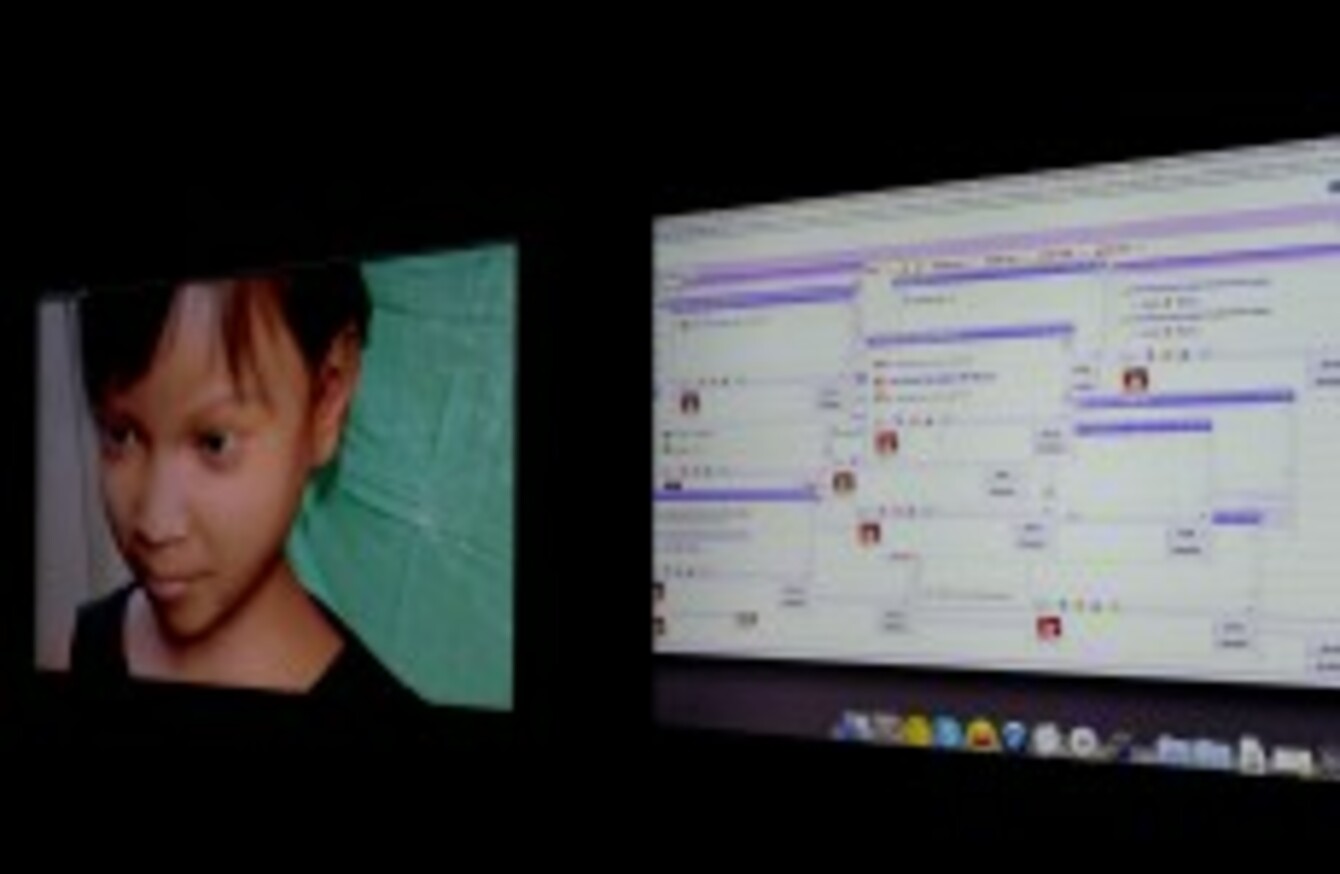 Persons solicit 'Sweetie' through a public chat room while actually chatting to a Terre des Hommes researcher during a media opportunity in Amsterdam today
Image: Peter Dejong/AP/Press Association Images
Persons solicit 'Sweetie' through a public chat room while actually chatting to a Terre des Hommes researcher during a media opportunity in Amsterdam today
Image: Peter Dejong/AP/Press Association Images
THREE IRISH MEN are among over 1,000 adults, from more than 65 countries, who have been identified as willing to pay children in developing countries to perform sexual acts in front of a webcam.
Dutch children's rights organisation, Terre des Hommes, created a virtual character, known as Sweetie, to operate in public chat rooms and help catch adults who wanted the '10-year-0ld' to perform sexual acts in front of the camera.
The organisation said in a report today that in a very short period over 20,000 people approached 'Sweetie' and asked her to perform sexual acts on a webcam.
By asking these adults for information about their social media profiles the organisation was able to gather information about the people and uncover the identities of 1,000 of them.
This information has now been passed on to Interpol. Of over 1,000 identified, three are reported to be Irish but their identities have not been disclosed.
Watch 'The Story of Sweetie' (Warning: Some viewers may find the content of this video distressing, discretion is advised)

YouTube: sweetie
Hans Guyt, director of campaigns at Terre des Hommes Netherlands, said that despite the fact that webcam child sex tourism is banned in most countries few people have been convicted of perpetrating the crime.
He said that this is because police don't take action until child victims file reports.
"But children almost never report these crimes. These children are usually forced to do this by adults or by extreme poverty. Sometimes they have to testify against their own family, which is almost an impossible thing to do for a child," he said.
"We want governments to adopt proactive investigation policies that give law enforcement agencies the mandate to actively patrol public Internet hotspots where this child abuse is taking place every day.
"The child predators doing this now feel that the law doesn't apply to them. The Internet is free, but not lawless."