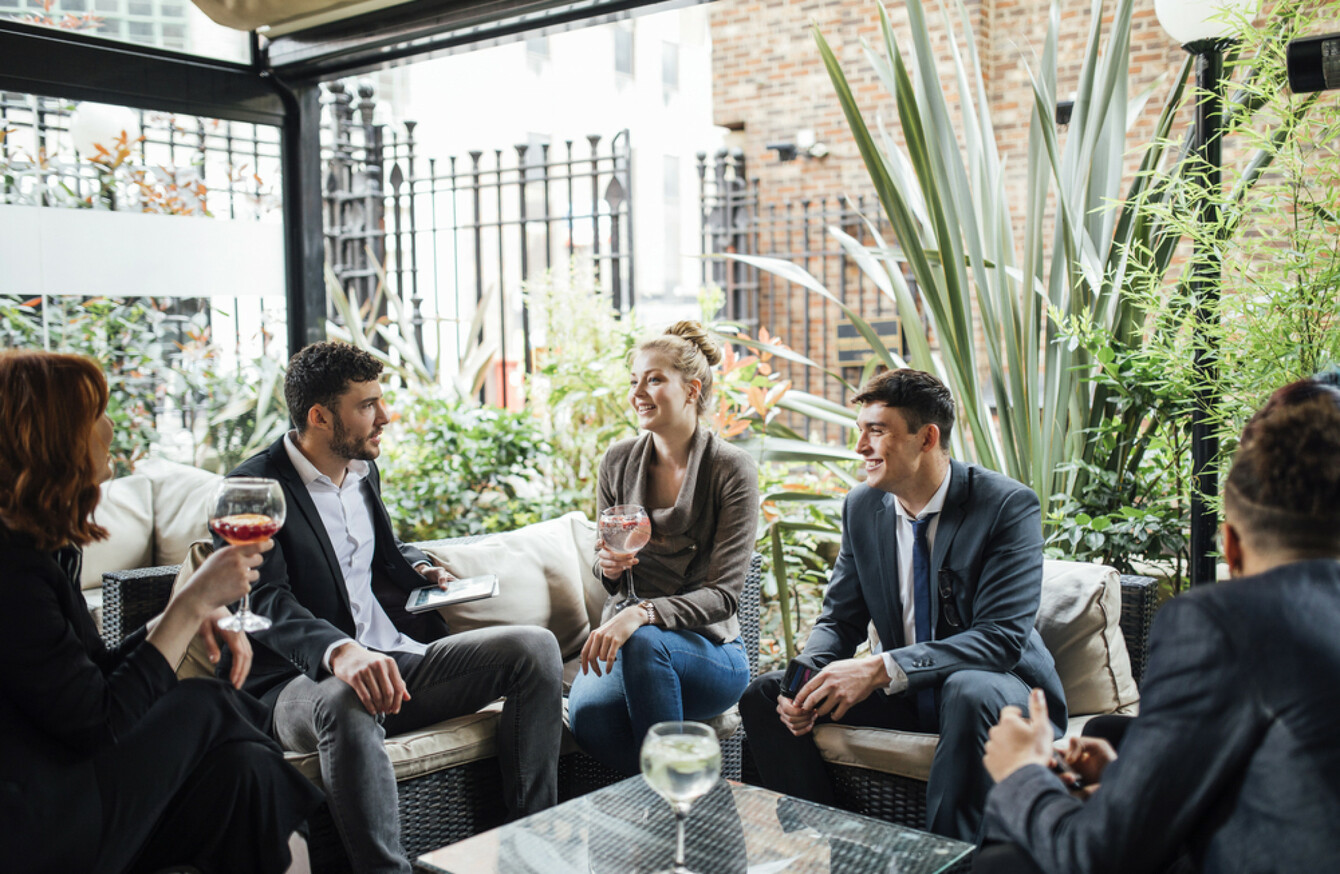 Image: Shutterstock/DGLimages
Image: Shutterstock/DGLimages
"I SEE PEOPLE at networking events doing all they can to avoid eye contact as they know they'll have to go over then", says career coach and trainer Ronan Kennedy.
We get it – even the word 'networking' is enough to make some people break out in a cold sweat, but it's something that Kennedy calls "crucial for business relationships, collaborations and career opportunities".
So here's how to sharpen up on your networking skills to ensure they stand to you.
1. Forget 'selling yourself' initially
One of the reasons that networking can feel forced or awkward is that "people feel that they have to sell themselves right away", says Kennedy. The most important part is to build the relationship first. "It gets awkward if someone is pitching to you right away":
Get to know them on a human level first – find out basic information about them to show you're genuinely interested – their job and what they find interesting about it, for example.
Other simple tricks? Ask about their week, the weather or non-contentious news developments in your field – anything that will build basic rapport. "Match the speed of their voice and echo whether they use formal or informal language", adds Kennedy.
2. Identify what you can do for them
One of the best ways to make yourself comfortable while networking is to put the focus on the other person – identify what's of interest to them and what their needs and priorities are likely to be.
Asking about what kind of projects people have coming up in the next six months can create great opportunity to get back in touch and be able to say "here's how I can help you with that".
This doesn't necessarily have to be direct help that you offer – you can even introduce them to people from your own networks who you feel might help them.
3. Use the power of social media
Got your eye on making contact with an important person in your industry? Don't be shy about asking someone to introduce you two. LinkedIn can be a brilliant source for finding links that you never realised you had.
Using a mutual connection is very strong as the person you're trying to reach has additional reasons to speak with you and try to help you out.
Be warned that in everything you do, you use "permission marketing", asking at an event if it's OK that you do connect with them on LinkedIn, email them or arrange a coffee. For Kennedy, LinkedIn connections are becoming the "new school" way of connecting that are set to replace the "old school" way of exchanging business cards.
4. Use it to access 'invisible job opportunities'
What is an 'invisible job opportunity', you ask? Not every job is posted online, and finding out about available roles of these can be crucial in terms of your likelihood of landing them, says Kennedy:
By applying through normal avenues you're competing with everyone else who can apply online. Using your network to find unadvertised jobs means there's almost no competition.
Coming through a contact can also have other benefits, as you stand a much better chance of getting the role if you're getting a referral from someone the company trusts:
It can be very time-consuming for a manager to try to identify the best person by looking through CVs. If they know someone is reliable through a recommendation, they will try to find a way to fit them into the organisation as it makes their lives easier.
Kennedy notes that these relationships often "don't start off as a business relationship" and reminds of the importance of using friends and sports clubs as a network.
5. Check out Eventbrite (and industry associations)
Not sure where to find decent networking events? (If you're in technology, we might have one you'll be interested in). Kennedy often directs his clients to go to Eventbrite and search by topic to see if there are any talks or meet ups happening around them.
But don't be attracted to networking-only events – it's better to go to something that covers a specific topic, shares Kennedy:
It's much better to go to an event that covers an actual issue like Brexit for example – it will mean you have a shared interest and provides something to talk about while networking.
#Open journalism No news is bad news Support The Journal

Your contributions will help us continue to deliver the stories that are important to you

Support us now
Kennedy also suggests taking a look at industry bodies as they often have regular or annual events for the people who work within them.
6. Ask for a few minutes of their time (and be concise)
Now that you've made contact, it should just be a matter of getting in touch over email right? Not exactly, says Kennedy: "People love ignoring emails, meet in person ideally or get someone on the phone for a few minutes".
If you do need to send an email, make it very concise and send it on a time when people are most likely to be receptive – think Friday rather than Monday morning, says Kennedy, who shares what to say:
Tell them who you are, what you're interested in and ask them for a low-commitment call or coffee, with one or two specific time suggestions.
7. Always ask for a business card before you give yours
To lessen the awkward vibe that you're 'selling yourself' that networking can sometimes cause, here's one golden rule: always ask for someone else's business card before you hand them yours. It will naturally lead into a reason to give them yours, says Kennedy.
Should everyone have them? "Anyone who is in a people-facing role should have one – they're crucial in events, sales, marketing when you want to give someone your details quickly". They can also offer a quick escape towards someone you don't want to miss – ask for one from the first person to show genuine interest before you leave.
And most of all – people at networking events are a little bit like spiders – they're more afraid of you than you are of them, says Kennedy.
Most people who go are nervous and afraid of networking and are just as worried about things that you're worried about. You're really doing them a favour by approaching them.