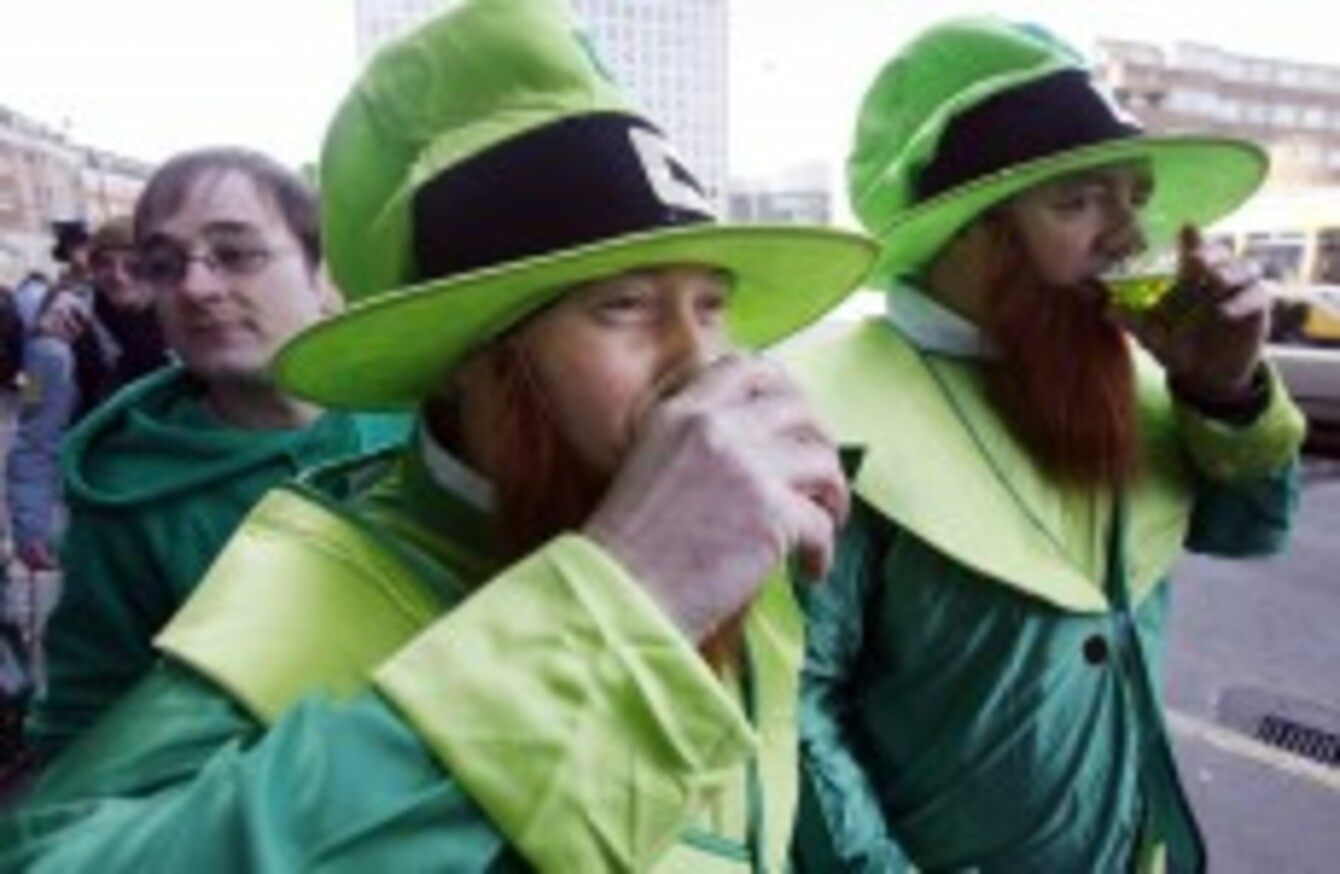 Leprechauns drinking something green and possibly alcoholic
Image: AP Photo/John McConnico
Leprechauns drinking something green and possibly alcoholic
Image: AP Photo/John McConnico
THE ST PATRICK'S Day parade in a New Jersey city has been cancelled this year after the mayor said that the accompanying arrests and violence were "dishonouring the true meaning of the day".
Hoboken Mayor Dawn Zimmer criticised the "unacceptable" levels of property damage and crime, and said that many residents of the city felt forced to leave the area for the day of the parade. There were a reported 34 arrests stemming from last year's parade for offences including fighting, public urination and disorderly conduct, according to Bloomberg.
The organising committee of the Hoboken St Patrick's Day Parade said that the decision was "heartbreaking".
The mayor had announced that from this year, the parade would be held on a weekday rather than on a Saturday, the New York Times reports. The parade has been held on the first Saturday in March for the past 25 years.
Instead, the organising committee cancelled it, saying that floats, marchers and bands would be unable to march on a weekday.
"The idea of marching in a parade, in the dark, on a weeknight, is as insulting as it is unreasonable," the committee said in a statement released on Thursday.
In a letter, the mayor was critical of the damage caused during St Patrick's Day in the city, which has a population of just over 55,000.
"Unfortunately the events surrounding the rest of the day dishonor [sic] the true meaning of the day," said Mayor Dawn Zimmer, who said she wanted to see the parade continue but only if it was held mid-week.
Zimmer said that she had considered the request from the committee to move the parade back to Saturday but that public safety concerns posed  "too much of a threat to our community":
Residents and business owners suffer significant property damage and crime spikes to unacceptable levels, parents are afraid to let their children play outside, and many residents simply feel forced to leave town or close their businesses for the day.
Two women reported being sexually assaulted at last year's event, according to the New York Times. The paper reports that many of the charges from last year's parade stemmed from people punching police officers. Others involved vandalism such as breaking a window with a baseball bat.
More than 20,000 people attended last year's parade in Hoboken, which is most famous for being the birthplace of Frank Sinatra.
The Hoboken committee was critical of the mayor's intervention in the annual celebration and said that it was considering invitations it had received from other communities in New Jersey "to march in their celebrations of Irish heritage".
Watch
Here's a video showing attendees at the parade  in 2009 – or as the YouTube user who uploaded it puts it, "the shame and debauchery that is the annual Hoboken, NJ St. Paddy's Day celebration'.
(Warning: contains strong language):

(Video via
anthonylfisher/Youtube.com
)