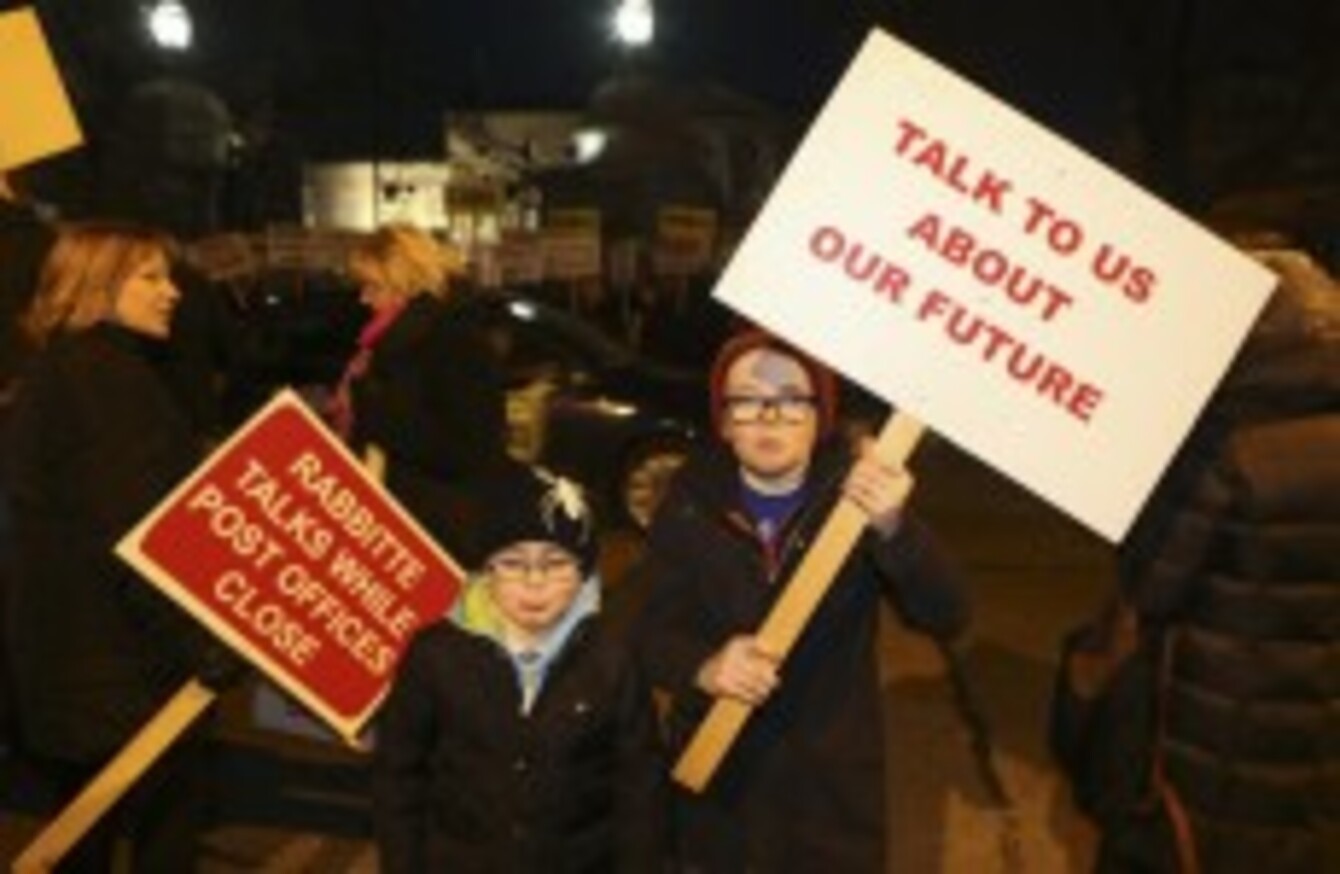 Two young protesters at an IPU demonstration in February.
Image: samboal
Two young protesters at an IPU demonstration in February.
Image: samboal
THE IRISH POSTMASTERS' Union has said it will work with the government to explore opportunities for expansion.
During a Prime Time debate this week, Communications Minister Pat Rabbitte cited a number of avenues that might bring new business to post offices and help secure their future.
He described the IPU's proposal to develop a post office-based banking service in conjunction with credit unions as an idea that could be developed.
Rabbitte also said that providing additional services at post offices such as driving licence and motor tax renewal and payment of property tax could also be looked into.
IPU General Secretary Brian McGann said postmasters were encouraged by the minister's comments and looked forward to working with him to deliver outcomes.
Postmasters will work constructively with the Minister, and all other Departments, to find solutions and to further enhance the role of Post Offices as the face of Government in the community, and to fully explore the potential to provide an additional banking force.
He added: "The Prime Time programme showed the genuine concern that communities have about Post Office closures, and desire that communities have to keep them open, as one of the last services remaining in many villages and towns."
Social welfare payments
Rabbitte confirmed he has written to fellow ministers requesting them to set out what their departments can bring in terms of developing the role of post offices.
He also provided assurance that people would continue to be entitled to receive their benefits in person at post offices if they choose to do so, in spite of the ongoing move towards direct debit payment of benefits into bank accounts.
Representatives from the IPU are due to meet with Rabbitte next month.
Concern about the future of the post office network follows a recent report by Grant Thornton that concluded significant numbers of post offices nationwide would close by 2017.