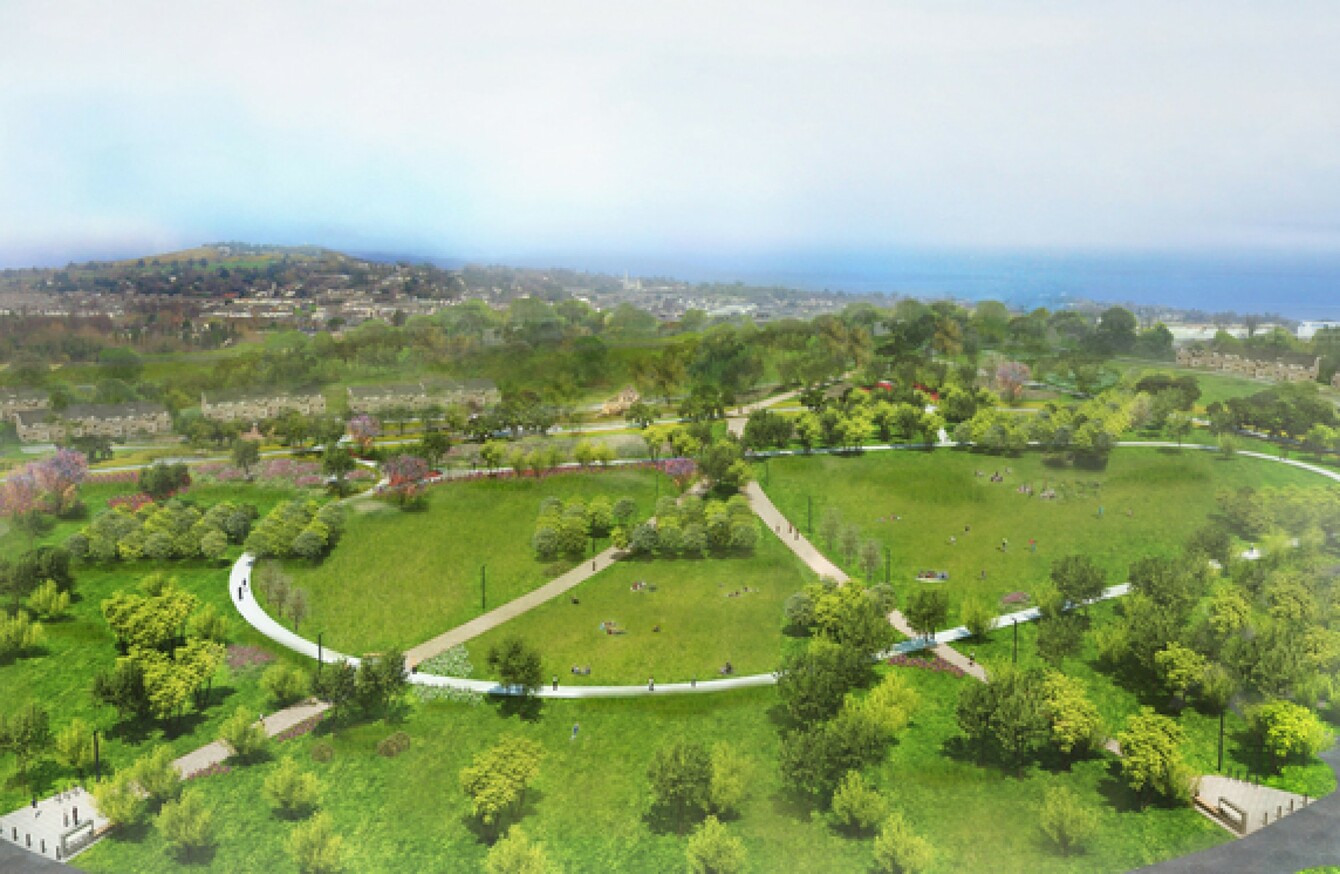 A computer generated impression of what the completed Tully Park will look like.
A computer generated impression of what the completed Tully Park will look like.
NEW ROADS, FOOTPATHS and cycle lanes will begin construction in the next few weeks as part of a major development plan in south county Dublin.
Planning permission has been granted by Dún Laoghaire-Rathdown County Council to build a 5.4km-long road network that will form part of the Cherrywood development plan, which will see a new town centre and two parks being built in the area.
The American construction company Hines, who are building the multi-million road network and town centre, say that works will be completed by the end of 2017.
Frozen in time
Back in the boom years, Cherrywood was earmarked for this kind of development, but plans were abandoned once the recession hit, and the land went into receivership in July 2014.
Hines then acquired the 400-acre site in November 2014, and got initial approval for the construction of the new town centre with the possibility of upgrading it to the second largest office park in Dublin.
What's promised as part of the plan is 4,000 new housing units that will house around 15,000 people, employment for over 1,000 people, and three new parks – two of which will match the size of Stephen's Green and Merrion Square.
The largest of parks, Ticknick Park, would include four, full-size playing pitches while the second-largest, Tully Park, would be roughly the same size as St Stephen's Green and be situated near the town centre.
In response to the announcement, Brian Moran, Senior Managing Director of Hines Ireland said that the Cherrywood project will become one of the largest construction projects in the state:
This road network, in addition to the excellent public transport infrastructure, including four LUAS stations and direct links to the country's motorways, will further enhance Cherrywood as an unrivalled location for families to live in and for businesses to grow.
However, some locals in the surrounding area have voiced their concern that the town centre and extra housing will add significantly to traffic on the junction leading onto the M50, and also on the N11 – which is already heavily congested during rush hour and bad weather.
A planning application for Cherrywood town centre, which will include housing, a cinema, restaurants and other amenities, will be submitted in the autumn.