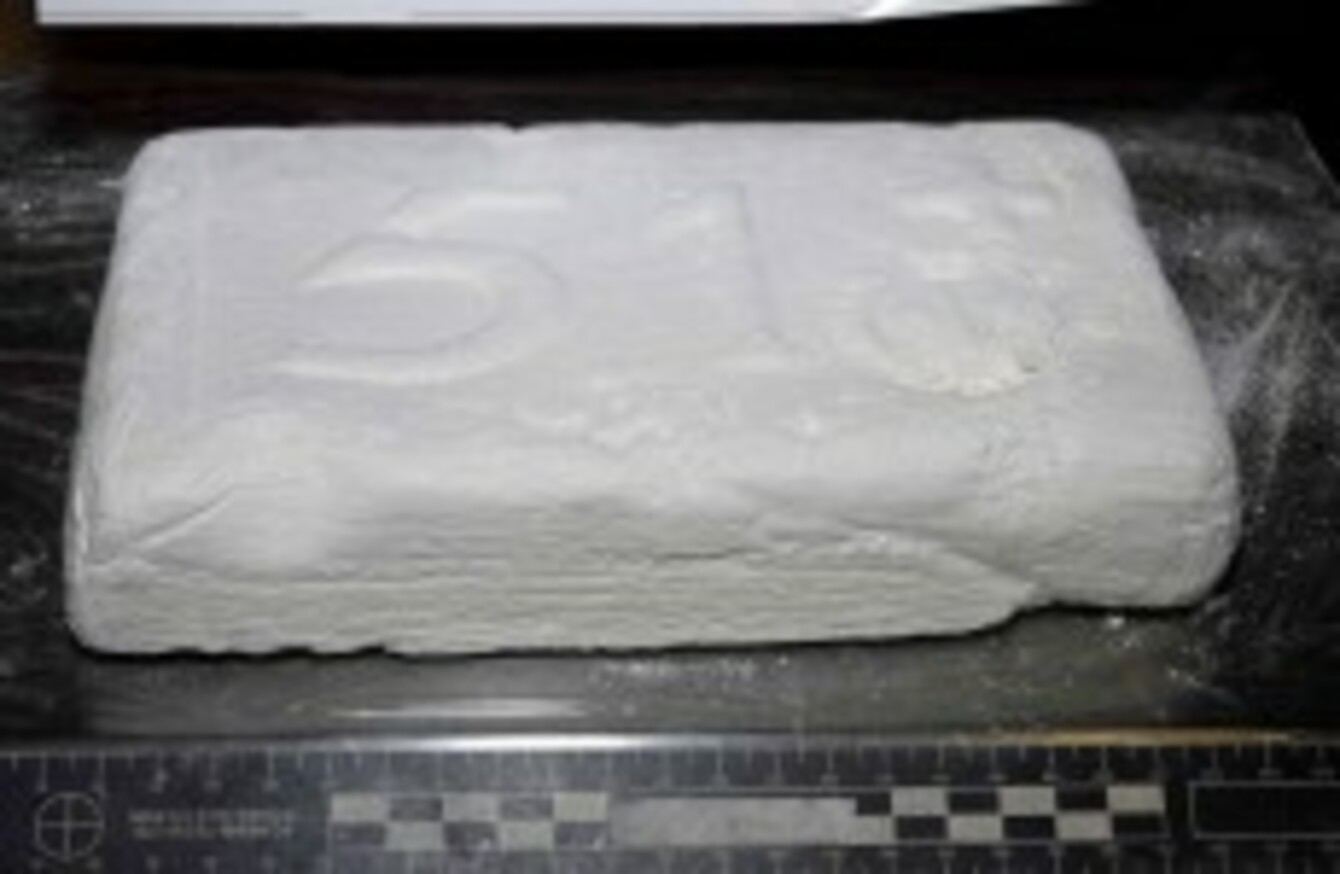 File photo of a kilogramme of cocaine seized by police
Image: RCMP/The Canadian Press/Press Association Images
File photo of a kilogramme of cocaine seized by police
Image: RCMP/The Canadian Press/Press Association Images
CAN YOU PREDICT how successful a drug addict will be in counselling? According to a new test created by researchers based in NUI Maynooth, it may be possible.
The team created a psychological test called the Implicit Relational Assessment Procedure (IRAP), which was used by a team of psychologists based in New York.
The results of the collaboration were published in the American Journal of Drug and Alcohol Abuse.
Professor Dermot Barnes-Holmes of NUI Maynooth, who led the work on IRAP, told TheJournal.ie that he was approached by the lead author on the paper, Kenneth Carpenter, to take part.
The study involved 25 people who had a history of cocaine addiction and who were all enrolled in an outpatient programme that was running for six months.
They were given the IRAP test before their treatment.
Prof Barnes-Homes explained that IRAP is a computerised procedure that asks participants to respond very quickly to simple questions.
He said that the questions included what the participants experienced from cocoaine use, and whether they thought it would be positive or negative for them to use it.
He said that their performance and reaction times indicated if they were more favourable towards cocaine use.
Selecting the 'true' option more than 'false' predicted a worse outcome in treatment, and these people tended to, if they did turn up for counselling, produce urine samples that showed they were still using cocaine.
"Whereas if you asked them at the beginning of therapy, what do you experience from cocaine, when they just represent themselves, that didn't predict anything," explained Prof Barnes-Holmes. "It is only when you put them through our test, which is very fast and very accurate, and see how long it takes them to react, that predicts their success rate."
The idea is that it is the procedure that gets at what tendencies or biases, or unconscious attitudes they might have to cocaine use still.
They might still have this unconscious positive attitude towards cocaine itself.
He explained that it appears that when people are pushed to give fast and accurate answers on their feelings about drug use, you get "what their unconscious ideas are", and this is a better predictor of success than simply asking them before therapy.
Prof Barnes-Holmes said the research is still preliminary and a larger study is to take place using IRAP.
He said it would be beneficial to psychologists and patients in a number of ways. "It always helps if you can know who will do well in any treatment programme," he explained, saying that this way therapists could tailor their support to the individual client's needs, such as extra support or home phone calls.
You can use your resources more wisely and provide additional supports.
He said that in the long term it could tell them a little more about what underlies who is doing well and not doing well in therapy.
They may have residual unconscious ideas about cocaine use that they may not be aware of. When back in their normal environment they might be more likely to relapse so you need to be prepared.
Further research is being done into people who have Obsessive Compulsive Disorder or self-harm, using the IRAP system, by students in NUI Maynooth.
"Unconscious biases are important and we would expect to see similar results in other areas," said Prof Barnes-Holmes.