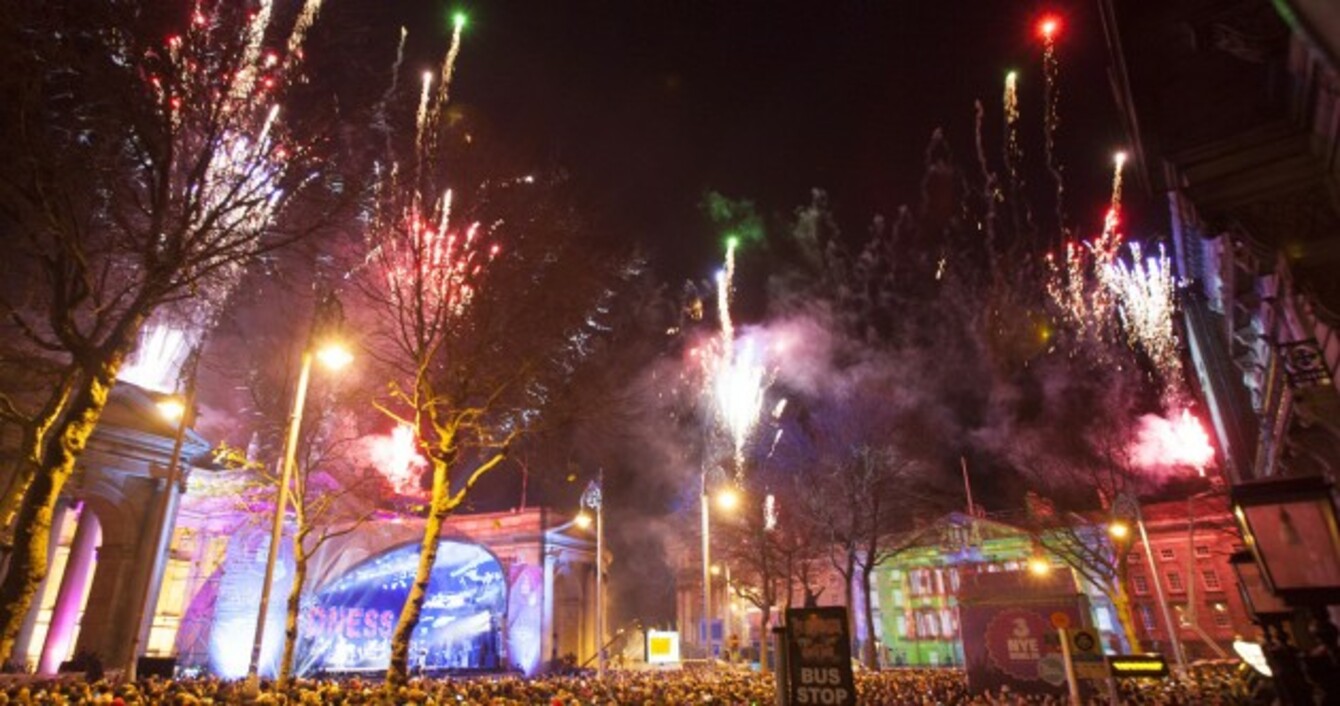 New Year's Eve fireworks in Dublin
Image: Tony Kinlan
New Year's Eve fireworks in Dublin
Image: Tony Kinlan
ALL AROUND THE island of Ireland, people gathered to welcome in the New Year last night.
2014 appeared with a bang, thanks to the plethora of fireworks that lit up the sky around the island, and the champagne corks popped from chilled bottles.
In Limerick City, it was a time to mark the beginning of its year as National City of Culture, with events taking place throughout the day leading up to the big moment at midnight.
Dolores O'Riordan of The Cranberries made a trip back to her home town to play at the NYE celebrations, while other acts including the Strypes, the Coronas, Maverick Sabre, SOAK and locals Leading Armies also took to the stage in Merchants Quay.
The weather wasn't a deterrent to those who came out to hear the bells of St Mary's Cathedral mark the turning of midnight.
In Dublin, the countdown concert featuring Madness and the (extremely busy) Strypes took place at College Green, while other events included a procession of light, and a brunch event in Temple Bar.
The event marked the end of The Gathering 2013 as much as it did the beginning of a new year. Seven million people visited Ireland this year, thanks in large part to the Gathering initiative.
In Waterford, the dawning of a new year also marked the beginning of the town's 1100th year. The city was founded by Vikings in 914 and is planning more than eight months of celebrations for Waterford1100.
The night saw a New Year's Eve party take place in Cathedral square, while celebrations will continue this Saturday for Vadrarfjordr!, an outdoor 'fiery spectacle' celebrating Viking life in Waterford.
How did celebrate New Year's Eve? Tell us in the comments.
Dublin: The clock strikes 12 at the Countdown Concert

Source: Tony Kinlan

Limerick celebrations

Source: Ken Coleman

Limerick celebrations

Source: Ken Coleman

Limerick: Dolores O'Riordan performs

Source: Ken Coleman

Dublin: The Three NYE Dublin 'People's Procession Of Light'.

Source: Tony Kinlan

Dublin: Lord Mayor Oisin Quinn and Minister for Tourism Leo Varadkar

Source: Tony Kinlan

Dublin: The Three NYE Dublin 'People's Procession Of Light'.

Source: Tony Kinlan

Dublin: The Three NYE Dublin 'People's Procession Of Light'.

Source: Tony Kinlan

Dublin: The Three NYE Dublin 'People's Procession Of Light'.

Source: Tony Kinlan

Dublin: The People's Procession of Light

Source: Tony Kinlan/Patrick O'Leary

Dublin: Seo Linn perform on stage at the Three NYE The Countdown Concert in College Green.

Source: Tony Kinlan/Patrick O'Leary

Dublin: Seo Linn perform on stage at the Three NYE The Countdown Concert in College Green.

Source: Patrick O'Leary/Tony Kinlan

Limerick: Preparing Lanterns at the Milk Market was Taila Veilande, 4, Limerick City.

Source: Alan Place

Limerick: Dolores O'Riordan rehearsing with the Irish Chamber Orchestra.

Source: Alan Place

Dublin: The crowd at College Green

Source: Mark Stedman/Photocall Ireland

Dublin: Suggs from Madness and Laura Whitmore ringing in the new year at the NYE Dublin Countdown Concert

Source: Mark Stedman/Photocall Ireland

Dublin: Liz and Noel Kanavan from Tyrone ringing in the new year

Source: Mark Stedman/Photocall Ireland