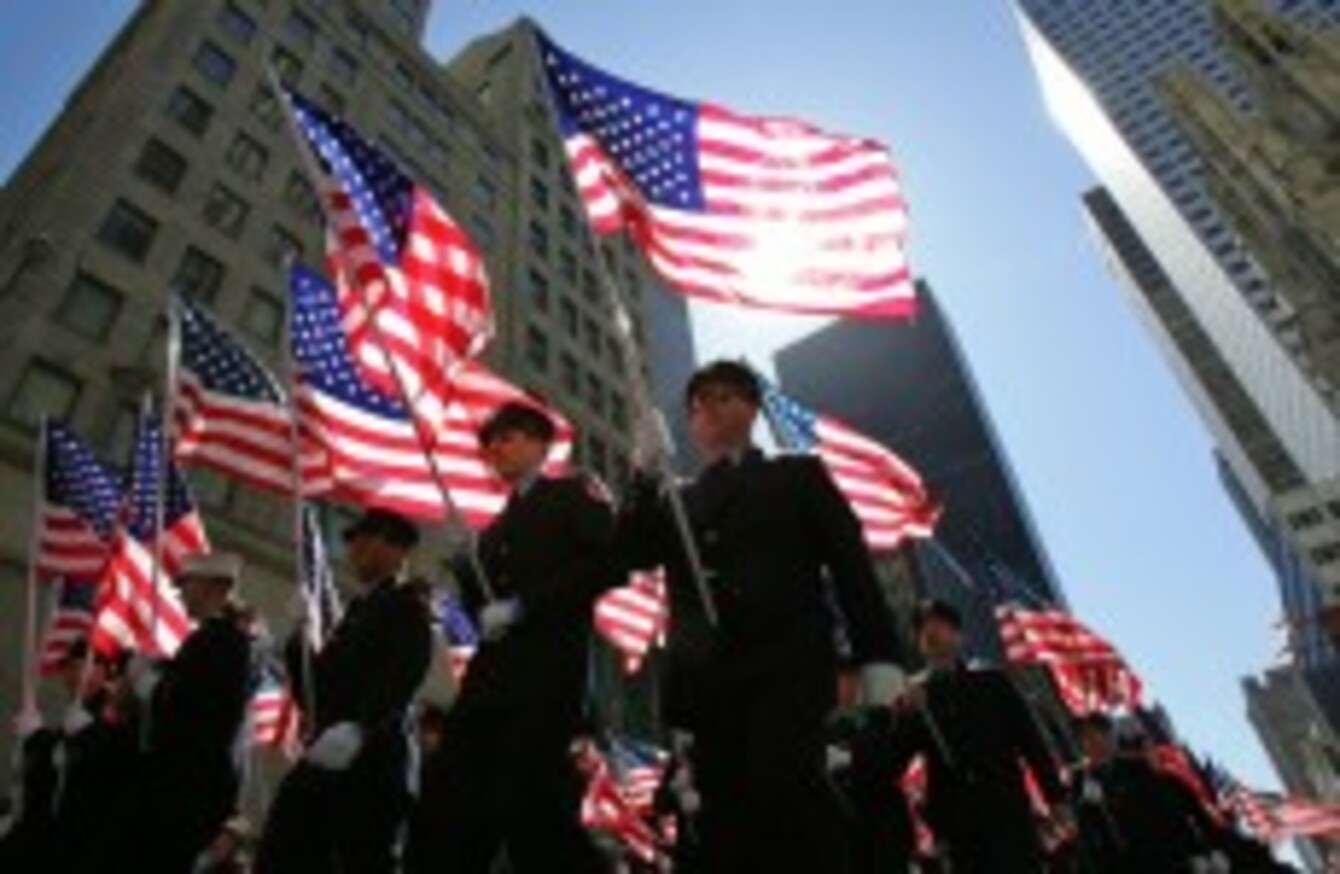 Members of the New York City Fire Department march up Fifth Avenue during the annual St. Patrick's Day Parade 2006 in New York.
Image: (Dima Gavrysh/PA Images)
Members of the New York City Fire Department march up Fifth Avenue during the annual St. Patrick's Day Parade 2006 in New York.
Image: (Dima Gavrysh/PA Images)
NEW YORK IS the most popular destination for Irish councillors who are travelling abroad this St Patrick's Day.
Queries made by TheJournal.ie have established that at least ten local authorities from around the country are sending councillors to foreign countries to mark St Patrick's Day. These councils are: Kildare, Wicklow, Cork County, Carlow, Clare, Wexford, Roscommon, Leitrim, Meath and West Meath.
The majority of councillors from those authorities are heading to the Big Apple for this year's celebrations while others will be going to London, Chicago, Arizona and Nottingham.
Clare County Council has decided to be upfront about their St Patrick's Day junket – they placed a press release on their website with a break down of the expenditure. The Mayor of Clare, Councillor Pat Hayes, is to head Stateside with five delegates from Clare County Council. They will be cutting costs by staying in the residence of the Consul General of Ireland in New York. Clare Fine Gael TD and Chairman of the Irish Parliament's Committee on Foreign Affairs and Trade, Pat Breen, will also be in attendance. The cost associated with the Clare County Council delegation's trip to New York is estimated to be €12,000 – €13,000.
Apart from an event at the consul general's residence, the statement indicates there are to be a number of key meetings arranged throughout the week. "These include meetings with influential analysts involved in key sectors and prospective companies that are considering relocating to Europe," said Gerard Dollard, Director of Service, Community, Enterprise, Planning and Tourism Directorate.
Speaking to TheJournal.ie, Mayor Pat Hayes said he had no problem justifying the trip stating: It is totally business, not pleasure." He added that in these economic times they cannot afford to wait for businesses to come to Clare, adding:
It is very important – we are trying to get economic development for the Shannon estuary, that is the whole idea. It is a great place to do business. We have to get out and market our county.
Leitrim is another county which is sending its representatives over to the New York celebrations. A spokesperson for the council stated that Cathaoirleach and Leas Cathaoirleach of Leitrim County Council will travel to New York for the New York Leitrim Society Dinner Dance which is held in conjunction with the St Patrick's Day Celebrations. The annual trip is a long-standing tradition and the spokesperson said it is "an important opportunity to maintain links with Leitrim people abroad – whether they be recent emigrants or indeed second or third generation Leitrim people – to update them in relation to the progress and development of the county, and to promote the county in terms of an investment opportunity and also in terms of its tourism product.".
Final details of the total expenditure are not yet finalised built it is anticipated that the cost of the trip will be in the region of €4,000 inclusive of travel and hotel expenses.
Meath County Council has confirmed that three elected members are to be sent to New York and to London to represent their county. Cllr Eoin Holmes, Cathaoirleach, Cllr Nick Killian, Cllr John Farrelly and County Manager, Tom Dowling will travel to New York.  A spokesperson for the council said the delegation will attend various diaspora meetings and business meetings that have been arranged. Cllr Oliver Fox will travel to London and will be accompanied by one official. It was stated that in adopting the budget for 2012 the Council made financial provision of €10,000 for foreign travel in the context of an overall Meath County Council budget of €100m. It was also pointed out in their statement that the council does not cover the cost of any accompanying family members.
Kildare County Council has confirmed that their St Patrick's Day junket abroad is costing €3,700.74. The Fine Gael councillor Micheál 'Spike' Nolan,who was invited by the Kildare New York Association, will be accompanied by the director of services to take part in the celebrations there.  Their trip will be for a total of five days.
Cork County Council's County Mayor Tim Lombard will be travelling to New York following an invitation from the Cork Association. The Deputy Mayor Declan Hurley is travelling to Chicago this year as there is a twinning arrangement with Cook County.  As of yet financials have not been established as only the flights have been paid in full. They will only be claiming the set expenses allowed set down by the government.
Speaking on behalf of Carlow County Council, Eamon Brophy, confirmed that the Chairperson Tom Kinsella is travelling to New York this year. He is to accompanied by one other council staff member. Kinsella will be going for four days and it is in association with the Carlow/New York Association . Brophy stated that Kinsella is staying in a New York hotel for the duration of the trip.  The overall cost is over €3,000 for flights and accomodation.
Wexford councillors Oliver Walsh and Denis Kennedy will be traveling to New York for St Patrick's Day.  Accommodation and flight costs for the Councillors including Visa's is €2,624.
Westmeath County Council has kept to a tight budget for this years St Patrick's Day travels. Cathaoirleach Mark Cooney has been invited to Nottingham in the UK by the Nottingham St Patrick's Day committee. Brain Coughlan, a council official that is to accompany the councillor stated that they will be away from the 16 -18 March, and that the flight is costing €46.54 each. He also added that there would not be many expenses as they are to be "wined and dined" by the Nottingham committee.
The Roscommon councillors are going further afield for the celebrations with Mayor Cllr Eugene Murphy and council official Richie Farrell visiting Tucson, Arizona. The visit is being undertaken in response to an invitation extended by the Tucson Sister Cities Committee. The trip duration is for four days with a statement released by council stating the trip is being "utilised to meet and further relationships with the Irish diaspora. There are no other family members or representatives travelling." The statement carries on to say that Roscommon has deep roots with the area stating that:
A Roscommon native named Don Hugo O'Connor established the first settlement of modern day Tucson.
The projected costs to Roscommon County Council of €2,000.
#Open journalism No news is bad news Support The Journal

Your contributions will help us continue to deliver the stories that are important to you

Support us now
Wicklow County Council confirmed that one member and one official of the council will be travelling to the USA for St Patrick's Day, but didn't specify who they were or exactly where they were going in the States. The projected cost of the trip is in the region of €5,000.
In a difficult economic climate, councils must justify their trips abroad to their constituents, by stating they will promote business and tourism links.
Speaking to TheJournal.ie, Sinn Fein Wicklow County Councillor John Brady said while many county councils might specify that they are not sending delegates, some of the town councils might be. He said he had told Wicklow County Council in January that he was opposed to such visits unless he could see the benefits of them. He said:
I asked for a detailed itinerary of the trips so that we could determine the exact benefits were achieved by the visits… I remain to be convinced of the benefits of these St Patrick's Day trips.
He added that last year retired Wicklow councillor Eamonn Long had travelled to United States of his own expense and carried out the same duties of representing his county in the parade.
The Department of the Environment cut rates for councillors' travel and subsistence allowances by 25 per cent in March 2009.
The councils which have decided NOT to send any delegates abroad this year are: Cork City Council, Galway City Council, Dublin City Council, Fingal County Council, Limerick City Council, Dun Laoghaire City Council, Donegal County Council, Kilkenny County Council, Laois County Council, Louth County Council, North Tipperary County Council and South Dublin City Council.
TheJournal.ie has also asked the following councils for their St Patrick's Day trip plans but they have yet to reply: Waterford County Council, Cavan County Council, Longford County Council, Monaghan County Council, Offaly County Council, Sligo County Council, South Tipperary Council and Kerry County Council.