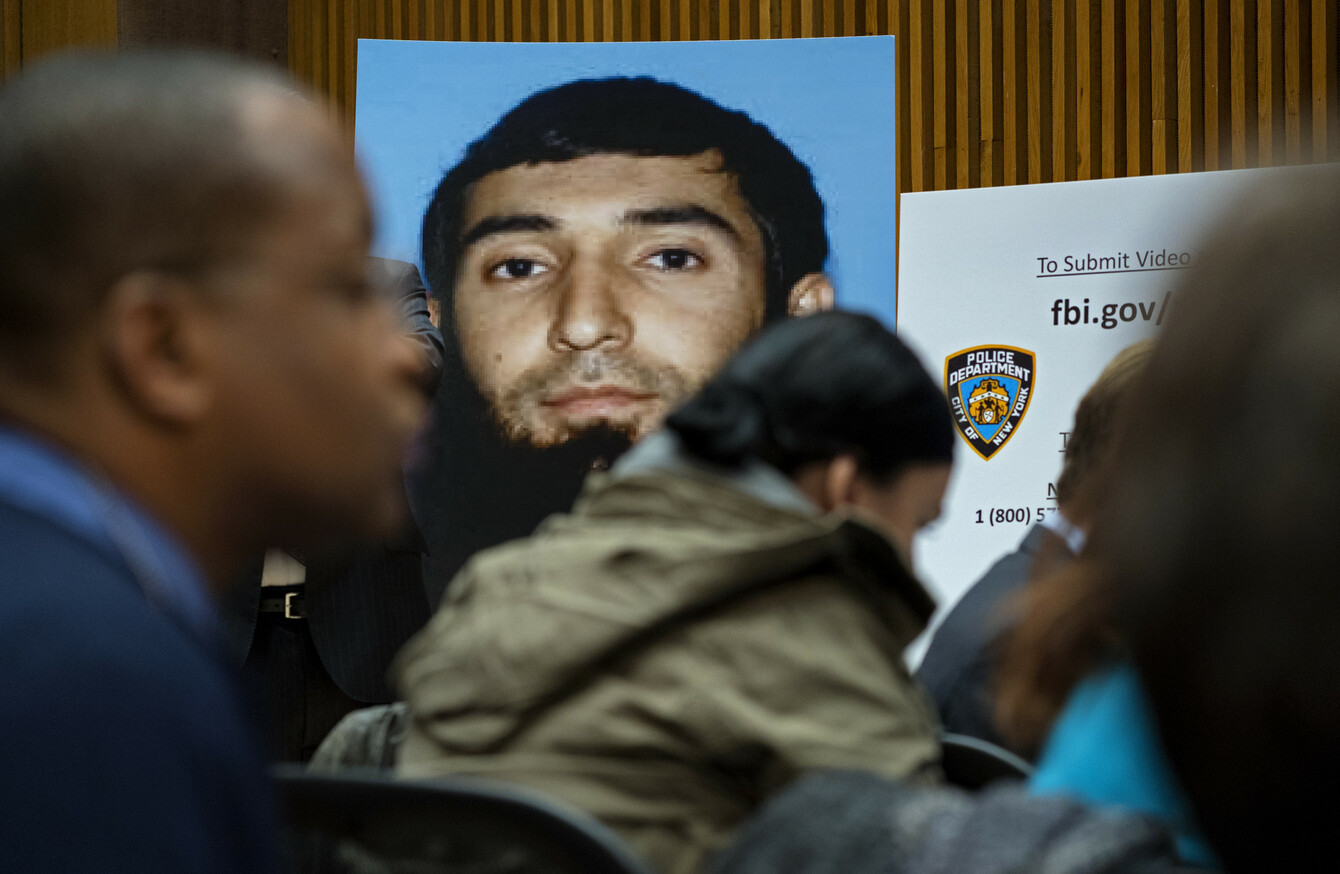 Saipov is accused of driving a truck on a bike path that killed several and injured others Tuesday near One World Trade Centre
Image: Craig Ruttle/Press Association
Saipov is accused of driving a truck on a bike path that killed several and injured others Tuesday near One World Trade Centre
Image: Craig Ruttle/Press Association
Updated at 10.42pm
A MAN ACCUSED of driving a truck down a bike path near the World Trade Center and killing eight people has appeared in court in a wheelchair and has been ordered detained.
Uzbek immigrant Sayfullo Saipov appeared in the New York federal courthouse handcuffed and with his feet shackled.
His lawyers said they were not seeking bail. He did not enter a plea to terrorism charges. A judge set his next court date for 15 November.
Federal prosecutors say the man was "consumed by hate and a twisted ideology" when he attacked people on the bike path yesterday.
He is charged with providing material support to the Islamic State terrorist group and violence and destruction of motor vehicles.
Prosecutors say he was stopped by a "brave" police officer, who shot and wounded him Tuesday. They say he had been planning the attack for months.
The FBI said that another man is no longer wanted for questioning in relation to the the attack.
The bureau earlier issued a poster saying it is seeking the public's help with information about 32-year-old Mukhammadzoir Kadirov. The poster didn't say why investigators want to know more about the man.
Authorities say Saiapov drove the truck down the path intentionally, killing eight people. Investigators recovered a cellphone that had Islamic State group propaganda.
Police said today that Saipov spent weeks planning to conduct an attack in the name of the Islamic State group, the worst the city has seen since 11 September 2001.
They said Saipov, an Uzbek immigrant who moved to America in 2010, used a rented pickup truck to mow down pedestrians and cyclists along a mile-long stretch of a bike path on Lower Manhattan's West Side yesterday.
"Based on the investigation overnight, it appears that Saipov had been planning this for a number of weeks," John Miller, deputy commissioner of the New York Police Department, told a news conference.
"He did this in the name of ISIS."
Miller said notes recovered at the scene show Saipov apparently had followed "almost exactly to a 'T' the instructions that ISIS has put out in its social media channels".
New York State Governor Andrew Cuomo earlier told CNN that Saipov was radicalised domestically.
Police shot Saipov after the attack and he remains in the hospital.
Not previously known to officials
Federal and local authorities quickly dug into Saipov's past after the attack, which occurred as children and their parents prepared to celebrate Halloween, but he was not previously known to counter-terrorism officials.
"Saipov has never been the subject of an NYPD intelligence bureau investigation, nor has he been the subject of an FBI investigation," Miller said.
#Open journalism No news is bad news Support The Journal

Your contributions will help us continue to deliver the stories that are important to you

Support us now
Speaking at the same news conference, Mayor Bill de Blasio said the New York marathon would proceed as planned, albeit with heightened security measures.
"It will be an extraordinary event, as it always is," de Blasio said of the event involving more than 50,000 runners — and 2.5 million spectators lining the streets to cheer them on.
The beefed-up security will feature more sand trucks parked to prevent vehicle attacks, extra police stationed on rooftops, and more anti-sniper units, among other steps, New York police chief Carlos Gomez said.The Minister for Foreign Affairs and Trade, Mr Simon Coveney, TD, has condemned the fatal terror attack in New York City.
Speaking from Belfast this morning, Foreign Affairs Minister Simon Coveney said the attack in New York was "a cowardly and callous attack" on residents of and visitors to New York City.
"I unreservedly condemn this act of wanton violence.
"On behalf of the government and people of Ireland, I wish to extend my condolences to the families, friends and loved ones of the victims," he said, adding:
I also extend my heartfelt condolences to the people of Argentina and, in particular, to the people of the city of Rosario, which tragically lost five of its citizens in the attack.
I wish to pay tribute to the first responders of the New York City's emergency services. In particular, I wish to acknowledge the courage of those whose actions prevented the loss of even more lives, and commend the dedication and professionalism of medical staff who continue to care for those injured.
At this time of loss, Ireland stands with the people of New York City and with the people of Argentina.
Comments have been closed for legal reasons 
© – AFP 2017 with reporting from AP