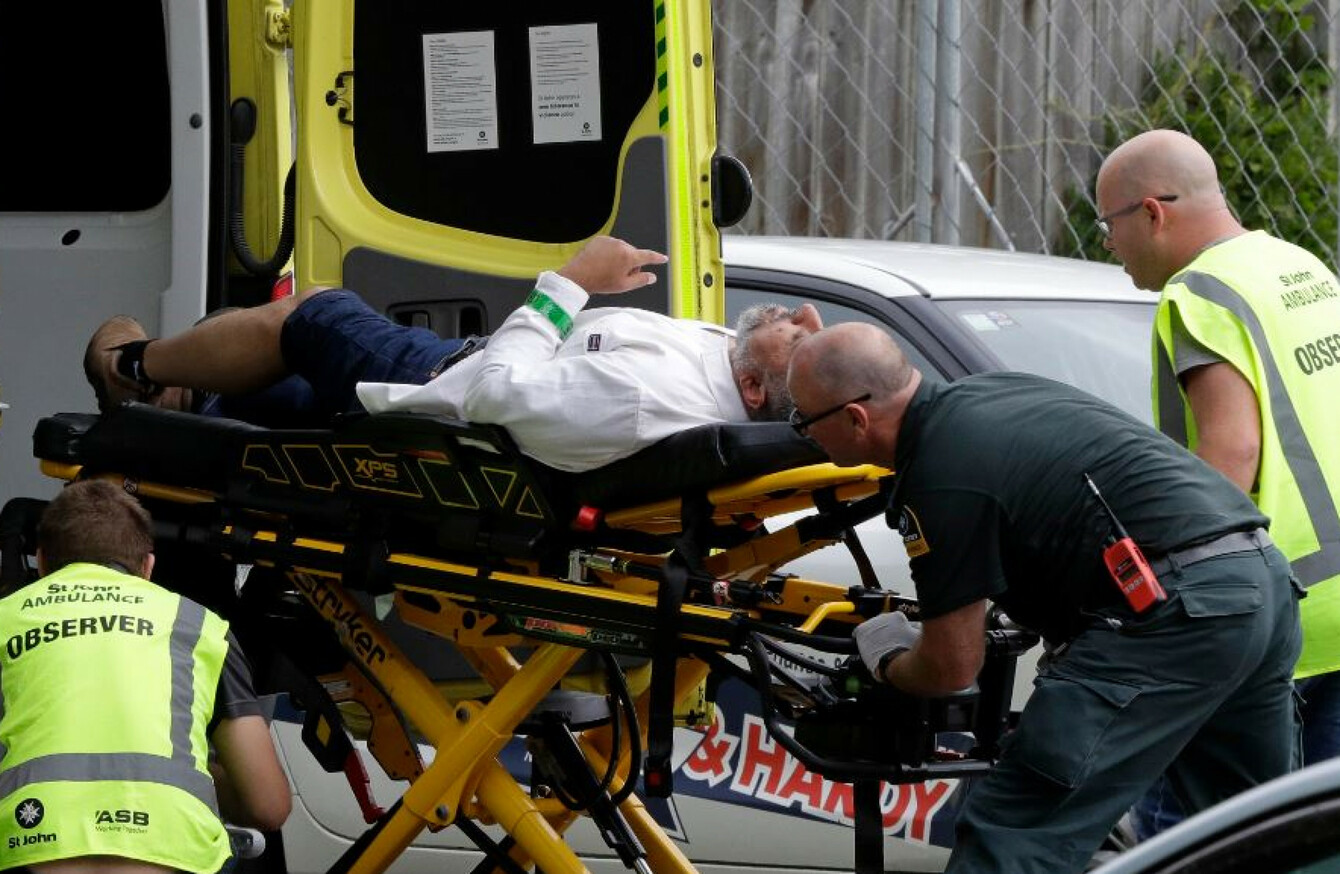 Ambulance staff take a man from outside a mosque in central Christchurch after the attack.
Image: Mark Baker/AP/Press Association Images
Ambulance staff take a man from outside a mosque in central Christchurch after the attack.
Image: Mark Baker/AP/Press Association Images
Updated Mar 15th 2019, 8:05 AM
Updated 8.08am
AT LEAST 49 people have been killed in what police described as a "well planned" mass shooting at two mosques in Christchurch, New Zealand.
Dozens of people were also injured; there are reports of close to 50 people in hospital with gunshot wounds.
The two mosques which were targeted were filled with worshippers for Friday prayers.
Prime Minister Jacinda Ardern described the shootings as a terrorist attack, saying today is "one of New Zealand's darkest days".
"This is absolutely tragic, there will be so many people affected," the country's police chief Mike Bush told reporters earlier.
One person, a man in his 20s, has been charged with murder and is due to appear in court tomorrow. 
Four people in total are now in custody – three men and one woman – and a number of IEDs (improvised explosive devices) have been discovered around the city. The explosive devices were attached to vehicles belonging to the detained suspects. None had detonated and were subsequently made safe by the military.
The attacks took place during lunchtime at mosques on Deans Avenue and Linwood Avenue.
The city went into lockdown with police asking people to stay indoors in the immediate aftermath of the incident. Schools were also shut but that lockdown has now been lifted. However, mosques across the country remain closed and police advised Muslim worshippers to not visit for prayers. 
"Clearly, what has happened here is an extraordinary and unprecedented act of violence," Ardern told reporters.
She said many of those who will have been directly affected by the attacks may be migrants or refugees who "have chosen to make New Zealand their home, and it is their home".
For now, my thoughts, and I'm sure the thoughts of all New Zealanders, are with those who have been affected, and also with their families.They are us.
"The person who has perpetuated this violence against us is not. They have no place in New Zealand. There is no place in New Zealand for such acts of extreme and unprecedented violence, which it is clear this act was."
Ardern reiterated police advice for people in Christchurch to stay indoors. 
"We are potentially still dealing with an evolving situation. And again, as I say, across multiple sites. Please be assured, though, the police are actively managing the situation. Christchurch Hospital is dedicated to treating those who are arriving at the hospital," she said. 
'Distressing' social media footage
Police have also warned people against watching "distressing" social media footage of the attack. It is understood that one of the shootings was streamed live on Facebook. 
Ardern said the attackers in custody were not on police watch lists.
The Australian Prime Minister Scott Morrison, however, has said that one of the attackers was a "right-wing terrorist" with Australian citizenship. 
"We stand here and condemn, absolutely the attack that occurred today by an extremist, right-wing, violent terrorist," an emotional Morrison told a press conference.
"We are not just allies, we are not just partners, we are family," he said.
With reporting by Órla Ryan