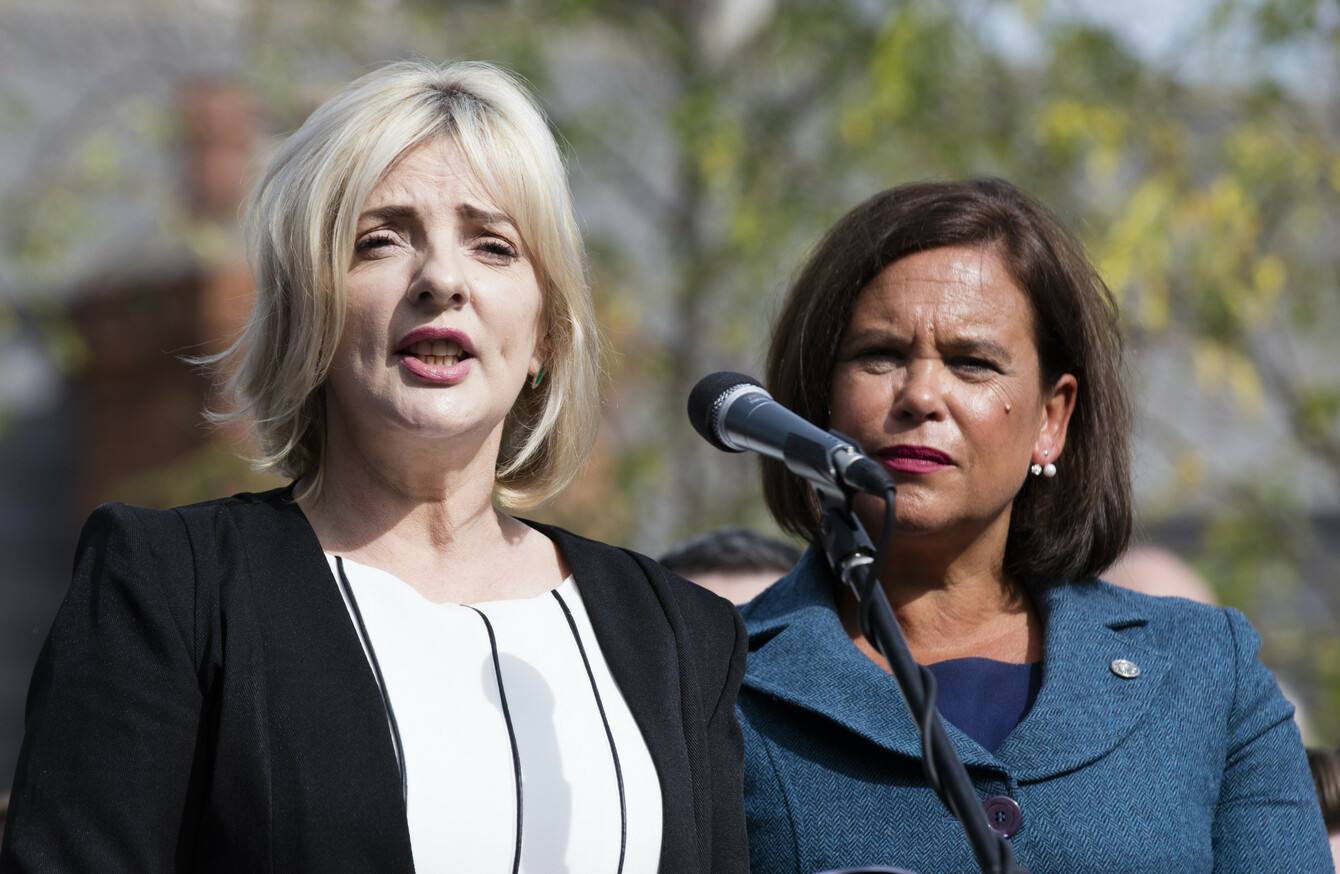 Sinn Féin candidate Liadh Ní Riada alongside party president Mary Lou McDonald.
Image: Eamonn Farrell/Rollingnews.ie
Sinn Féin candidate Liadh Ní Riada alongside party president Mary Lou McDonald.
Image: Eamonn Farrell/Rollingnews.ie
SINN FÉIN LEADER Mary Lou McDonald has said she is not in favour of her party's presidential candidate disclosing whether her children have been given the HPV vaccine. 
Liadh Ní Riada has said it was "naive" of her to think that her remarks wouldn't be viewed in the context of her role as an MEP when she made comments about the HPV vaccine in 2016.
The presidential hopeful has said that, despite saying in 2016 that she would not allow her daughter to receive the vaccine, that there was "no question or ambiguity" over where she stood on vaccines and that she was pro-vaccine.
Her latest comments come ahead of a HSE press conference today, where Minister for Health Simon Harris will launch the 2018/19 HPV vaccination information campaign, with an update on uptake rates for the vaccine.
HPV uptake
The government has a free scheme to give the vaccine for free to girls who are attending secondary school. But because of misinformation spread on social media about the vaccine, the uptake rate fell from 87% in 2014 to 51% in 2016.
A number of public awareness campaigns to try to increase uptake of the HPV vaccine have been run, with the rate rising to 62% last year.
HPV, which can be contracted by physical contact, particularly sexual contact, can lead to a number of cancers, including cervical, penile, throat and anal cancers in men and women.
Every year in Ireland, 300 women are diagnosed with cervical cancer – of that number 90 women will die of the disease. It's hoped that HPV could eventually be eradicated if vaccine uptake rates are maintained at high levels.
At the launch of the previous HPV vaccine campaign, Clare woman Laura Brennan urged people to get their daughters vaccinated. She was diagnosed with cervical cancer when she was 24.
Speaking on the Late Late Show earlier this year, she said she got behind the campaign "because I don't want any mother, father, sister, brother, friends or family to lose someone to such a horrible illness which is cervical cancer".
Ní Riada's comments
In that interview on Cork's 96fm Opinion Line in September 2016, Ní Riada said she had made the decision for one of her daughters not to receive the HPV vaccine, despite her older daughter having already received it.
She said that she had been unaware of potential side effects from the vaccine before she began to read about it, and had heard numerous accounts of people suffering damaging side effects.
"It's a hard call, it's a tough decision to make," Ní Riada said, adding that it was a private, personal choice for each parent. 
In the interview, she also said that from stories she'd heard "clearly there are a number of people that were affected by side effects" but that there were thousands who'd received the vaccine who hadn't.
"I'm not advocating that anybody shouldn't give the vaccine to their child," she said. "I'm still in two minds about it."
In a statement issued last month, the MEP said that claims that she is opposed to vaccinations are "utter nonsense".
She said: "During a radio interview in 2016 I clearly outlined that my issue was a lack of information coming from the HSE. A lot of concern and confusion around the HPV vaccination was going on at the time resulting in a pick up of the vaccine of just 51% and there was not nearly enough information forthcoming from the HSE to clarify matters or soothe the concerns of parents.
I would, of course, encourage all parents to get their children fully vaccinated, including with the HPV vaccine and indeed there is recent research saying that this particular vaccine should be extended to boys, which I would also support.
In an interview with 96fm again yesterday, Ní Riada reiterated that she supported the use of the HPV vaccine in girls, and was in favour of it being extended to boys of the same age.
"I was never anything but supportive for the HPV vaccine," she said. "I went on that particular show as a parent. It was naive of me to not think I'd be viewed as an MEP."
She said that she has never "flip flopped" on the matter, and had just "raised the question as parent who would be worried about what was being put into her child's body" in the 2016 interview.
"A vaccine that can save a person's life has to be promoted," she said. 
The HSE's launch for its 2018/19 campaign takes place this afternoon.
Ní Riada will face competition from Sean Gallagher, Joan Freeman, Gavin Duffy and incumbent Michael D Higgins in next month's presidential election.
There is still time for another hopeful to win enough votes to become a candidate, with the nomination period expiring next Wednesday 26 September. 
With reporting by Christina Finn