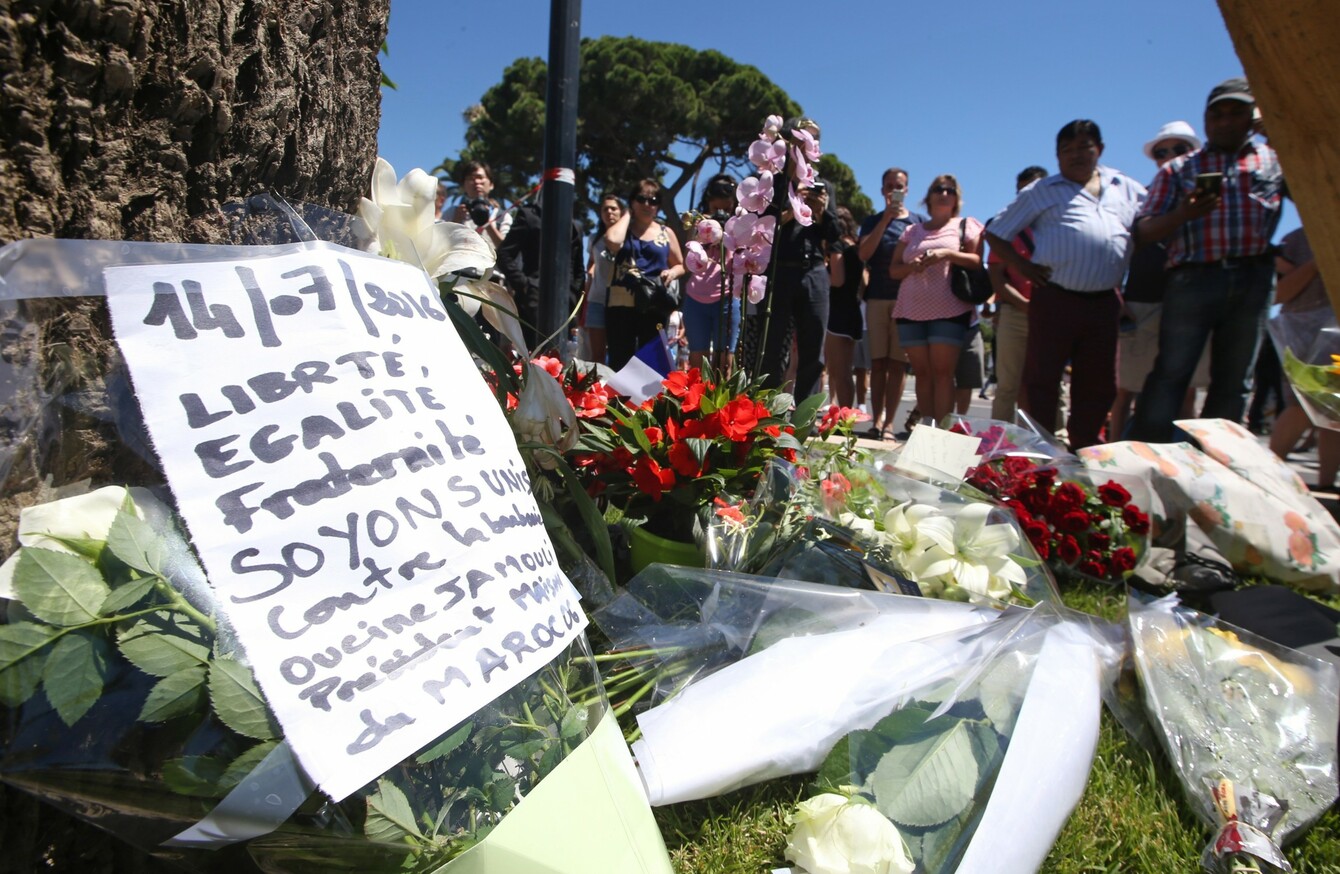 Flowers left in tribute to those killed during the Nice attacks
Image: Luca Bruno/Press Association
Flowers left in tribute to those killed during the Nice attacks
Image: Luca Bruno/Press Association
FAMILIES OPENED THEIR homes to strangers, shop-owners operated revolving door policies and taxi drivers took people to safety for free.
The city of Nice responded to a terrorist attack on one of its most famous promenades and beach last night with ferocious kindness with witnesses paying tribute to residents.
"The shops and restaurants were unbelievable. They shut down but they let anyone come in… invited us in," honeymooner David McArdle told TheJournal.ie today.
He and his wife were just down the road from where a truck slammed into a crowd, killing 80 people and injuring dozens more.
The newlyweds had considered going to the fireworks display earlier in the day but decided to go for dinner and watch from a short distance instead.
Although he didn't witness the atrocity, David describes how he saw crowds of people running down the street and hiding under tables.
"We ended up in an Irish bar and they locked the door," he explains.
"We couldn't get back to our hotel (Negresco Hotel) because they were treating people in the lobby.
To be fair to the barmen, they let everyone in and just locked the doors… They offered to let us stay in their apartments or to stay on the floor of the restaurant… In the end we got back to our hotel at 5 in the morning.
Nobody who knocked on a door wasn't let in.
Places to stay
Many people, including a large number of tourists, were unable to return to where they were staying last night due to soldiers cordoning off the area and closing the tunnels.
People were also ordered to stay indoors. Many hotels – like the Negresco – were being used as field hospitals.
At 10.21pm, local newspaper Nice-Matin advised people to use the hashtag #PortesOuvertesNice (Open Doors Nice) on Twitter if they needed somewhere safe to stay.
https://twitter.com/Nice_Matin/status/753700851949207552
A number of people also used the hashtag to offer up their places for people to stay in:
https://twitter.com/RaphaelZeitoun/status/753701375264120832
(The Musicians' Quarter)
https://twitter.com/alskayo/status/753701535297769472
(at the port on Stalingrad Boulevard)
https://twitter.com/SophDaniels/status/753702833984303104
(next to Riquier Station)
Free Taxis
For those who were able to leave, Nice-Matin also reported that taxis would evacuate people from the Promenade des Anglais for free.
https://twitter.com/Nice_Matin/status/753710739576254464
Local journalist Dov Alfon today wrote:
Taxi drivers are about to collapse. Many volunteered all night to help people looking for their loved ones in hospitals #nice
https://twitter.com/dovalfon/status/753897880293900288
The goodness of human nature
David said that when he and his fiancée travelled to Cannes this morning they were surprised to find there wasn't a significant police presence at Nice train station. However, there was a beautiful moment of solidarity.
There was an incredible moment at the Nice train station where someone got on the piano that's there and started to play Imagine by John Lennon. Everyone sang along.
He said people are still walking around Nice, stunned. But he said everyone's reactions and the urge to help each other were a silver lining.
Human nature, and the goodness of it, is something you can take away from it.