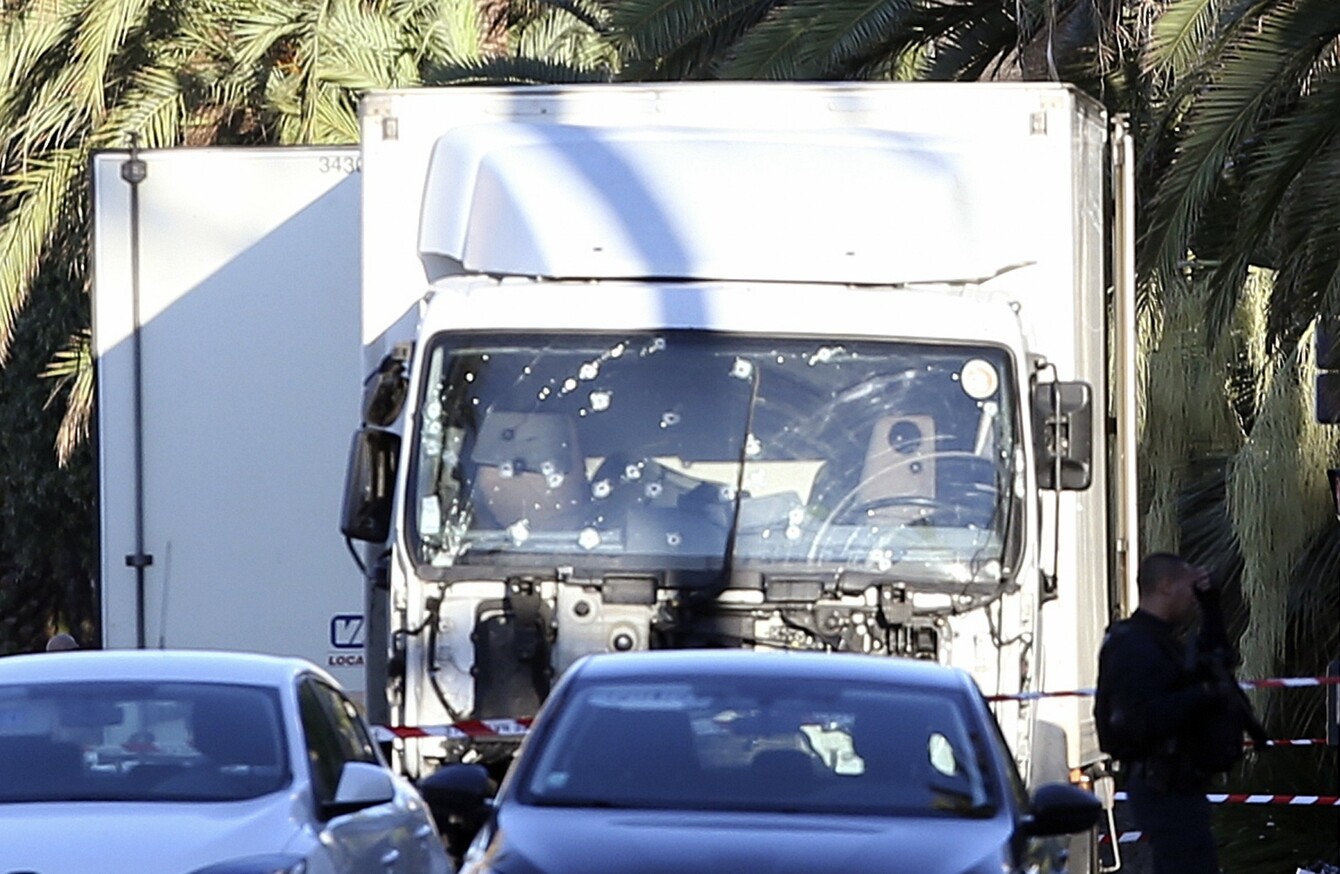 The truck which slammed into Bastille Day revellers on the promenade in Nice last night.
Image: Luca Bruno
The truck which slammed into Bastille Day revellers on the promenade in Nice last night.
Image: Luca Bruno
Updated 12.48pm
THE DRIVER OF the truck in the Nice terrorist attack last night has been named in local media reports as a man called Mohamed Lahouaiej Bouhlel.
Local news organisation Nice-Matin reports the man's apartment in Nice was searched this morning.
Identity papers belonging to a 31-year-old French-Tunisian had been found inside the truck, which barrelled through a crowd killing 84 people, a police source said today.
Neighbours of Lahouaiej-Bouhlel told AFP reporters that he was a solitary figure who rarely spoke and did not even return greetings when their paths crossed in the four-storey block.
Sebastien, a neighbour who spoke on condition that his full name was not used, said Lahouaiej-Bouhlel did not seem overtly religious.
Of the 12 neighbours who were interviewed, only one, a neighbour on the ground floor, said she had had any concerns about him — he was "a good-looking man who kept giving my two daughters the eye."
Police investigators and forensic experts entered his apartment around 9.30am local time with an armed police intervention unit in support, and brought out bags of material later.
"He was known to the police for violence, and using weapons, but had no direct links with terrorism," an investigating source told the Evening Standard. "His identity card was found in the lorry. He had French and Tunisian nationality."
Witnesses say the man deliberately steered into the crowd and footage from the scene shows the truck speeding up as it strikes the Bastille Day revellers. He was eventually shot dead by police, with images showing the windscreen of the truck riddled with bullet holes.
Nice-Matin reports the man had firearms and grenades in the back of the truck.
The attack has not been claimed by any group, but French President Francois Hollande said in an address to the nation early this morning that the attack was of an "undeniable terrorist nature".
Prosecutors say the probe will be handled by anti-terrorism investigators.
"Investigations are currently underway to establish if the individual acted alone or if he had accomplices who might have fled," interior ministry spokesman Brandet said.
- With reporting by AFP.